Hate incidents in Michigan increase by 65 times after Donald Trump election win
The findings come after the Southern Poverty Law Centre report that showed some 900 incidents of hate crimes in the 10 days since he won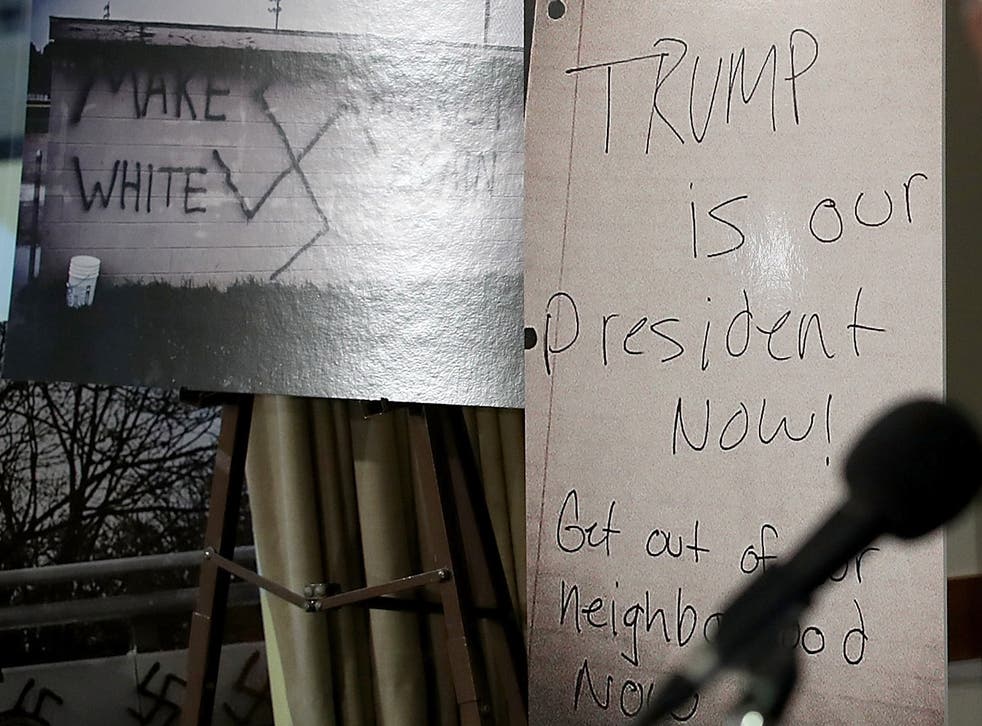 Michigan has seen a huge spike in alleged hate crimes and other hate-fuelled incidents in the weeks since the election of Donald Trump, according to a state civil rights panel.
At a monthly meeting of the Michigan Civil Rights Commission, state officials said that about 65 hate incidents had been reported since Mr Trump's 8 November election, the Detroit Free Press reported.
Mr Trump's run for president galvanised a strong base of white supremacist and neo-Nazi support. The New York businessman launched his campaign calling Mexicans rapists and criminals, and stoked Islamophobic fears amongst his base.
But ever since his election, reports of hate crimes and racist harassment have risen. The state of Michigan had generally only received reports of about five to ten incidents per year. So the new figures are worrisome to the Civil Rights Commission.
"That's very concerning … people being scared," said commission co-chair Rasha Demashkieh. "It is incumbent upon us to protect the civil rights of the most vulnerable."
About 36 of the 65 reported incidents occurred at schools, including primary, secondary, high school, colleges and universities.
In the 10 days after Mr Trump's election, the Southern Poverty Law Centre found almost 900 instances of hate incidents reported across the US. Michigan had the highest number of all the midwestern states, according to their figures.
President Trump protests

Show all 20
Mr Trump finally spoke out against bigotry during his first major appearance since the election last week. He said he condemned "bigotry and hatred in all its forms" speaking at the first stop on his "Thank You" tour across key battleground states.
He did not refer to hate crimes specifically, nor did he outright disavow the neo-Nazis and other white supremacists who have held celebrations in his name. Still, the SPLC welcomed the sentiment and called on the President-elect to follow through with real action to quash hatred in the US.
"We're pleased that President-elect Trump has forcefully denounced hatred and rejected the language of exclusion," the organisation said in a statement. "We hope that he is now ready to take responsibility for the damage his divisive campaign caused and to follow his words with actions proving he means what he says."