Donald Trump's Hollywood star is back on the Walk of Fame with 24/7 police protection
Camera footage, police officers and vehicles will be employed to watch out for vandals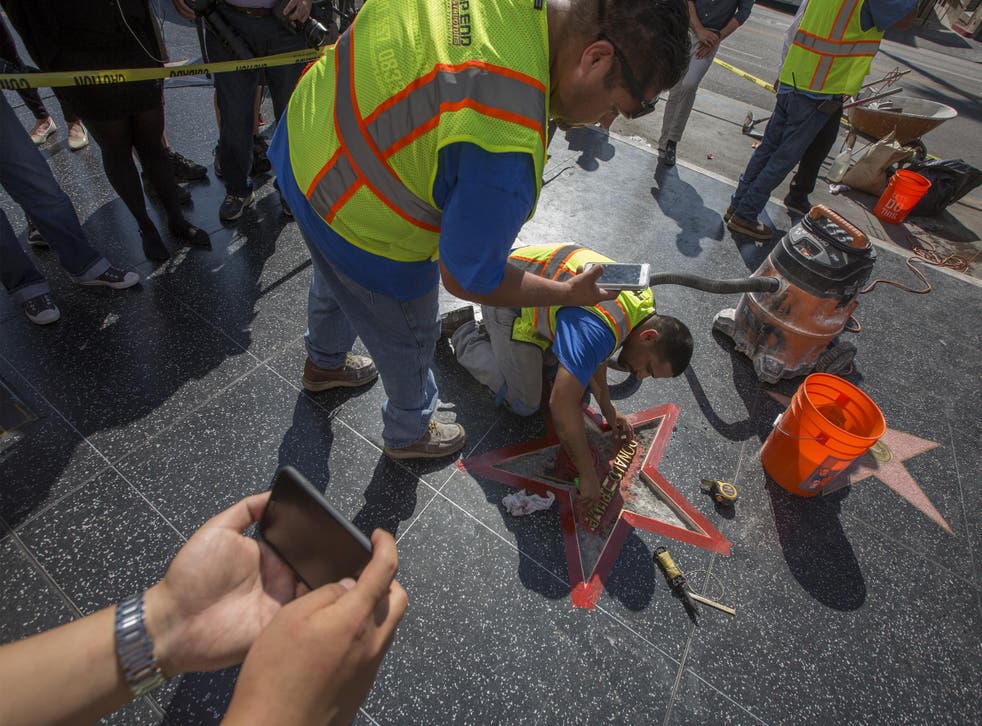 Donald Trump's star on the Hollywood Walk of Fame has been restored to its former red and gold glory, but it comes with a heavy police presence.
Just one month after the star was obliterated by a protester with a pickax, the Hollywood Chamber of Commerce, which is responsible for the celebrity plaques, has remade the star and placed a protective barrier around it. It is not clear when the barrier will be removed.
As reported by TMZ, the Los Angeles Police Department will employ patrol officers and even a police vehicle presence to ensure vandals do not strike again.
A surveillance camera is also expected to be placed on the wall of a nearby shopping mall.
The LAPD insisted to The Independent it was business as usual with Mr Trump receiving no special treatment.
"We will have our regular patrol, making sure we are visible to guard against vandals," LAPD spokesman Aareon Jefferson said.
"We always have a foot beat there. But there will be no special details."
Donald Trump's Hollywood Walk of Fame star smashed by sledgehammer
He did not confirm whether a new camera would be built.
James Otis was arrested last month after he disguised himself as a construction worker and demolished the plaque while people stood around and watched. He faces three years in jail and fines of up to $10,000.
The plaque was reportedly worth $30,000.
It had seen previous defamation including ketchup, ice cream and human saliva.
It was covered with a wooden panel for several weeks while the restoration took place.
The US Hollywood Chamber of Commerce could not be immediately reached for comment.
Register for free to continue reading
Registration is a free and easy way to support our truly independent journalism
By registering, you will also enjoy limited access to Premium articles, exclusive newsletters, commenting, and virtual events with our leading journalists
Already have an account? sign in
Register for free to continue reading
Registration is a free and easy way to support our truly independent journalism
By registering, you will also enjoy limited access to Premium articles, exclusive newsletters, commenting, and virtual events with our leading journalists
Already have an account? sign in
Join our new commenting forum
Join thought-provoking conversations, follow other Independent readers and see their replies