Donald Trump does not mention Jews in Holocaust memorial statement
The Anti-Defamation League called the omission 'troubling'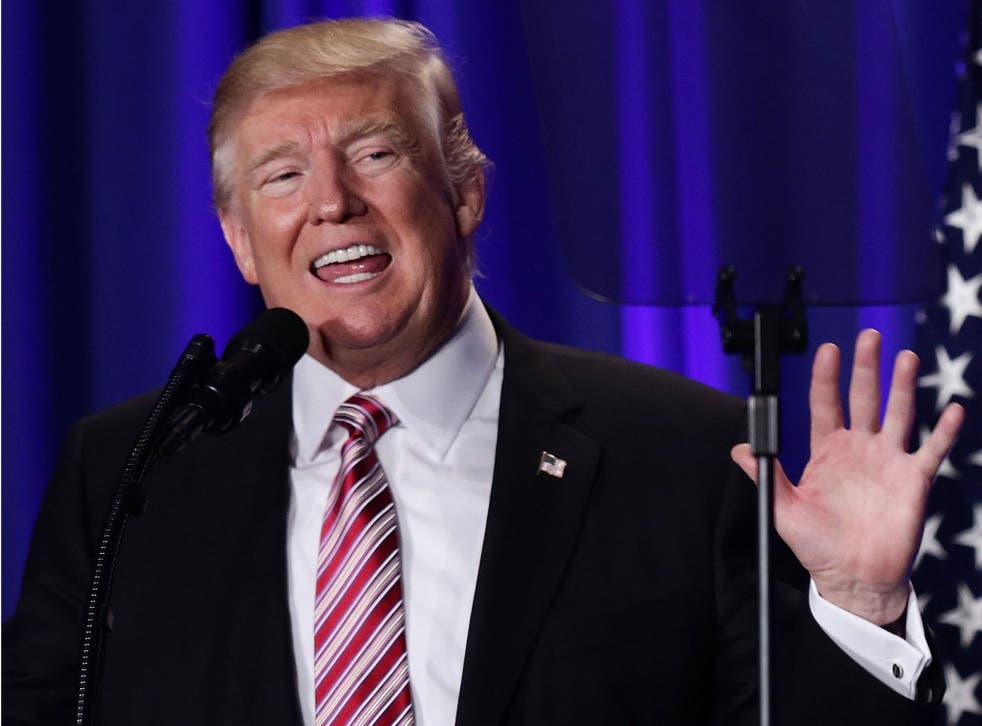 President Donald Trump failed to explicitly mention Jews during his Holocaust memorial statement, a move which critics say serves to "generalise" one of the worst genocides in history.
Mr Trump released a statement on International Holocaust Remembrance Day, noting his "heavy heart and somber mind" to "remember and honour the victims, survivors and heroes of the Holocaust".
"It is impossible to fully fathom the depravity and horror inflicted on innocent people by Nazi terror," the statement read.
"Yet, we know that int he darkest hours of humanity, light shines the brightest. As we remember those who died, we are deeply grateful to those who risked their lives to save the innocent."
Jonathan Greenblatt, chief executive of the Anti-Defmation League, said the omission of the word "Jews" - the main target of the Holocaust, which resulted in six million murdered - was "puzzling and troubling".
Reza Aslan, an Iranian-American author, tweeted: "This is not an accidental omission. He is generalizing the Holocaust the way the Iranian govt or Neo-Nazis do. There's a purpose behind it."
Vice President Mike Pence did mention the Jewish people in a tweet the same day.
In the same week Mr Trump signed an executive order to ban refugees from war-torn Muslim majority countries, suspending Syrian refugees "indefinitely" and giving priority to Christians.
Rabbi Jack Moline, President of the Interfaith Alliance, said in a statement: "President Trump's forthcoming executive order banning refugees and Muslims would be deeply troubling on a regular day, but he is adding insult to injury by signing it on International Holocaust Remembrance Day.
"This is a day where we honour the victims of the Nazis and reflect upon the actions of the United States during the Holocaust. Tens of thousands of Jewish refugees were refused entry to the United States – including the passengers of the St. Louis – due to fear, suspicion and bigotry. Trapped in Nazi Europe, they faced a grim fate."
The US denied entry to tens of thousands of Jews during the Holocaust.
The statement on the memorial day comes after several disturbing anti-Jewish incidents around the country, including two waves of bomb threats at Jewish community centres, and a group of Neo-Nazis that planned to march against the Jewish residents of a small town in Montana.
Mr Trump has repeatedly been criticised in the past over race relations, including being prosecuted in Manhattan for discriminating against people of colour who applied to live in his apartment blocks, and being slow to disavow the endorsement of David Duke, a former leader of the Ku Klux Klan.
His chief strategist, Steve Bannon, founded Breitbart and said last year it was a "platform for the alt-right", alluding to a white supremacist movement.
Join our new commenting forum
Join thought-provoking conversations, follow other Independent readers and see their replies