Odds on Donald Trump being impeached shorten amid flurry of bets on President-elect not serving full term
Ladbrokes opened market on Trump leaving office early by impeachment or resignation at 3-1 but has twice cut its price as punters pile in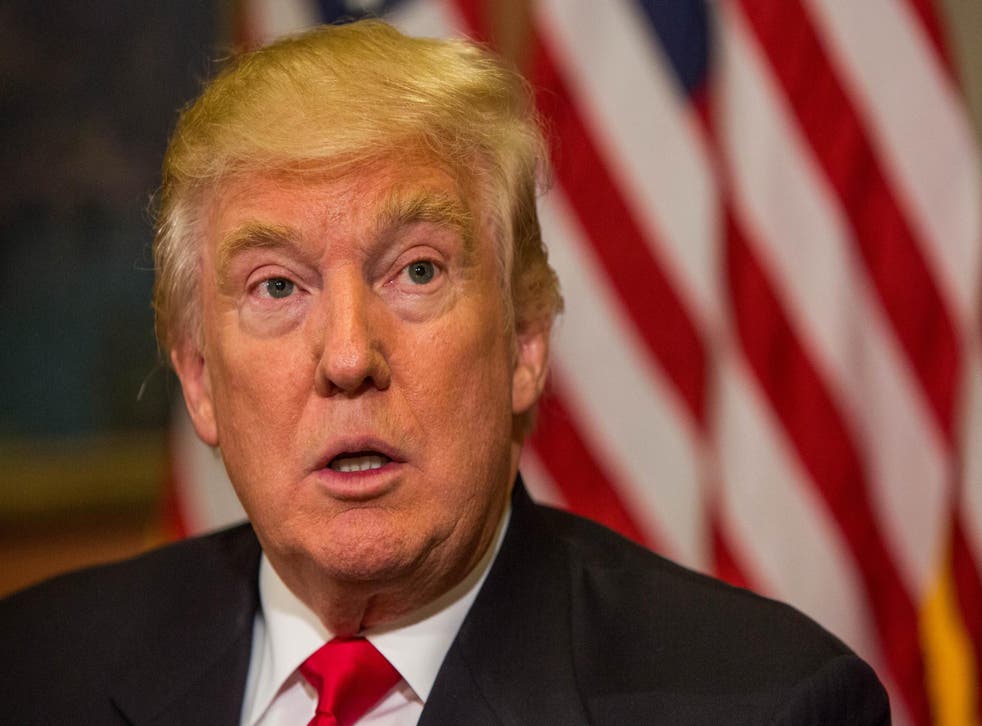 Bookmaker Ladbrokes has cut the odds on Donald Trump leaving office early due to impeachment or resignation amid mounting controversy about how he will manage his business interests after becoming America's 45th President.
Ladbrokes opened the market at 3-1, cutting it to 5-2, and again to 9-4 in the wake of a flurry of bets on the back of a growing consensus among law professors that the controversial Republican is heading for trouble.
George Bush's former ethics lawyer Richard Painter, now a University of Minnesota law professor, told Think Progress that the President-elect could have been in breach of the Emoluments Clause that prohibits presidents from buying influence with federal officials or receiving special treatment over an event held at his Washington DC Hotel were he in office. He was backed by Laurence Tribe, professor of law at Harvard University. The hotel was used to entertain and give a sales pitch to foreign diplomats.
Obama: I'll weigh in on Trump's presidency if necessary
Law professor Christopher Peterson, from the University of Utah, has said he believes there is ample evidence to impeach the President-elect over the Trump University scandal. Trump recently settled a lawsuit brought by former students for $25m.
While many critics of the incoming President have been hoping that they may be able to remove him by legal means, the history books don't favour them, and the hurdles such a legal challenge would have to clear to succeed are daunting. This partly explains why bookies are still very keen on taking bets.
The only previous president to leave office early was Mr Trump's fellow Republican Richard Nixon, who resigned the presidency on August 9, 1974 in the wake of the Watergate scandal.
Two previous presidents have been impeached, both of them Democrats. Andrew Johnson entered the White House in 1865 following the assassination of Abraham Lincoln. While he was a Democrat he had joined the Lincoln ticket on a national unity platform. He was impeached amid a fierce battle with Republicans over the reconstruction in the wake of the Union victory in the American Civil War, but was acquitted by a wafer thin margin of one vote in 1868. The US Senate had backed conviction by 35-19 but that was one vote shy of the required two thirds majority.
President Bill Clinton was in 1998 impeached on allegations of perjury and obstruction of justice in the wake of the Monica Lewinsky sex scandal. Again, the charges went to the Senate, where Clinton survived rather more easily than his predecessor, the vote going 55/45 against on the perjury charge with a 50/50 split on the perjury charge.
President Donald Trump life in pictures

Show all 16
Amid a bitterly divided and partisan Senate, it is hard to see even a president as divisive and controversial as Trump losing notwithstanding the misgivings of some Republicans about him. The size of the majority required to convict is just too high.
Ladbrokes head of political betting Matt Shaddick said: "Punters seem to think there's a good chance he will leave office before the end of his first term. Given the history, we're happy to take their money."
If Trump was to make history by leaving office early his replacement would be Vice President-elect Mike Pence, a man once tried to pass a law forcing women to pay for fetal funerals as part of a bigger anti abortion law while governor of Indiana. The statute would have applied to those who suffered miscarriages.
Join our new commenting forum
Join thought-provoking conversations, follow other Independent readers and see their replies