For $1m and up, inaugural donors will get 'candlelight dinner' with Trump and other access
The special rewards being offered to Trump's biggest backers could cut against his pledge to 'drain the swamp' and run an administration free from the influence of wealthy interests
Matea Gold
Wednesday 30 November 2016 10:04 Comments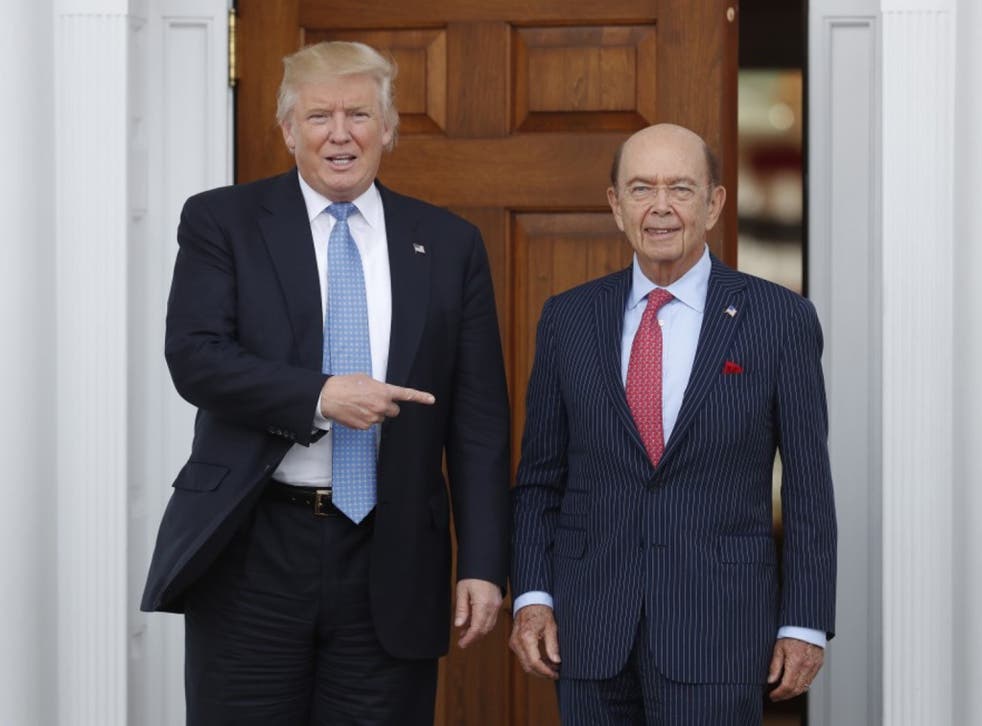 The committee raising money for President-elect Donald Trump's inaugural festivities is offering exclusive access to the new president, Cabinet nominees and congressional leaders in exchange for donations of $1m (£801,700) and more.
For seven-figure contributions, Trump's richest supporters will get a slew of special perks during the inauguration weekend, including eight tickets to a "candlelight dinner" that will feature "special appearances" by Trump, his wife, Melania, Vice President-elect Mike Pence and his wife, Karen, according to a sheet detailing "underwriter package benefits" obtained by The Washington Post. The 58th Presidential Inaugural Committee confirmed the authenticity of the donor brochure, which was first reported by the Centre for Public Integrity.
Other million-donor benefits include an exclusive lunch "with select Cabinet appointees and House and Senate leadership," four tickets to "an intimate dinner" with the Pences, eight tickets to a lunch with "the ladies of the first families," eight tickets and premier access to the inaugural ball and priority booking at "Premier Inaugural Hotel(s)."
The special rewards being offered to Trump's biggest backers could cut against his pledge to "drain the swamp" and run an administration free from the influence of wealthy interests. The big-money solicitation comes as top Trump donors and former lobbyists are playing significant roles shaping the new administration. Among them is Steven Mnuchin, a former Goldman Sachs executive who served as Trump's national finance chairman and is expected to be tapped to be treasury secretary.
Inaugural-committee officials said Tuesday that details of the donor packages could change and noted that contributions from registered lobbyists will not be accepted.
"The Presidential Inaugural Committee is a 501(c)4 organisation that is non-political, offering an opportunity for every American to participate in the democratic process of our country," Boris Epshteyn, the committee's communications director, said in a statement. "The Inaugural events are, to a large extent, privately funded so as to not use taxpayer dollars. For the 58th Presidential Inaugural, any and all funds raised above amounts needed to fund the Inaugural events will be donated to charitable organizations."
The inaugural donor perks represent a more expansive menu of benefits than what President Obama offered top contributors for his second inauguration, when the committee organising the festivities accepted unlimited individual contributions and corporate money. (That was a reversal from four years earlier, when Obama's first inaugural committee capped individual donations at $50,000 (£40,100) and barred corporate contributions.)
The top donor package for Obama's second inauguration solicited at least $250,000 (£200,430) from individuals and $1m from corporations. In exchange, supporters received four tickets to the inaugural ball, two bleacher seats to the parade, a VIP reception at a candlelight celebration on inauguration eve, tickets to a children's concert, access to special receptions and a meeting with Obama's finance team.
World reaction to President Trump: In pictures

Show all 29
Trump's inaugural committee is offering even more elaborate perks for its top givers, as well as ample opportunities for his wealthiest backers to mingle with top administration figures. The donor tiers range from $25,000 (£20,000) to $1m, with tailored rewards for each level, according to the benefits list. Contributors who give at least $100,000 (£80,170), for example, get two tickets to "an intimate policy discussion and dinner with select Cabinet appointees."
The names of all contributors who give $200 (£160) or more to the committee must be reported to Federal Election Commission 90 days after the 20 January inauguration.
In 2013, Obama's committee reported raising $44m (£35m), including big contributions from AT&T, Boeing, Chevron and Microsoft.
©The Washington Post
Register for free to continue reading
Registration is a free and easy way to support our truly independent journalism
By registering, you will also enjoy limited access to Premium articles, exclusive newsletters, commenting, and virtual events with our leading journalists
Already have an account? sign in
Join our new commenting forum
Join thought-provoking conversations, follow other Independent readers and see their replies