Donald Trump's Inauguration photo's inspirational quote has glaring typo
'No challenge is to great…'
Rachael Revesz
New York
Monday 13 February 2017 15:52 Comments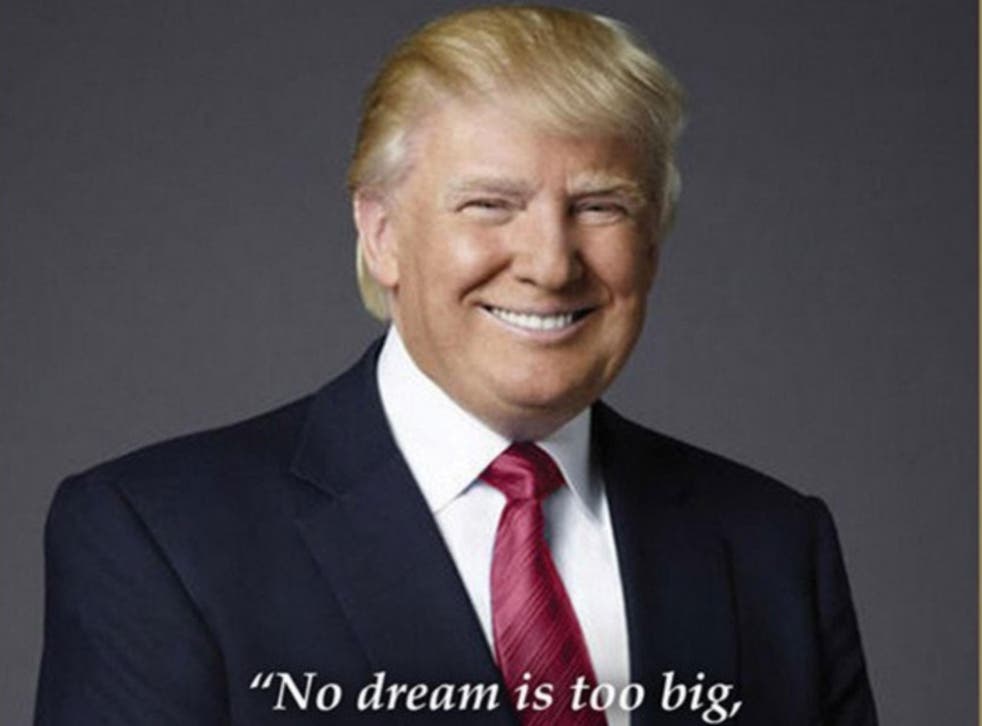 What was supposed to be an inspirational quote from the new President and a memento of the Inauguration was quickly pulled off the Congress Library shelves after social media users pointed out a spelling mistake.
Donald Trump's official Inauguration portrait was displayed alongside a quote from his speech at Capitol Hill, but it misspelled the word "too"as "to".
"No dream is too big, no challenge is to great. Nothing we want for the future is beyond our reach," the quote reads.
Trump nominee Mick Mulvaney admits Obama's inauguration crowd size was bigger
The website page selling the print was reportedly removed on Sunday evening.
The Library of Congress had described the photo as one that "captures the essence of Donald Trump's campaign for the presidency of the United States."
Social media users were quick to spot the error at the weekend.
"A 5th grader would have spotted this typo," read one comment on twitter.
"Extra 'o' in 'too' available separately," joked another.
The accident comes after the Department of Education misspelled the name of civil rights activist W E B Du Bois's name in a tweet the same day.
It also follows criticism for the President who posted a picture of himself alongside Japanese Prime Minister Shinzo Abe last week, calling him "Prime Minister Shinzo".
Tweets about Mr Abe over the next few days were corrected.
Register for free to continue reading
Registration is a free and easy way to support our truly independent journalism
By registering, you will also enjoy limited access to Premium articles, exclusive newsletters, commenting, and virtual events with our leading journalists
Already have an account? sign in
Join our new commenting forum
Join thought-provoking conversations, follow other Independent readers and see their replies