Donald Trump inauguration crowds fail to fill National Mall
Around half as many people have used the DC transport system on Trump's inauguration, compared with Obama's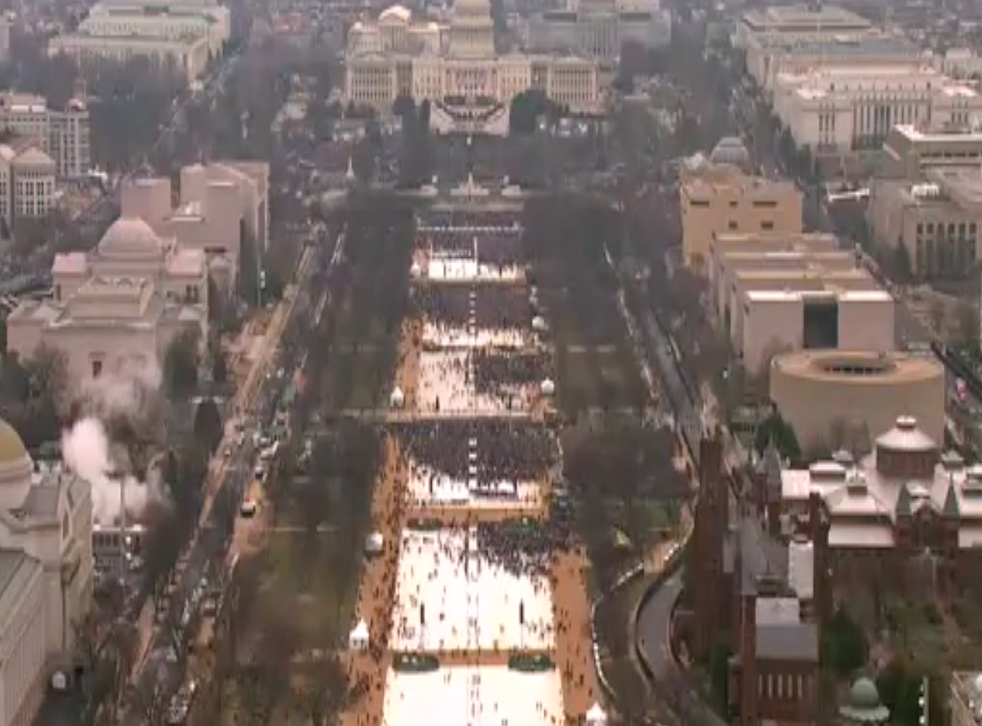 Much of the space for supporters to watch Donald Trump's inauguration was left unfilled.
That is in direct contrast to the two inaugurations of Barack Obama, both of which were filled from the early morning on the day of the inauguration.
Security were forced to close down parts of the National Mall, which sits in front of the Capitol, because of the number of people looking to watch Obama become President.
As Donald Trump was inaugurated, many parts of the National Mall were left empty. Shots of the attendees even in the minutes before the ceremony began showed that one whole section was almost entirely empty.
Many of the crowds that were at the event cheered for the Democratic figures who appeared.
In pictures: Protests, pomp and Donald Trump

Show all 30
Attendees cheered when Bernie Sanders appeared on the screens. But the biggest shout was reserved for first lady Michelle Obama, who accompanied her husband to the inauguration and received sustained applause when she appeared on the TVs.
Presidential inauguration day round-up
The DC Metro also said that far fewer riders were using the transport system on the morning of the inauguration.
Estimates on the morning of the inauguration had suggested that Mr Trump brought around 800,000 people to Washington. Obama's first inauguration was attended by 1.8 million people.
Washington has been attended by protestors as well as supporters. Some of those activists were involved in scuffles with police on the morning of the inauguration ceremony.
The inauguration ceremony is shown on TV screens all the way down the National Mall, and the public don't need tickets to view.
Join our new commenting forum
Join thought-provoking conversations, follow other Independent readers and see their replies