What will life be like under Donald Trump? This Scottish man already knows exactly how it feels
Donald Trump once built a barrier round David Milne's home – and sent him the bill. Now Mr Milne, a neighbour of the tycoon's Scottish golf course, is marking Trump's inauguration by raising the Mexican flag in protest at the new president's 'intimidation, bigotry and bullshit'.
Adam Lusher
Thursday 19 January 2017 11:26 Comments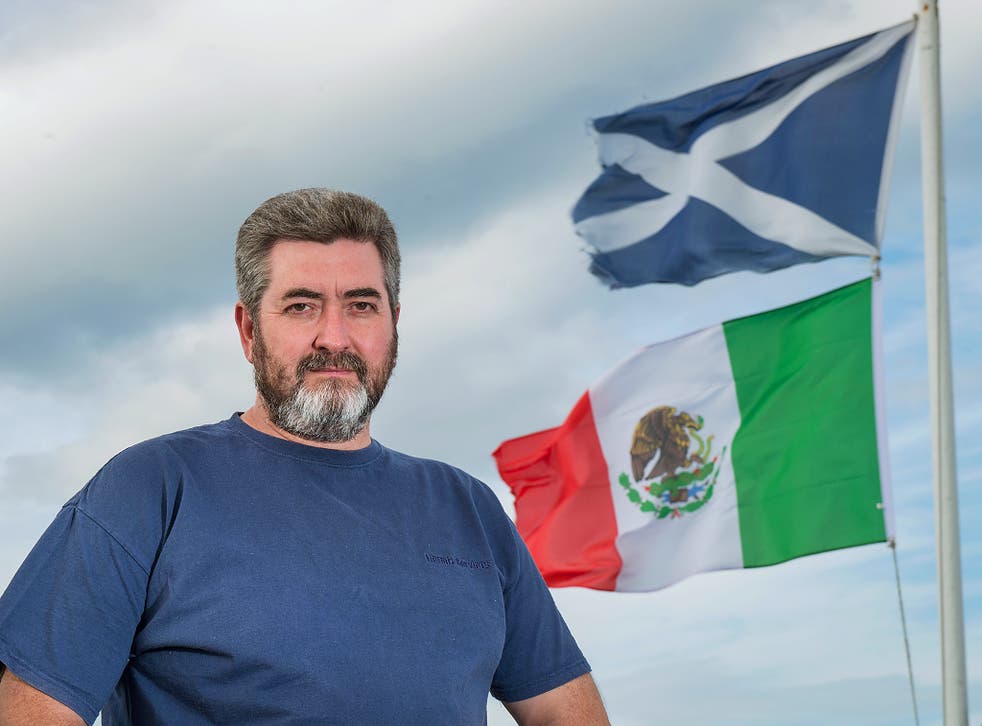 As Donald Trump glories in his presidential inauguration on Friday, a highly symbolic protest will be staged 3,480 miles away in Scotland, by a man who knows better than nearly all others what it is like to be subjected to the rule of the billionaire 45th president of the US.
Long before Trump suggested building a beautiful wall and sending Mexico the bill, he built a fence around David Milne's home – and sent him the bill.
Now Mr Milne, who lives next to Trump's Aberdeenshire golf course, has raised the Mexican flag above his property in solidarity with both Mexico and the millions of American voters who opposed the property tycoon.
Mr Milne, who says he and his neighbours have been subjected to years of harassment through living next to what is now Trump International Golf Links, told The Independent: "The flag is flying in a show of solidarity with the Mexican people, who have endured the same sort of harassment, attempted intimidation, bigotry, lies and bullshit that we have.
"It is flying for those of the US populace who didn't support Trump, for anybody who suffers the sort of harassment and intimidation this man seems happy to mete out whenever he sees fit.
"I wouldn't wish a Donald Trump presidency on the American people in any way, shape or form."
Mr Milne, 52, said that before Trump purchased the Menie estate in Balmedie in 2005, he and his wife Moira could gaze from the windows of their home, a former coastguard station, and enjoy "a perfect view of 40 miles of coastline, from Peterhead in the north to Girdleness Lighthouse in Aberdeen".
Then Trump started planning what he promised would be the "world's greatest golf course", a £1bn resort featuring two championship courses, 950 timeshare flats, 500 private homes, 36 villas, a golf academy, and a road named "Trump Boulevard".
He overcame environmental objections about possible damage to coastal sand dunes that formed part of a Site of Special Scientific Interest, promising economic benefits including the creation of 6,000 jobs.
But the American had less luck with a stubborn group of Scottish residents, including the Milnes, who refused to sell their homes to assist with the progress of the golf course project.
Mr Milne, a health and safety consultant, says the fence went up in 2009, stretching nearly all the way round his property.
"They [Trump's contractors] put up this fence, in the process taking out a power line and blacking out about 10 houses for three or four hours, and sent us the bill – for £2,800, half what they said was the total £5,600 cost of the fence.
"I priced the materials. The fence would have cost £800. We have completely ignored the bill."
Donald Trump's most controversial quotes

Show all 14
He added: "The argument was that the boundaries of our property were in the wrong place, part of our land wasn't our land, it was theirs, and the back wall of the garage was on their property and so on.
"So their fence was going to be the new boundary – even though the fence they were replacing was a Government-built fence, put up by the Government in the mid-1950s, to reflect what was in the title deeds when our old coastguard station first became an independent building.
"I know whose set of drawings I would trust."
The year after erecting the fence, said Mr Milne, "They built an earth bank around us, 6m (20ft) high, 70m (230ft) in length, on the north and west side, within a metre of the boundary of our property."
Mr Milne said the sea views he and his wife had enjoyed from their living room were blocked, as they were when the earth bank was replaced by a load of 20-25ft high mature sitka spruce conifer trees.
Although, Mr Milne added, "You don't plant sitka spruces in a salt atmosphere right next to the sea. After about a year and a half the first trees died and had to be replaced by a second lot – which are now definitely failing too. We can see the sea through the gaps in the trees."
You've Been Trumped (2011) - Official Trailer
Other residents who also refused to sell their houses have complained of similar treatment.
In 2010 Trump flew to Aberdeen on his private Boeing 737 and told a packed press conference that the home of Balmedie local Michael Forbes was "a pigsty."
"It's a slum," said Trump. "Somebody should do something about it."
Invoking the spirit of his Scottish mother, who was born on the God-fearing Isle of Lewis, the thrice-married American casino builder questioned the Scottish heritage of Mr Forbes, a kilt-wearing salmon fisherman and smallholder.
"My mother was born in Stornoway," said Trump, "She was the most clean woman I've ever seen, immaculate. The people of Scotland are that way.
"Maybe his heritage is from somewhere other than Scotland."
Mr Forbes was subsequently voted "Top Scot" in the Spirit of Scotland awards. His portrait – created by Alicia Bruce – is now in the National Galleries of Scotland collection.
Donald Trump's inauguration: What actually happens?
Nor are the Milnes the only ones complaining that they have been hemmed in by a wall built around their property.
When John and Susie Munro first moved into their house 34 years ago, their two sons could stroll to the beach or play in the garden against a backdrop of uninterrupted views over fields and dunes to Aberdeen.
Now, they told The Independent, the view is obstructed by a 15ft high earth wall, and the stroll to the beach is blocked by a custom-made gate erected just outside their garden.
"It used to be secluded, a great place to bring up kids," said Mr Munro, 70, a retired trawlerman and oil rig worker. "You could see for nine miles. Now you can only see for about 30 yards, and then there's the bund [earth wall].
"He [Trump] will trample over anybody to get what he wants."
The one consolation, suggested Mr Milne, was that becoming president might distract Mr Trump from the aggressive pursuit of projects like his golf course, which has been dogged by reports it has failed to generate the profits or anything like the 6,000 jobs initially expected.
"It [the Trump presidency] might actually work in our favour in some ways," said Mr Milne. "If he is actually going to be doing anything regarding America – as opposed to just giving up on it and running away, which is always a possibility – he will be too busy doing that to spend any time over here."
The only downside, he admitted, was that Trump now had the power to endanger not just a small corner of Aberdeenshire, but the entire planet.
"He is," said Mr Milne, "An extremely thin-skinned reactionary, who – if some of the press reports are to be believed – doesn't fully understand the consequences of the use of nuclear weapons.
"I can't be happy with a Trump presidency. As President of the United States, he is putting a huge threat on the rest of the world."
In a statement released to The Independent, Trump International Golf Links said: "We enjoy a great relationship with all of our neighbours with the exception of a few who have fought the project since its inception."
The statement added: "Mr Trump's investment in North East Scotland is critical to the economic future of the region; particularly now given the crash in the oil industry. Mr Trump has invested far more into the golf, leisure and tourism sector than any other developer in decades. So far he has invested £100 million in Aberdeenshire.
"The project is a multi-phased development – phase one is complete and includes an 18-hole championship golf course.
"We are only entering our fifth year of trading with future phases including a second golf course, banqueting facilities, further luxury accommodation, additional leisure facilities and a residential village. We are entirely focused on delivering a five-star golf and leisure experience for the people of north east Scotland and our international visitors."
Register for free to continue reading
Registration is a free and easy way to support our truly independent journalism
By registering, you will also enjoy limited access to Premium articles, exclusive newsletters, commenting, and virtual events with our leading journalists
Already have an account? sign in
Join our new commenting forum
Join thought-provoking conversations, follow other Independent readers and see their replies