Donald Trump says he will 'invest in women's health' as 'Global Gag Rule' slashes funds to women's health charities
To protest the US leader's poor track record on women's rights at home and abroad, dozens of female Democrats wore white as he spoke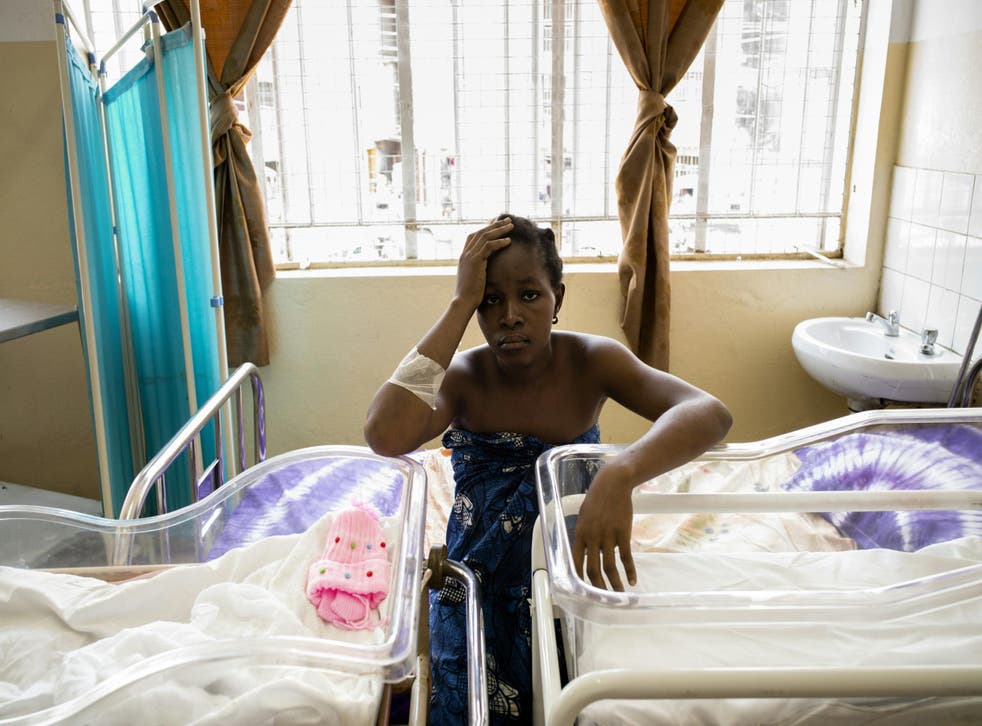 Donald Trump told Congress he wanted to "invest in women's health", just weeks after reinstating the Mexico City Policy blocking US funds to any organisation involved in abortion advice and care overseas.
The US President signed an order reinstating the policy known as the "Global Gag Rule" on his first day in office.
Critics including Bill and Melinda Gates have warned it could impact millions of women and girls, endangering their lives and those of their babies in some of the world's poorest regions.
The policy stipulates that family planning funds cannot go to any foreign aid group that ever discusses abortion.
Although USAID already does not directly fund abortion services, the bill is expected to affect organisations like Marie Stopes International and Planned Parenthood International, both of which provide contraceptives and sex education to millions of people worldwide.
At home Mr Trump said his "administration wants to work with members in both parties to make childcare accessible and affordable, to help ensure new parents have paid family leave, to invest in women's health, and to promote clean air and clear water, and to rebuild our military and our infrastructure."
To protest the US leader's poor track record on women's rights at home and abroad, dozens of female Democrats wore white as he spoke.
"We wear white to unite against any attempts by the Trump administration to roll back the incredible progress women have made in the last century, and we will continue to support the advancement of all women," one of them, Lois Frankel, said in a statement to CNN.
Democrat women wore white to show support for Planned Parenthood, affordable health care, reproductive rights, equal pay, paid leave, affordable child care and "lives free from fear and violence", she added.
Critics have said the "Global Gag Rule", named for the fact it not only prohibits abortion services by organisations receiving US government funding but bans all mention of them, could be more devastating than any of Mr Trump's other edicts, including building a border wall between the US and Mexico.
The US is currently the largest donor to health initiatives globally, meaning Mr Trump's bill has the potential to block up to $9.5 billion (£7.7 billion) of funds that support not only family planning services, but also maternal and child health, nutrition, and the treatment and prevention of HIV/AIDS, infectious diseases, malaria, tuberculosis, and neglected tropical diseases.
In 2001, when President George W. Bush imposed a more limited version of the Mexico City Policy, 16 developing countries lost shipments of contraceptives from the US, according to The New York Times.
Stanford University researchers found that Mr Bush's version of the policy reduced contraceptive use in Africa and actually increased abortion rates.
As it stands, the World Health Organisation estimates that every day, approximately 830 women and girls die from preventable causes related to pregnancy or childbirth worldwide. It also estimates that nearly 7 million women in developing countries are treated for complications from unsafe abortions annually and at least 22,000 die from abortion-related complications every year.
Human Rights Watch said it had documented extensive harm caused by a lack of comprehensive health care for women and girls.
The organisation said unintended pregnancies contribute to child marriage in Nepal, Tanzania, and Malawi and often lead to ending a girl's education, while in Kenya, girls who give birth before they are physically mature may get obstetric fistulas, resulting in lifelong health problems and stigma.
Despite the high stakes, foreign organisations that receive US health funds will now have to choose between losing money they rely on or complying with the Mr Trump's restrictions.
Many organisations say they cannot ethically abide by the restrictions, which prevent healthcare providers from sharing full and accurate health information with their patients or providing them with potentially lifesaving care, and will therefore have to forgo future funding.
Marie Stopes said in a statement: "Although we use USAID funding exclusively for voluntary contraception services, agreeing to the conditions of the Mexico City Policy would restrict us from providing abortion services using other funding, in countries where they are permitted. It would even restrict us from talking to women about abortion. This goes against our core principles as an organisation, and therefore we will not agree to the conditions of the Mexico City Policy.
"This means Marie Stopes International will be unable to partner with USAID to provide contraceptive services for as long as the policy is in place."
The organisation estimated that if it cannot find replacement funding, the new policy will result in 6.5 million unintentional pregnancies, 2.2 million abortions and 21,700 women dying in pregnancy or childbirth each year.
In pictures: Women of the world march against Trump

Show all 32
Human Rights Watch said other governments should pledge political and financial support for sexual and reproductive health to counter the "Global Gag Rule".
The Netherlands, Belgium, Denmark, and Sweden are hosting a summit in Brussels on 2 March 2017, to strengthen support for the "She Decides" funding initiative, which will support organisations affected by US restrictions and resulting cuts.
"Governments, nongovernmental groups, and the private sector should stand with women and girls to protect their right to health," said Nisha Varia, women's rights advocacy director at Human Rights Watch. "The Trump administration's damaging policy restricts women's choices, pushes censorship of information about critical health options, and will reduce a wide range of health services in many countries that desperately need them."
Join our new commenting forum
Join thought-provoking conversations, follow other Independent readers and see their replies