Donald Trump tells Israeli Prime Minister he would recognise Jerusalem as Israel's capital
US would call 'Jerusalem the undivided capital of Israel', says Trump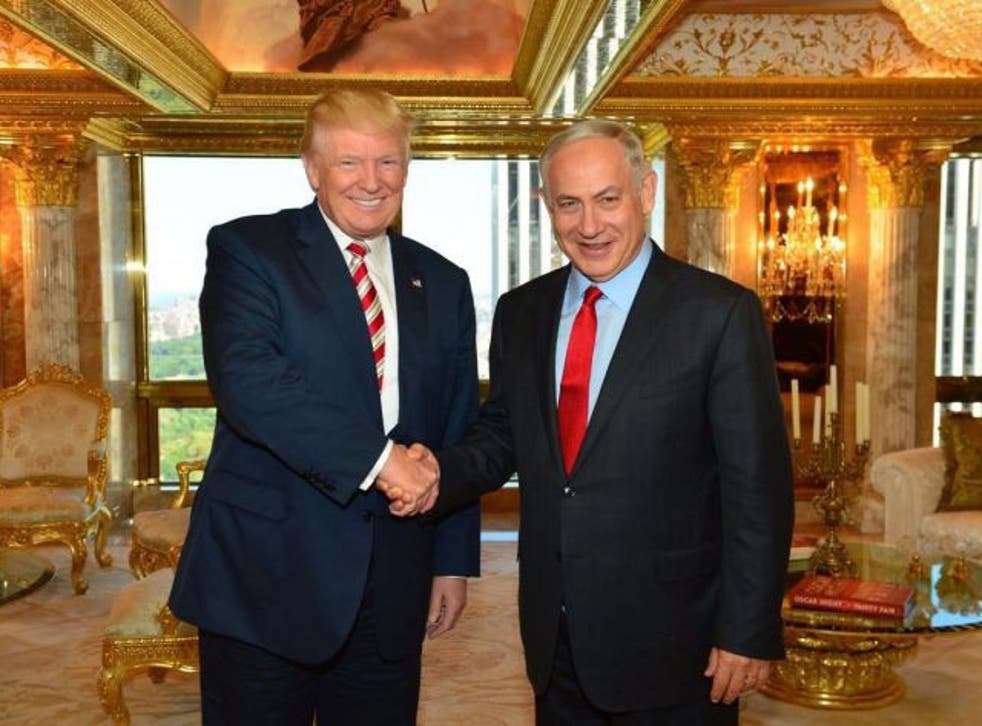 Donald Trump has told the Israeli Prime Minister that the United States would recognise Jerusalem as a capital of Israel.
Mr Trump's claim would make a decisive shift is US foreign policy. Although Israel calls Jerusalem its capital city, few countries, including the US accept that. Most embassies are kept in Tel Aviv.
During his meeting with Mr Netanyahu at Trump Tower in New York, Mr Trump told the Israeli Prime minister the US would "recognise Jerusalem as the undivided capital of the State of Israel."
Contrary to custom, the media was banned from the hour-long talk that took place between the two figures - reportedly at Mr Trump's request.
Mr Trump's recognition of the ancient city as belonging to Israel was announced on the Trump campaign website afterwards.
The Trump campaign "acknowledged that Jerusalem has been the eternal capital of the Jewish People for over 3,000 years, and that the United States, under a Trump administration, will finally accept the long-standing Congressional mandate to recognise Jerusalem as the undivided capital of the State of Israel."
Is this the most bizarre campaign of all-time?
Jerusalem has been fiercely fought over. Captured by Israel in 1967, Palestinians want East Jerusalem as the capital of the state they hope to make in the West Bank and Gaza strip.
During the meeting Mr Trump also drew parallels with Israel's separation border and the wall he plans to build along the US-Mexican border. He praised the 440 mile-long fence, saying that it had been "successful".
Mr Netanyahu also met with the Democratic nominee, Hillary Clinton ahead of the first US presidential debate.
The Israeli–Palestinian conflict intensifies

Show all 10
According to the Clinton campaign, the Democrat reaffirmed her commitment to the US-Israel relationship and vowed to take their relationship to the next level.
Alongside stating her commitment to "Israel's future as a secure and democratic Jewish state", she said a solution to the conflict must be found that "provides the Palestinians with independence, sovereignty and dignity."
The Trump campaign said he agreed with Netanyahu that peace could only be achieved when "the Palestinians renounce hatred and violence and accept Israel as a Jewish State."
Register for free to continue reading
Registration is a free and easy way to support our truly independent journalism
By registering, you will also enjoy limited access to Premium articles, exclusive newsletters, commenting, and virtual events with our leading journalists
Already have an account? sign in
Register for free to continue reading
Registration is a free and easy way to support our truly independent journalism
By registering, you will also enjoy limited access to Premium articles, exclusive newsletters, commenting, and virtual events with our leading journalists
Already have an account? sign in
Join our new commenting forum
Join thought-provoking conversations, follow other Independent readers and see their replies