Donald Trump's first wife Ivana says he had no idea how to engage with his children
'He did not know how to speak the children's language,' says Czech-American businesswoman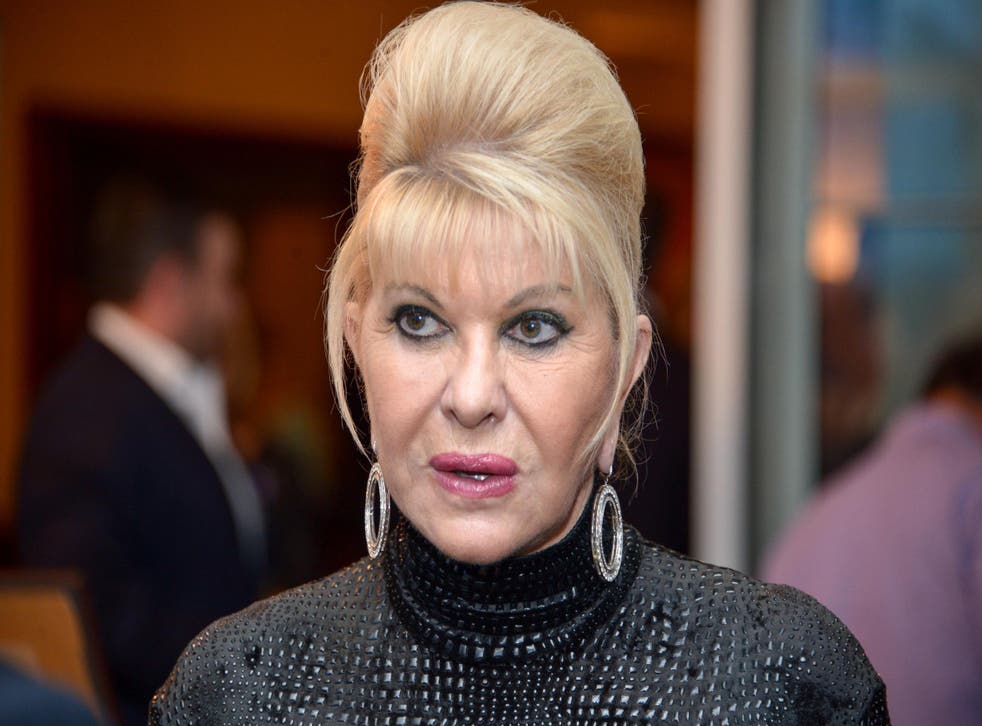 Donald Trump's first wife has claimed the president was not able to properly communicate with his children until they became adults.
Ivana Trump, who is the mother of his oldest three children, said the US president struggled to interact with his own children and engage with them on a level they understood until they started going to university.
During a radio interview with AM970's The Answer, the Czech-American businesswoman said: "He did not know how to speak the children's language".
The socialite and former fashion model, who was married to President Trump between 1977 and 1992, added: "He was not able to do it until the kids were in university".
Ms Trump said after she divorced the billionaire property developer she made the decision she would be the chief caregiver for the couple's three children, Donald Jr, Ivanka, and Eric.
She said: "I told Donald, 'There can only be one chef in the kitchen'. And it was me."
Ms Trump, who made the comments while promoting her new memoir Raising Trump, proudly added: "I kept them busy, busy, busy. Because if you keep your kids busy they have no time to get in trouble."
"Number two, you don't give your kids too much money," she continued. "Ivanka had singing classes, piano classes, ballet classes. The boys had hockey classes, karate classes, skiing classes, golf classes, tennis classes. You try everything, and then you watch to see what the kids are good at."
Donald Trump's least presidential moments so far...

Show all 30
Ms Trump's comments about her ex-husband's parenting come after the world leader had a seemingly awkward encounter with the children of White House reporters who visited the Oval Office dressed in Halloween costumes on Friday.
According to Business Insider, President Trump told one child: "You have no weight problems; that's the good news, right?"
He also heaped praise on the gathered reporters for doing "a good job here" with their children before gesturing towards himself and saying "I wouldn't say you did a good job here".
This is not the first time the former reality TV star has been scrutinised for the way he treats children. In August 2016, Mr Trump sparked fierce criticism for humiliating a mother when her baby started crying in the middle of his speech at a rally in Virginia.
He was initially friendly, saying: "Don't worry about that baby; I love babies. I hear that baby crying. I like it".
But when the baby later did not stop crying, he told the mother: "Actually, I was only kidding, you can get the baby out of here.
"I think she really believed me that I love having a baby crying while I'm speaking. That's OK. People don't understand."
What's more, when Melania Trump was pregnant with his youngest son back in 2005, Mr Trump told the Opie and Anthony radio show he does not change nappies.
He said: "No, I don't do that. There's a lot of women out there that demand that the husband act like the wife."
Melania, President Trump's third wife, recently had an explosive exchange with Ivana. The row was sparked by Ivana jokingly referring to herself as First Lady.
Ivana, the wife whose high-profile divorce from Trump allowed the president to become a mainstay in tabloid headlines, said she had a "direct number" to the White House and called the president every two weeks. "I'm basically first Trump wife," she Good Morning America with a laugh. "I'm First Lady, OK."
The joke did not go down well with the current First Lady and resulted in Stephanie Grisham, Melania's communications director, unleashing a scathing rebuttal.
"Mrs Trump has made the White House a home for Barron and the President. She loves living in Washington, DC, and is honoured by her role as first lady of the United States. She plans to use her title and role to help children, not sell books," Ms Grisham said.
She added: "There is clearly no substance to this statement from an ex, this is unfortunately only attention-seeking and self-serving noise."
Join our new commenting forum
Join thought-provoking conversations, follow other Independent readers and see their replies