Donald Trump says he is 'least racist person', tells Jewish reporter to sit down and be quiet
Donald Trump accuses Jewish reporter of lying and tells him to 'sit down' in response to anti-semitism question
President suggests anti-Semitism comes from his political opponents 
Donald Trump has accused a Jewish reporter of lying and ordered him to sit down after being asked a question about rising anti-Semitism in the US.
The row was triggered by the President asking for a question from a "friendly reporter" during his White House news conference on Thursday.
Jake Turx, a reporter from Ami Magazine, a small weekly New York-based magazine which caters for the international Orthodox Jewish community, volunteered himself, saying he had been "good" to the Republican for the entirety of his campaign.
Turx began his question by saying the community did not think the President or his staff were anti-Semitic. He even warmly drew attention to the fact Mr Trump's grandchildren were Jewish.
"However, what we are concerned about and what we haven't being heard addressed is an uptick in anti-Semitism and how the government is planning to take care of it," he added.
"There are reports that 48 bomb threats have been made against Jewish centres across the country in the last couple of weeks. There are people who are committing anti-Semitic acts or threatening to".
It was at this point that the billionaire property developer interrupted to accuse the reporter of lying and insist he was the "least anti-Semitic" individual.
"See, he said he was going to ask a very simple, easy question, and it's not," Mr Trump interjected.
The controversial orders Donald Trump has already issued

Show all 9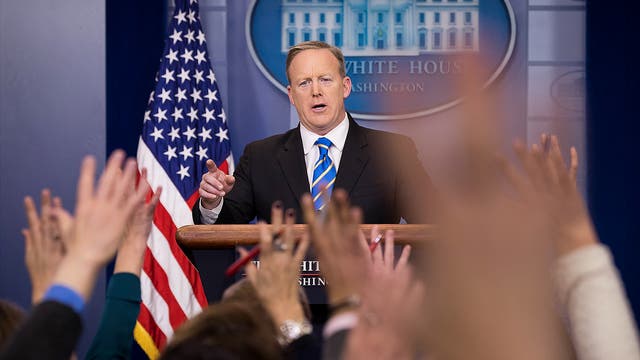 The reporter replied: "It's an important one."
"Not a simple question. Not a fair question. OK, sit down. I understand the rest of your question," Mr Trump snapped back. "So here's the story folks. Number one, I am the least anti-Semitic person that you've ever seen in your entire life. Number two racism. The least racist person. In fact, we did very well relative to other people running as a Republican."
The reporter raised his hand again and spoke up but Mr Trump shut him down again, saying: "Quiet, quiet, quiet. See he lied about - he was going to get up and ask a very straight, simple question. So, you know, welcome to the world of the media."
The President wholly ignored Turx's prefix and acted as if he himself had been accused of anti-Semitism rather than simply being asked what the Trump administration would do to tackle the rise of anti-Semitism.
"But let me just tell you something: I hate the charge. I find it repulsive. I hate even the question because people that know me - and you heard the Prime Minister, you heard Benjamin Netanyahu, did you hear him, Bibi? He said, 'I've known Donald Trump for a long time,' and then he said, 'Forget it.' So you should take that instead of having to get up and ask a very insulting question like that."
Bibi means "son of the right hand; son of the south; son of my old age" in Hebrew and is a nickname widely given to Mr Netanyahu.
Later in the news conference, a reporter from Sirius XM, Jared Rizzi, elaborated on Turx's question, suggesting that Mr Trump had misconstrued the question.
"I'll follow up on my colleague's question about anti-Semitism. It's not about your personality or your beliefs," he said. "We're talking about a rise in anti-Semitism around the country. Some of it by supporters in your name. What can you do to deter that?"
President Trump responded by suggesting that anti-Semitism came from his political opponents in order to incite anger.
"Some of the signs you'll see are not put up by the people that love or live Donald Trump. They're put up by the other side, and you think it's like playing it straight? No. But you have some of those signs, and some of that anger is caused by the other side. They'll do signs and they'll do drawings that are inappropriate. It won't be my people. It will be the people on the other side to anger people like you."
A recent study by CNN found 48 Jewish centres in 27 US states and one Canadian province received nearly 60 bomb threats during January.
Jonathan Greenblatt, CEO and director of the Anti-Defamation League, criticised Mr Trump's inability to explain what he is going to do about anti-Semitism or to explicitly condemn it.
"It is honestly mind-boggling why President Trump prefers to shout down a reporter or brush this off as a political distraction. This is not a partisan issue. It's a potentially lethal problem. And it's growing," he said in a statement.
"In light of the bomb scares, online harassment, physical vandalism, death threats, and other hate crimes, there is a simple question at hand that Americans of all faiths deserve an answer to – what is the Trump Administration going to do about the recent surge of anti-Semitism?"
The Jewish community has voiced their concerns about the Trump presidency on a number of occasions. Just 24 per cent of Jews voted for Mr Trump and many Jewish organisations have expressed their worries about Mr Trump's policies and the issue of anti-Semitism among some of his supporters.
Mr Trump sparked outrage among the community for his International Holocaust Day statement which failed to explicitly mention Nazi Germany's mass murder of six million Jews. Critics argued the omission served to "generalise" the genocide.
Join our new commenting forum
Join thought-provoking conversations, follow other Independent readers and see their replies