Trump administration plan to send 100,000 troops to round up immigrants labelled 'despicable and un-American'
Leaked memo follows President's repeated campaign pledges to deport millions of people from the US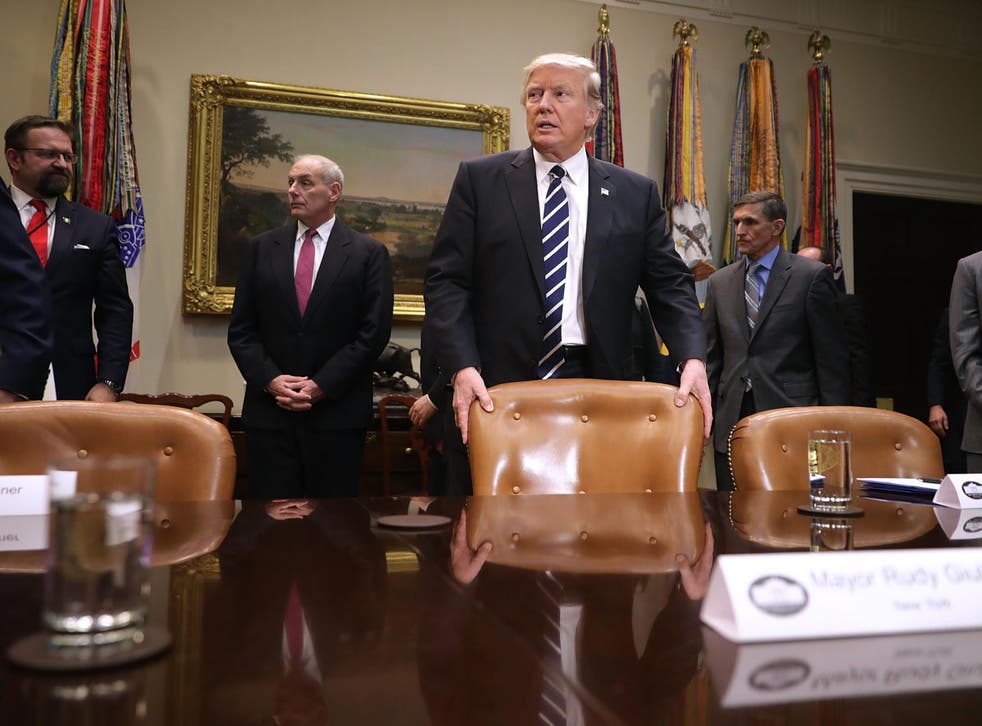 Democrats, civil rights groups and activists have reacted with outrage and confusion to the news that new Department of Homeland Security (DHS) secretary John Kelly wrote a draft memo to propose using 100,000 National Guard troops to round up undocumented immigrants.
The report was quickly disputed by White House press secretary Sean Spicer who said it was "100 per cent false".
The acting press secretary for the DHS, Gillian Christensen, also told The Independent: "The Department is not considering mobilising the National Guard."
It was not disputed, however, that the memo had been drafted by Mr Kelly and was possibly discussed in the White House as part of President Donald Trump's anti-immigrant agenda.
Senate minority leader Chuck Schumer said the report, of which eight governors were unaware, was "despicable" and "unAmerican".
The reports surfaced one day after immigrants hosted a national strike to protest at the President's agenda, demonstrating how immigration contributed to society and the economy.
Thanu Yakupitiyage, senior communications manager of the New York Immigration Coalition, said the proposals were a "complete outrage".
"It would just be one of many assaults on immigrant communities," she said. "But if they did push that forward it would be [a show of] unprecedented militarisation."
Democratic congresswoman Yvette Clark said: "I am deeply troubled by recent reports of a draft memo within Donald Trump's administration proposing the mobilisation of the National Guard for mass deportation of immigrants. Americans depend on the National Guard to keep us safe in times of crisis, not to threaten immigrant families with forced separation."
Former Secretary of Labour Tom Perez said in a statement that the report was "inhumane and against American values".
"Instead of deploying 100,000 troops on American soil to pick up children outside of schools, round up abuelita [grandma] and abuelito [grandpa], and tear apart innocent families, Donald Trump should look within his own White House for the actual threats to our nation," he said.
Eric Garland, a business and government analyst, also wrote on Twitter: "This is where history looks at every single Republican that lets this travesty continue on any longer… and squints menacingly."
The disputed reports of the 11-page memo come just one week after Mr Kelly was forced to testify before a hearing on border security, admitting Mr Trump's Muslim ban executive order that was shut down by a federal court should have been delayed "just a bit".
He took blame for the ban which was rolled out before he had even had final sign-off, saying: "The desire was to get it out, the thinking was to get it out quick, so that potentially people that be coming here to harm us would not take advantage of a period of time to jump on a plane and get here."
Mr Trump's national security adviser Michael Flynn was also forced to resign this week after it was revealed he had misled Vice President Mike Pence about his calls to the Russian ambassador, and the President's choice replacement, Robert Harward, turned down the job.
Protestors rally at JFK Airport against Muslim immigration ban

Show all 20
Although Mr Kelly's latest memo may have been dismissed by the White House as soon as it was reported, it speaks volumes about the current line of anti-immigrant thinking in the nation's highest office.
Texas Congressman Joaquin Castro said the move was equivalent to "mass deportation" and did not agree that the White House had dismissed the memo following Mr Spicer's denial.
On a conference call with reporters, he added: "It's very disturbing. I'm hoping that it's not true, but you get five different answers on controversial issues depending on who you ask. So it's hard to know when Sean Spicer's denial is actual policy. The President needs to address this. The President needs to be clear about his intentions, whether he intends to use the National Guard as immigration agents."
Former President Barack Obama was nicknamed "deporter in chief" within some circles as he deported as many as 400,000 people per year early on in his government.
He reduced the scope for deportations to people who had been criminally convicted, but Mr Trump wants to broaden the scope again.
It is still not clear, for example, if a crime could be simply having crossed the border in the first place.
Donald Trump says he is 'least racist person', tells Jewish reporter to sit down and be quiet
Asked at his first solo press conference in office this week what he would do about children immigrants covered under the Deferred Action for Childhood Arrivals programme, he did not offer any concrete answers.
"It's a difficult subject for me," he said. "I love kids."
He also announced that he would file another version of his Muslim ban, which barred people coming to the US from seven Muslim-majority countries for at least 90 days.
He offered no details except that it would be "tailored" to the decision of the Washington federal judge James Robart who struck the original ban down eight days after it was signed.
Amnesty International responded that a "re-writing of the Muslim Ban order doesn't address the human rights issues it raises. Congress must nullify it once and for all."