Donald Trump: Journalist arrested at inauguration has charges dropped 'following review of evidence'
At least five others reportedly still being prosecuted for felony rioting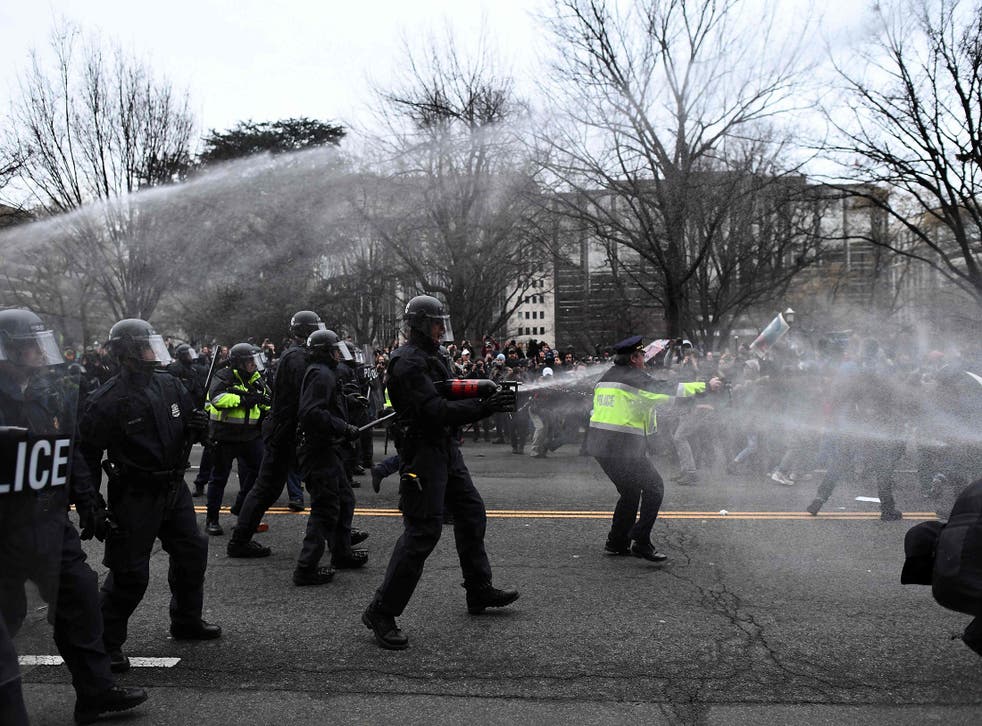 Charges against one of the journalists arrested while covering Donald Trump's inauguration have been dropped.
Prosecutors dismissed the felony charges against Evan Engel of Vocativ on Friday, which could have seen him face 10 years in prison and a $25,000 (£19,900) fine if convicted.
US attorney's office spokesman William Miller said the decision had been reached following "a review of evidence presented to us by law enforcement".
Vocativ editorial director Ben Reininga welcomed the news and said the senior producer had been serving a "vital public interest."
"Learning that one of our journalists was arrested while on assignment served as a chilling reminder that we must never take our First Amendment freedoms for granted," he said in a statement.
"We are pleased that charges against Evan were dismissed and we look forward to continuing to do our work."
Writing on Twitter, Mr Engel wrote: "Case DISMISSED. Thanks to Vocativ, the legal team, & all who reached out with support. My thoughts are with all journalists still charged."
At least five other journalists arrested during the inauguration are reportedly still facing charges, according to the Guardian.
The Committee to Protect Journalists said the arrests "send a chilling message."
"These charges are clearly inappropriate, and we are concerned that they could send a chilling message to journalists covering future protests," said Carlos Lauría, senior Americas program coordinator.
"We call on authorities in Washington to drop these charges immediately."
Register for free to continue reading
Registration is a free and easy way to support our truly independent journalism
By registering, you will also enjoy limited access to Premium articles, exclusive newsletters, commenting, and virtual events with our leading journalists
Already have an account? sign in
Register for free to continue reading
Registration is a free and easy way to support our truly independent journalism
By registering, you will also enjoy limited access to Premium articles, exclusive newsletters, commenting, and virtual events with our leading journalists
Already have an account? sign in
Join our new commenting forum
Join thought-provoking conversations, follow other Independent readers and see their replies