Donald Trump Jr mocks Barack Obama with bizarre cookie of former president
US president's son has been fiercely criticised for sharing a photo of the biscuit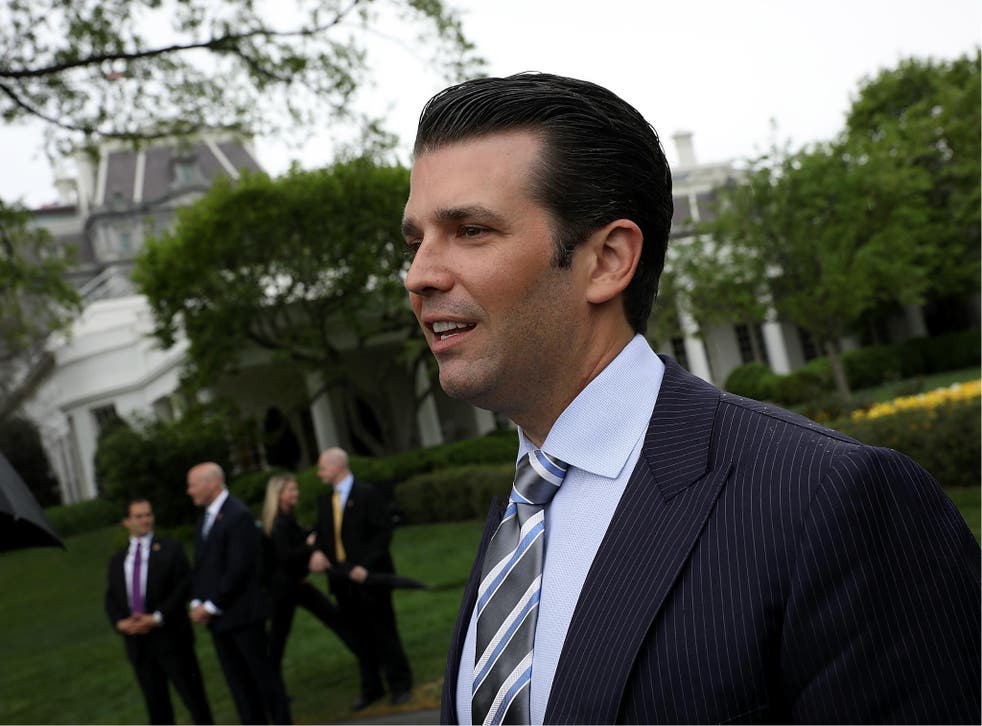 Donald Trump Jr has mocked Barack Obama by posting a photo of him and Ted Cruz posing with a gigantic cookie featuring a distorted image of the former US president.
President Donald Trump's eldest son said the massive brown coloured biscuit was an early birthday present and his special day would be incomplete without such a baked good.
He said: "With friends like these … some good friends decided that while my birthday is not for two weeks that they would get me an early 40th birthday cake. And what birthday is complete without an Obama cake?"
The younger Trump, who is an executive of the Trump administration, referred to the former president in the caption of the post, including Obama as one of the hashtags.
The image shows Trump Jr pulling a funny face and doing a fake smile for the camera and Republican Texas Senator Ted Cruz looking rather unimpressed and almost grimacing.
The badly sketched iced cookie appears to emulate the iconic Barack Obama "hope" poster which was designed by artist Shepard Fairey and came to embody his 2008 presidential campaign. It was a stylized portrait of President Trump's predecessor in bold red, beige and light and dark blue with the words "progress", "hope" or "change" below.
Trump Jr has come under heavy fire for the cookie on Instagram and people have argued he lacks class.
"Obama has more class than you two idiots ever will," said one critic.
Another said: "I love how obsessed you all are with our real president."
"I think this photo really does sum up what a dreadful, ignorant, stupid and hateful person you are," added one more.
Protests erupt after Trump recognises Jerusalem as Israel's capital

Show all 22
"Mock Barack Obama all you want. You will never possess the dignity, the intellect, the courage, the integrity, the kindness, or the compassion he has. You are not even a shadow of the man he is," said another.
Trump Jr, whose friends call him the "Fifth Avenue Redneck" because of his penchant for hunting, has made a number of blunders on social media over the years and has been routinely criticised and mocked for doing so.
Last month, he urged people to vote in the Virginia elections on the wrong day and may have impeded the proper electoral process. The president's son encouraged his 2.2 million Twitter followers to go out and vote on Wednesday despite the fact the greatly anticipated race took place on Tuesday.
He was also mocked last month for another food related gaffe. He said he would teach his daughter Chloe about socialism by taking away some of her Halloween sweets. The tweet amassed over 50,000 replies within hours, with many pointing out that he was not describing socialism but was referring to sharing - an activity the majority of children are taught to do.
Register for free to continue reading
Registration is a free and easy way to support our truly independent journalism
By registering, you will also enjoy limited access to Premium articles, exclusive newsletters, commenting, and virtual events with our leading journalists
Already have an account? sign in
Register for free to continue reading
Registration is a free and easy way to support our truly independent journalism
By registering, you will also enjoy limited access to Premium articles, exclusive newsletters, commenting, and virtual events with our leading journalists
Already have an account? sign in
Join our new commenting forum
Join thought-provoking conversations, follow other Independent readers and see their replies