Donald Trump Jr provokes outrage after comparing Syrian refugees 'to Skittles that could kill you'
Presidential candidate's son shares image comparing people fleeing conflict to deadly sweets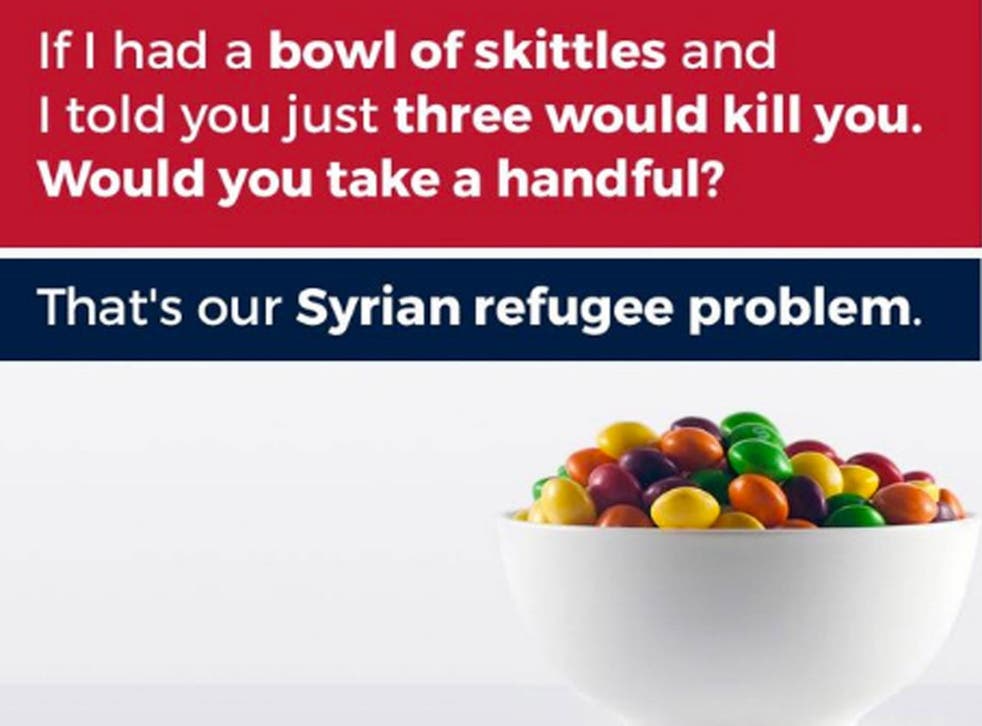 Donald Trump Jr has provoked outrage by comparing refugees to Skittles that could "kill you" in a tweet supporting his father's Presidential campaign.
"Don" Trump, the first child of Donald Trump senior and Ivana Trump, shared the image carrying official "Trump Pence" branding on Monday.
"If I had a bowl of skittles and I told you just three would kill you, would you take a handful?" it said. "That's our Syrian refugee problem."
The image included a bowl of sweets and the slogan "Make America great again!".
It was accompanied by a comment by Mr Trump's son saying: "This image says it all. Let's end the politically correct agenda that doesn't put America first."
His father has sparked several rounds of controversy with his policies on refugees and immigration, including repeated proposals to build a wall along the Mexican border and a vow to ban all Muslims from entering the US, which he has since backed down on.
Mr Trump has repeatedly suggested that Syrian refugees fleeing the country's civil war are a terror threat, calling them a "Trojan horse" in November, before winning the Republican nomination.
His son's comments swiftly caused fresh controversy, including from a former Republican Congressman and right-wing radio host who accused him of repeating his own remarks.
Donald Trump's most controversial campaign moments
Sharing one of his own tweets, Joe Walsh wrote: "Hey @DonaldJTrumpJr, that's the point I made last month. Glad you agree."
On 13 August, he had written: "If I had a bowl of Skittles and told you 3 of them would kill you: Would you eat a handful? No? This is our refugee problem."
The younger Mr Trump was unapologetic on Tuesday morning, sharing memes alleging Hillary Clinton "talks tougher" about his father's supporters than Isis and calling on the US to "defeat radical Islamic terrorism".
Donald Trump's most controversial quotes

Show all 14
Thousands of people were discussing the controversy, with many sharing images of injured Syrians including Omran Daqneesh, who was filmed in an ambulance in Aleppo last month after an air strike that killed his brother.
Many were creating their own versions of the meme, while several confirmed that they really would "eat the Skittles".
Denise Young, Vice President of corporate affairs at manufacturers Wrigley Americas gave a response on behalf of the company.
She said: "Skittles are candy. Refugees are people. We don't feel it's an appropriate analogy."
Register for free to continue reading
Registration is a free and easy way to support our truly independent journalism
By registering, you will also enjoy limited access to Premium articles, exclusive newsletters, commenting, and virtual events with our leading journalists
Already have an account? sign in
Register for free to continue reading
Registration is a free and easy way to support our truly independent journalism
By registering, you will also enjoy limited access to Premium articles, exclusive newsletters, commenting, and virtual events with our leading journalists
Already have an account? sign in
Join our new commenting forum
Join thought-provoking conversations, follow other Independent readers and see their replies