Donald Trump phone calls made me uneasy, says ex-Justice Department lawyer
Preet Bharara felt President was trying to 'cultivate some kind of relationship' with him in apparent bid to win influence
Sandhya Somashekhar
Monday 12 June 2017 10:57 Comments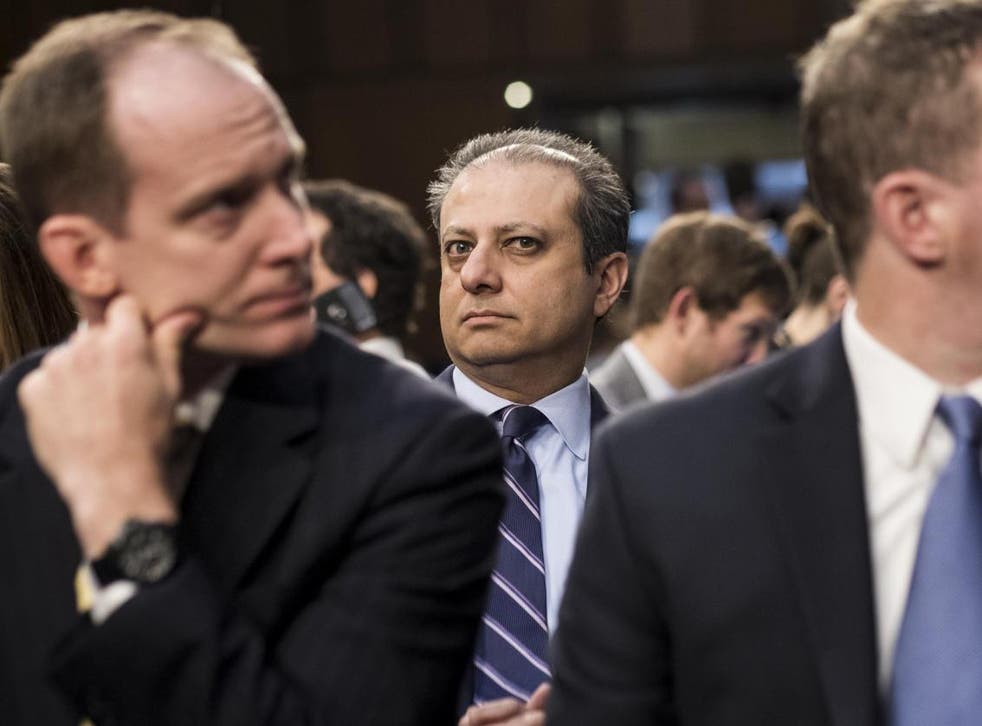 Preet Bharara, a prominent former US attorney ousted by President Donald Trump, said Sunday that he reported to the Justice Department efforts by the president to "cultivate some kind of relationship" with him, describing a series of phone calls from Trump that made him increasingly uncomfortable.
In his first sit-down interview since his March removal, Bharara said he reported one of the phone calls to the chief of staff for Attorney General Jeff Sessions because it made him uneasy. He said he was dismissed from the important prosecutor's job in Manhattan only 22 hours after he finally refused to take a call from the president.
The recollections add a new dimension to the intensifying debate over Trump's firing of former FBI Director James Comey, who was removed from his job after private conversations with Trump that he viewed as inappropriate. Comey testified before Congress last week that Trump told him he hoped the FBI would drop an investigation into former national security adviser Michael Flynn. Trump has said Comey's version of events is untrue.
Bharara sat behind Comey throughout the explosive testimony, which led Democrats to suggest that Trump may have obstructed justice.
Bharara told host George Stephanopoulos on ABC's This Week that Comey's account "felt a little bit like deja vu."
"And I'm not the FBI director," he said, "but I was the chief federal law enforcement officer in Manhattan with jurisdiction over a lot of things including, you know, business interests and other things in New York."
Mark Corallo, a spokesman Trump's personal attorney, Marc Kasowitz, pushed back against Bharara's characterisations, suggesting on Twitter that if a US attorney refused to take Trump's call "he deserved to be fired."
He accused Bharara of being a "resistance Democrat."
But Bharara said he never got a direct call from President Barack Obama, under whom he worked for more than seven years. And in a tweeted response to Corallo after the interview, Bharara said the "AG office agreed w/ me about call."
Trump and his supporters have downplayed the significance of the president's overtures to Comey and highlighted aspects of Comey's testimony that seemed exculpatory. They also have criticised Comey's admission that he arranged for a friend to pass along details of the encounters to the New York Times.
"I believe the James Comey leaks will be far more prevalent than anyone ever thought possible. Totally illegal? Very 'cowardly!' " Trump said in a tweet Sunday.
The volleys came during an unusually quiet weekend for Trump. Once the president landed in New Jersey for a visit to a Trump golf club in Bedminister, the White House largely went silent. Photos popped up on social media showing Trump at a graduation party at the club Friday and posing for photos with a young couple who were married there Saturday.
Some of those who came to the president's defence this weekend did so in ways that seemed to contradict the declarative statements made by Kasowitz that Trump "never, in form or substance, directed or suggested that Mr Comey stop investigating anyone."
In an interview with Fox News that aired Saturday night, Donald Trump Jr, the President's eldest son, seemed to confirm Comey's version of events as he tried to emphasise the fact that his father did not directly order Comey to stop investigating Flynn.
"When he tells you to do something, guess what? There's no ambiguity in it, there's no, 'Hey, I'm hoping,'" Trump Jr said. "You and I are friends: 'Hey, I hope this happens, but you've got to do your job.' That's what he told Comey."
And on Fox News Sunday, Republican National Committee Chairwoman Ronna Romney McDaniel said that she believes the president's version of events over Comey's - but then she speculated.
"Say his version is true, and he said, the president said: 'I hope you let this go,' " she said. "Listen, I'm a mom of kids. There's a difference between saying 'I hope you do your homework' and 'Go do your homework.' Donald Trump, President Donald Trump, is someone who speaks definitively. He's somebody who, when he talks to you, you know what he means."
As US attorney for New York's Southern District, Bharara developed a reputation as a tenacious and bipartisan prosecutor, indicting 17 prominent New York politicians for malfeasance, including 10 Democrats. He prosecuted insider trading cases, including one against disgraced financier Bernie Madoff.
Bharara's jurisdiction included the headquarters of the Trump Organization, though at the time of his ouster, there was no indication that it was related to any specific case. It is common for new presidents to ask for the resignation of US attorneys appointed by a predecessor, and he was one of 46 asked to step down.
Still, Bharara has said he was puzzled because Trump indicated he would keep him on in November during a meeting at Trump Tower. Bharara refused to step down, and Justice officials fired him. "To this day I have no idea why I was fired," Bharara told Stephanopoulos.
Shortly after his removal, ProPublica reported that Bharara had been overseeing an investigation into stock trades made by Trump's Health and Human Services secretary, Tom Price. While a Georgia congressman, Price bought and sold hundreds of thousands of dollars in health-care stocks while sometimes voting on legislation related to the industry.
Bharara is now a distinguished scholar in residence at the NYU School of Law and has been critical of Trump and Republicans. During last week's hearing, he echoed Comey's remarks that he hoped there were recordings of his conversations with Trump, as the president has hinted. "We can all agree with Jim Comey that, Lordy, we hope there are tapes," he tweeted.
The biggest names involved in the Trump-Russia investigation

Show all 17
During an 6 April speech at Cooper Union for the Advancement of Science and Art, he mocked Trump's oft-repeated pledge to "drain the swamp."
"To drain a swamp you need an Army Corps of Engineers, experts schooled in service and serious purpose, not do-nothing, say-anything neophyte opportunists who know a lot about how to bully and bluster but not so much about truth, justice and fairness," he said.
The Washington Post
Register for free to continue reading
Registration is a free and easy way to support our truly independent journalism
By registering, you will also enjoy limited access to Premium articles, exclusive newsletters, commenting, and virtual events with our leading journalists
Already have an account? sign in
Join our new commenting forum
Join thought-provoking conversations, follow other Independent readers and see their replies