Donald Trump accused of 'shocking ignorance' after suggesting Korea used to be part of China
'Ridiculous' claim is 'nothing but a grave challenge to the identity of the Korean people' according to Korean Joonang Daily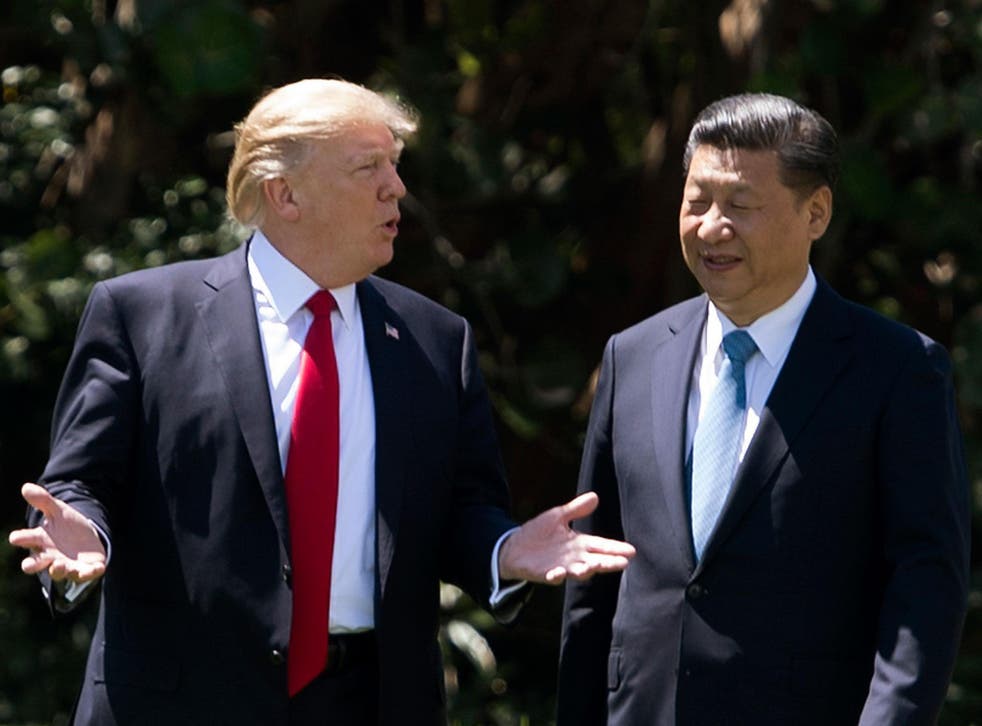 Donald Trump has been accused of "shocking ignorance" after stating that Korea used to be part of China after he met Chinese President Xi Jingping earlier this month.
Speaking in an interview with the Wall Street Journal, Mr Trump said that Mr Xi "Went into the history of China and Korea … and you know, you're talking about thousands of years … and many wars. And Korea actually used to be a part of China."
Commentators believe Mr Trump might have heard Mr Xi's potted history of the countries from a Chinese perspective as there is a growing school of nationalist thought in China that ancient Korean kingdoms were part of the Chinese empire.
Mr Trump revealed the Chinese leader had explained the situation on the Korean Peninsular – divided into communist North Korea and capitalist South Korea following the Second World War - which led him to conclude, "After ten minutes, I realised it's not so easy."
US/South Korea joint exercise Operation Pacific Reach

Show all 10
South Korean daily newspaper Korea Joonang Daily said in an editorial: "We are dumbfounded that the leader of 21st-century China made such a ridiculous claim. If Trump really conveyed Xi's words correctly, it is nothing but a grave challenge to the identity of the Korean people. "
It added: "As China's power has grown remarkably over the last three decades, China's historical perception is increasingly taking a worrisome turn."
Rah Jong-yil, a former South Korean ambassador to both London and Tokyo, told The Telegraph: "I suspect that Mr Xi said, in effect, that Korea was part of China because it was overwhelmingly under Chinese influence historically and Mr Trump bought that.
"It shows his shocking ignorance of the situation in north-east Asia. That is very disturbing to us.
"Somebody needs to enlighten Mr Trump about the facts of the region and he should not fall for this sort of silly nationalism from the Chinese," Mr Rah added.
"It is true that the Korean peninsula was under the influence of China, but that was under the Ming dynasty - which was a long time ago and nothing to do with the People's Republic of China.
"In the distant past, Korea may have looked up to China as a model of political or economic development, but today we consider the communist-led nation to be economically, politically and socially backward."
Critics have repeatedly claimed there are gaping holes in Mr Trump's knowledge of world affairs and history.
Earlier this month, it was suggested he may not know the name of the leader of North Korea after he repeatedly referred to Kim Jong-un as "this gentleman" in a Fox News interview.
He also appeared to think he was dealing with the now deceased father of Kim Jong-un, Kim Jong-il, who was in power in North Korea during the Clinton presidency and for most of Barack Obama's first term.
He said: "You know, they've been talking with this gentleman for a long time. You read Clinton's book, he said, 'Oh, we made such a great peace deal,' and it was a joke.
"You look at different things over the years with President Obama. Everybody has been outplayed, they've all been outplayed by this gentleman. And we'll see what happens. But I just don't telegraph my moves."
Washington has been attempting to work out how to deal with the hard line communist state and its suspected nuclear arsenal for decades. Mr Trump's position appears to be hardening with his recent warning that, "if China is not going to solve North Korea, we will."
Join our new commenting forum
Join thought-provoking conversations, follow other Independent readers and see their replies