Carrier union boss: Donald Trump 'lied his a** off' about saving 1,100 jobs from moving to Mexico
Of the nearly 1,400 workers at the air conditioning plant, 350 positions were never set to leave, and another 80 jobs were non-union clerical and supervisory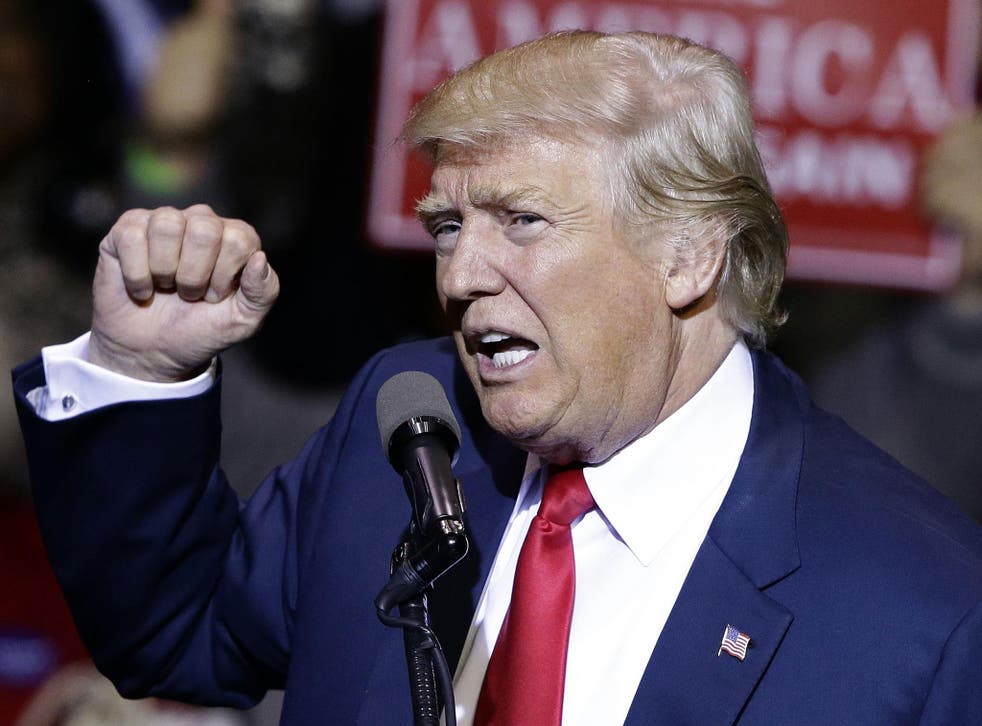 Donald Trump lied about saving more than 1,100 Indianapolis manufacturing jobs from moving to Mexico, according to the boss of the company's union.
Chuck Jones, leader of the United Steelworkers 1999 union who watched the president-elect give a speech at the air conditioning plant on 1 December, told the Washington Post that Mr Trump had inflated his victory.
Mr Trump told the 150-strong crowd at the plant - picked and seated appropriately by the Secret Service and corporate employees - that he had saved "over 1,100 people". But Mr Jones told the Post that of the almost 1,400 employees at the plant, 350 research and development positions were never intending to leave. Another 80 jobs, seemingly included in Mr Trump's number, were in non-union clerical and supervisory positions that were also not going to leave.
Mr Trump could only take credit for saving 800 jobs, according to Mr Jones. Those numbers were confirmed by a spokesperson for Carrier.
The Union leader, who voted for Hillary Clinton as a "lesser of two evils", expected Mr Trump to get up on the stage and explain how the deal had panned out.
"But he got up there, and, for whatever reason, lied his a— off."
"Trump and Pence, they pulled a dog and pony show on the numbers," added Mr Jones. "I almost threw up in my mouth."
In gratitude for keeping less than half the jobs in the US, Mr Trump promised the plant huge tax breaks and benefits, including nearly $7 million tax credits from Indiana, to be paid in installments of $700,000 every year for a decade. In return, Carrier said it would invest $16 million in its Indiana plant. It will still send 700 factory jobs south of the border to Monterrey, Mexico.
Vermont senator Bernie Sanders criticised the deal, saying it sent a signal to other companies that they could still send jobs to Mexico and receive financial advantages.
Mr Trump told the crowd last week that he had been inspired to make the deal after seeing a Carrier employee talking to NBC news about the president-elect's "promise" to save their jobs. Mr Trump had said at a rally in April: "They're going to call me and they are going to say 'Mr. President, Carrier has decided to stay in Indiana.One hundred per cent — that's what is going to happen."
World reaction to President Trump: In pictures

Show all 29
Yet on 1 December at the factory, he said he had not meant that literally.
"I was talking about Carrier like all other companies from here on in," Mr Trump said. "Because they made the decision a year and a half ago. But he believed that was - and I could understand it. I actually said - I didn't make it - when they played that, I said, 'I did make it, but I didn't mean it quite that way'."
Mr Trump was already under fire for claiming he had saved jobs at the Ford plant in Kentucky, but the company clarified it had only been considering moving one production line.
He has also been accused of sending a negative tweet about air manufacturer Boeing for its "out of control" costs of $4 billion and that the government should cancel their contract. The tweet temporarily wiped almost $1 billion of Boeing's share price. Boeing clarified their contract was only worth $170 million.
It is speculated that Mr Trump sent the tweet hours after a Chicago Tribune article reported that Boeing CEO Dennis Muilenburg had made comments about the president-elect and cast doubt over his plans on international trade.
Register for free to continue reading
Registration is a free and easy way to support our truly independent journalism
By registering, you will also enjoy limited access to Premium articles, exclusive newsletters, commenting, and virtual events with our leading journalists
Already have an account? sign in
Register for free to continue reading
Registration is a free and easy way to support our truly independent journalism
By registering, you will also enjoy limited access to Premium articles, exclusive newsletters, commenting, and virtual events with our leading journalists
Already have an account? sign in
Join our new commenting forum
Join thought-provoking conversations, follow other Independent readers and see their replies