Melania and Barron Trump may not be moving to the White House
The president-elect's wife and youngest child may opt to remain in Trump Tower in Manhattan, another unusual move for a new president
Rachael Revesz
New York
Sunday 20 November 2016 19:52 Comments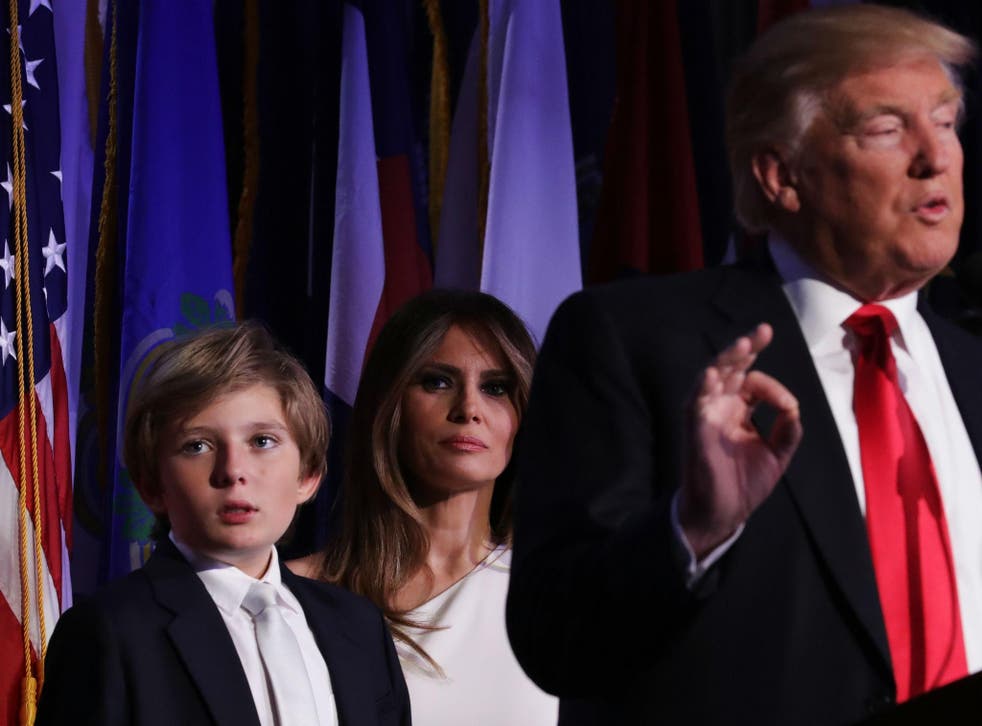 Donald Trump's wife and youngest child might not be moving to the White House.
As reported by the New York Post, Melania Trump and her 10-year-old son, Barron Trump, will remain at Trump Tower in Manhattan and will travel to Washington DC when needed.
"Melania is extremely close to Barron, and they have become closer during the campaign," a source close to the transition team told the Post.
"The campaign has been difficult for Barron, and she is really hoping to keep disruption to a minimum."
Barron will stay in school on the Upper West Side, where Ms Trump reportedly regularly picks him up at the end of the day.
Their residence at Trump Tower will likely mean continued heightened security around the building, which has been crowded with supporters, protesters, television crews and police since the election on 8 November.
President Trump protests

Show all 20
A source told the New York Post that Barron would have to be driven to school in an armored vehicle and a team of security agents would have to check the school was safe every morning.
The New York Times reported last week that the president-elect discussed with advisers how many nights a week he would have to spend in Washington DC.
The "homebody" often flew back to Manhattan on the campaign trail so he could wake up in his own bed.
Trump Tower has been described as a difficult location to secure if Mr Trump and his family were to spend significant time there, as members of the public can simply walk in and out as they please.
The only president not to have lived full-time at the White House was George Washington, who selected the site for the building and approved its design. Presidents have spent significant amounts of time away from Washington DC however, like George W Bush who spent close to 500 days in his Texas ranch.
Register for free to continue reading
Registration is a free and easy way to support our truly independent journalism
By registering, you will also enjoy limited access to Premium articles, exclusive newsletters, commenting, and virtual events with our leading journalists
Already have an account? sign in
Join our new commenting forum
Join thought-provoking conversations, follow other Independent readers and see their replies