Donald Trump signs executive order to build wall between Mexico and US
An immigrant rights campaigner described the move as 'political theatre at the expense of civil liberties'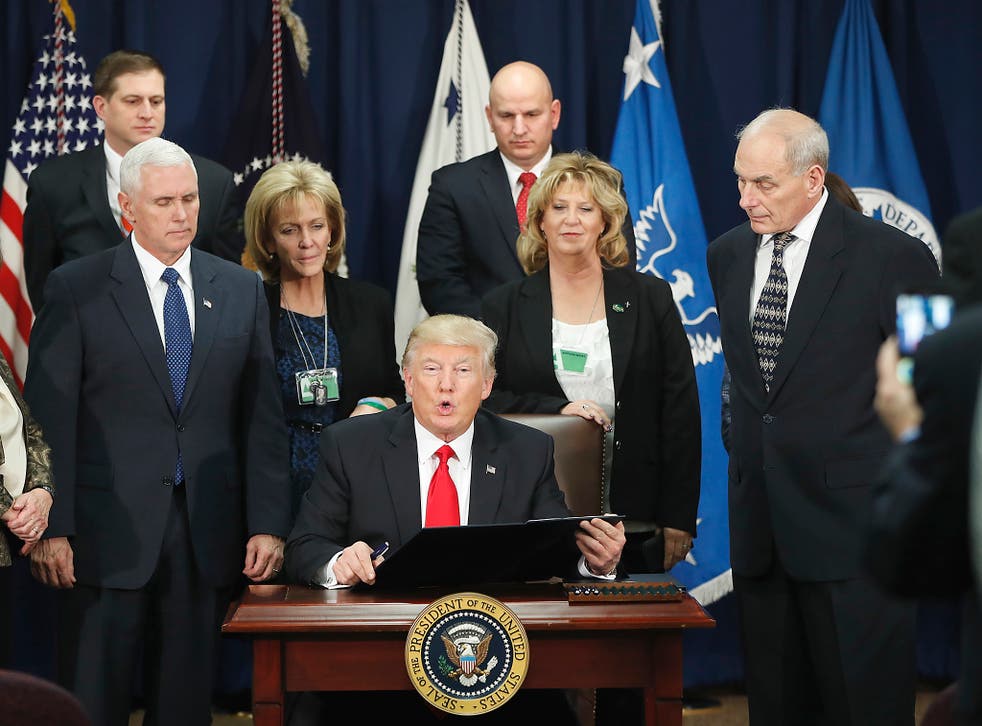 Donald Trump has signed an executive order calling for a "large physical barrier" between the US and Mexico – the order will jump-start the process of building the wall, which was one of the President's primary campaign promises.
"So badly needed. You folks know how badly needed it is as a help... I believe the steps we will take, starting right now, will improve the safety of both of our countries," Mr Trump said at the Department of Homeland Security (DHS). "A nation without borders is not a nation. Beginning today, the United States gets back control of its borders – gets back its borders."
In addition to the wall, Mr Trump signed an action to strip federal funding from "sanctuary cities", that do not prosecute undocumented immigrants. He has mobilised on most of his controversial campaign promises – including directives against the Affordable Care Act, a greenlight to contentious oil pipelines, withdrawal from the Trans-Pacific trade agreement, and the renewal of the "Global Gag Rule", which prevents US funding for global family planning NGOs that are linked to abortion.
He is also expected to take actions this week to limit legal immigration – including more rigorous restrictions to refugee acceptance (an already intense process) and blocking the issuance of visas to people from Muslim-majority countries in the Middle East and North Africa.
"Big day planned on national security tomorrow," Mr Trump tweeted on Tuesday night. "Amoung [sic] many other things, we will build the wall."
The President signed the orders during a ceremony at DHS headquarters, honouring the newly confirmed Gen John Kelly as director.
"As soon as we can, as soon as we can physically do it," he told ABC News. "I would say in months, yeah. I would say in months – certainly planning is starting immediately."
Mr Trump added that US taxpayers will fund the wall, but claimed that they will be "reimbursed" by Mexico. He did not explain how. A Mexican official said the President Enrique Pena Nieto was considering cancelling his meeting with Trump at the White House next week following the order.
Trumps says Mexico will reimburse America for wall
Mr Trump has previously estimated the wall would cost $8bn (£6.4bn) although some experts have said it could twice that amount.
"All it is, is we'll be reimbursed at a later date from whatever transaction we make from Mexico," he said.
Immigrant rights campaigner and director of the Southern Border Communities Coalition, Christian Ramirez, rebuked the border wall as "political theatre at the expense of civil liberties".
"It is not national security policy. Border communities are among the safest in the nation and patrolling them with tens of thousands of heavily armed, poorly trained, unaccountable agents puts lives at risks," Mr Ramirez added. "This will turn these communities into de facto military zones."
It remains unclear how Mr Trump's border wall initiative will differ from the heavily militarised barrier that already exists at urban centres along the boundary.
Despite Mr Trump's countless claims that undocumented immigrants are flooding into the US from Mexico, there is only evidence to the contrary.
According to Pew Research data, migration flows from Mexico have been negative since 2008, indicating that Mexicans are leaving the US rather than entering.
The appearance of the President at the DHS comes as Mexico's foreign minister, Luis Videgaray, arrived in Washington in preparation for President Enrique Peña Nieto's visit at the end of this month.
Register for free to continue reading
Registration is a free and easy way to support our truly independent journalism
By registering, you will also enjoy limited access to Premium articles, exclusive newsletters, commenting, and virtual events with our leading journalists
Already have an account? sign in