'Obama is the founder of Isis': Donald Trump's most controversial quotes
The fiery-mouthed Republican nominee has repeatedly promised to be more 'presidential'
Rachael Revesz
New York
Monday 07 November 2016 11:08 Comments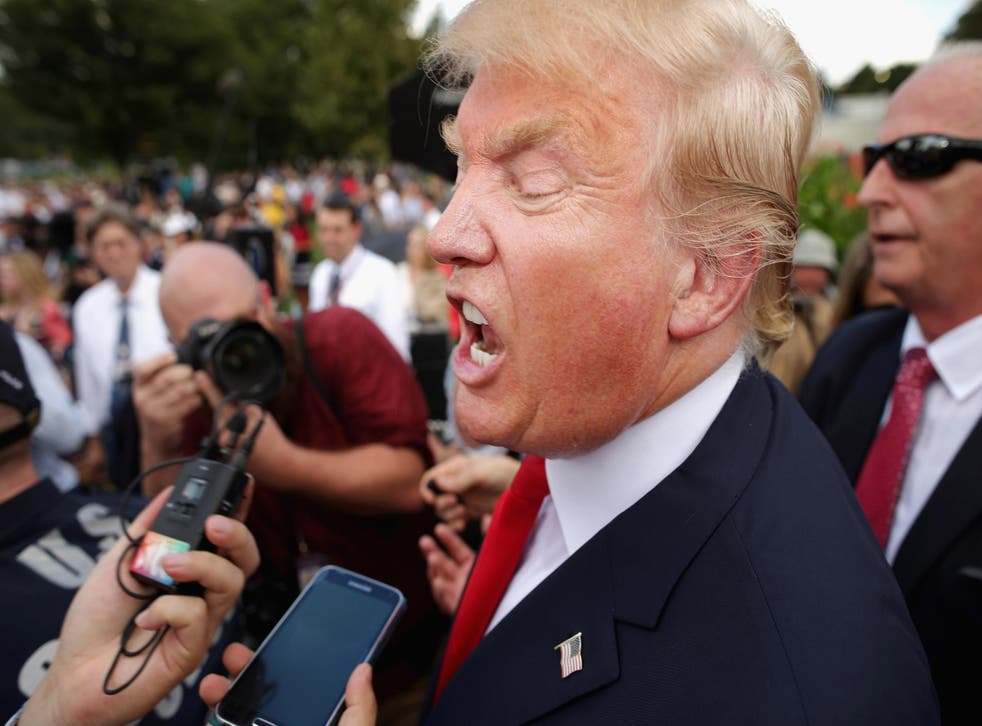 When Donald Trump was chosen as the Republican nominee in July, many were shocked. Others were happy. Some were confused. But the tidal wave of momentum that has pushed the Democrat-turned-Republican into the running for the highest office in the world has kept rolling in the months since the Republican convention.
Backed by powerful allies, money, business, family and a large voter base of mostly working class, white voters, it appears that there is little that Mr Trump can say to provoke his supporters to reconsider - no matter how base or insulting.
Although the candidate has made controversial and negative remarks about people with disabilities, women, Hispanics, Mexicans, African Americans, the Chinese, military veterans - to name a few - most polls show he has a relatively minor lag behind his rival, Hillary Clinton.
"Why aren't I 50 points ahead?" Ms Clinton recently asked. She seemed to be as confused as many other voters.
Below is a run-down of her opponent's worst comments.
26 September 2016: "She doesn't have the stamina to be president"
Mr Trump has peddled theories that Ms Clinton is not physically well, jumping on a video of her stumbling as she got into a car after the 9/11 memorial service this year. He also imitated her unsteady walk at a rally.
Donald Trump does impression of Hillary Clinton faint
27 September 2016: "She was the winner and she gained a massive amount of weight, and it was a real problem"
Mr Trump was referring to his criticism of former Miss Universe winner, Alicia Machado, who he accused of gaining weight and forced to do sit-ups in front of reporters in the mid 1990s. His remarks about the former model resurfaced in the first presidential debate but the Republican did little to reverse his comments in ensuing interviews, calling her the "worst" winner they had ever had.
The woman Trump called 'Miss Piggy' appears in video supporting Hillary Clinton
26 September 2016: "That makes me smart"
Mr Trump stunned millions of Americans when he made the retort to Hillary Clinton at the first presidential debate, during which she accused him of evading federal income tax for almost two decades.
Clinton Slams Trump for Debate Comments
26 September 2016: "That's business, by the way"
Similarly, at the debate, he responded to Ms Clinton's claim that he had "rooted for the housing crisis" almost a decade ago, when he could take advantage of the fallen value of property.
20 August 2016: "You're living in poverty, your schools are no good, you have no jobs, 58 per cent of your youth is unemployed - what the hell do you have to lose?"
Mr Trump's last minute and negative pitch to win over African American voters in Ohio, less than three months before the election, was not warmly welcomed. In some polls he has close to zero per cent of the black vote.
GOP Must Do Better with African Americans' - Trump
6 July 2015: "The Mexican Government is forcing their most unwanted people into the United States. They are, in many cases, criminals, drug dealers, rapists, etc"
His comments to Fox News on 5 July was a staunch defense of earlier comments that echoed the negative sentiment against Mexicans.
He did not fail to add: "And some, I assume, are good people."
7 December 2015: "Donald J. Trump is calling for a total and complete shutdown of Muslims entering the United States until our country's representatives can figure out what is going on"
The campaign statement said that Mr Trump would propose a temporary ban of all Muslims shortly after the terrorist attacks in Paris. He has not outlined how he would implement the ban and has been accused of consistently smearing Muslims with negative associations.
Donald Trump's most controversial quotes

Show all 14
16 November 2015: "[Syrian refugees] could be one of the great Trojan horses"
In November last year, Mr Trump said Syrian refugees could not be allowed into the US, claiming they presented "another problem" in a country which already has "tremendous problems".
He also said at a rally in Connecticut that he would be prepared to look a Syrian child refugee in the face and tell them to "go home".
March 2011: "I want to see his birth certificate. I'm starting to think that he was not born here"
Mr Trump, speaking to NBC News, spearheaded the "birther" conspiracy theory that president Barack Obama was not born in the US. It was not until mid-September, after his campaign had publicly denounced the rumor, that he backed down and said the president "was born in the US. Period."
'All of Donald Trump's political activity stems back to 'racist birther lie'
9 August 2016: "If [Hillary Clinton' gets to pick her judges, nothing you can do, folks. Although the Second Amendment people - maybe there is, I don't know"
As Mr Trump appeared to despair over the gap in the supreme court justice roster, he also implied that gun advocates could assassinate his rival.
10 August 2016: "[Obama] is the founder of Isis"
At a speech in Florida in August, even the crowd behind Mr Trump looked shocked when he announced that the Democratic president founded the terrorist network group. Mr Trump said he was trying to criticise the president's strategy in the Middle East.
27 July 2016: "Russia, if you're listening, I hope you're able to find the 30,000 emails that are missing. I think you'll be rewarded mightily by our press"
Mr Trump was accused of "treason" for apparently encouraging Russian intelligence agencies to hack the Ms Clinton's emails, following the hack of the Democratic National Committee, which exposed an attempt to smear Bernie Sanders.
26 March 2016: "Would I rather have North Korea have [nuclear weapons] with Japan sitting there having them also? You may very well be better off if that's the case. If Japan had that nuclear threat, I'm not sure that would be a bad thing for us"
Mr Trump told the New York Times in March that if Japan and South Korea had their own nuclear weapons, they would rely less on financial aid from the US. He also countries should reimburse the US for the protection it has already provided, such as Saudi Arabia.
Tim Kaine says Trump wants to go nuclear in vice presidential debate
30 March 2016: "The answer is there has to be some form of punishment [for women getting abortions]"
His comments to MSNBC in March sparked an outcry from men and women who opposed Mr Trump's proposal to lock up women who decide to abort their pregnancy. He also wants to defund Planned Parenthood. He later retracted his comment and suggested punishment should be focused on the abortion providers.
23 March 2016: "Be careful, Lyin' Ted, or I will spill the beans on your wife!"
Mr Trump took the lowest route when he was battling in the polls against the Texas senator in March 2016, posting a "my wife is prettier than yours" meme alongside the caption: "The images are worth a thousand words."
7 May 2016: "She's married to a man who was the worst abuser of women in the history of politics"
Bill Clinton has not escaped the beady eye of Mr Trump. He accused his wife of defending the former president against accusations of extramarital affairs which brought "shame" and "chaos" to the country. He also invited Gennifer Flowers to sit in the front row of the first presidential debate to "unnerve" Ms Clinton, but retracted the invitation.
Michelle Obama mocks Trump with microphone
2011: "You're disgusting, you're disgusting!"
Mr Trump reportedly screamed at a female lawyer who had requested to step outside of a deposition to breast feed her child in 2011.
The claim was not disputed by his lawyer, Allen Garten, who was present at the meeting.
October 2004: "And whether people want to say that or not, the fact is it [pregnancy] is an inconvenience for a person that is running a business"
15-year-old girl: I see with my own eyes the damage Donald Trump does when he talks about women
In an interview with Dateline, the Republican said that pregnancy is "wonderful" - but it might be hard for a woman to come back to work. He also said that despite having five children and seven grandchildren, he has never changed a nappy.
Register for free to continue reading
Registration is a free and easy way to support our truly independent journalism
By registering, you will also enjoy limited access to Premium articles, exclusive newsletters, commenting, and virtual events with our leading journalists
Already have an account? sign in
Join our new commenting forum
Join thought-provoking conversations, follow other Independent readers and see their replies