Mother of girl murdered by MS-13 gang run over and killed at daughter's memorial site
Evelyn Rodriguez invited to Donald Trump's State of the Union address in January as an advocate for victims of gang violence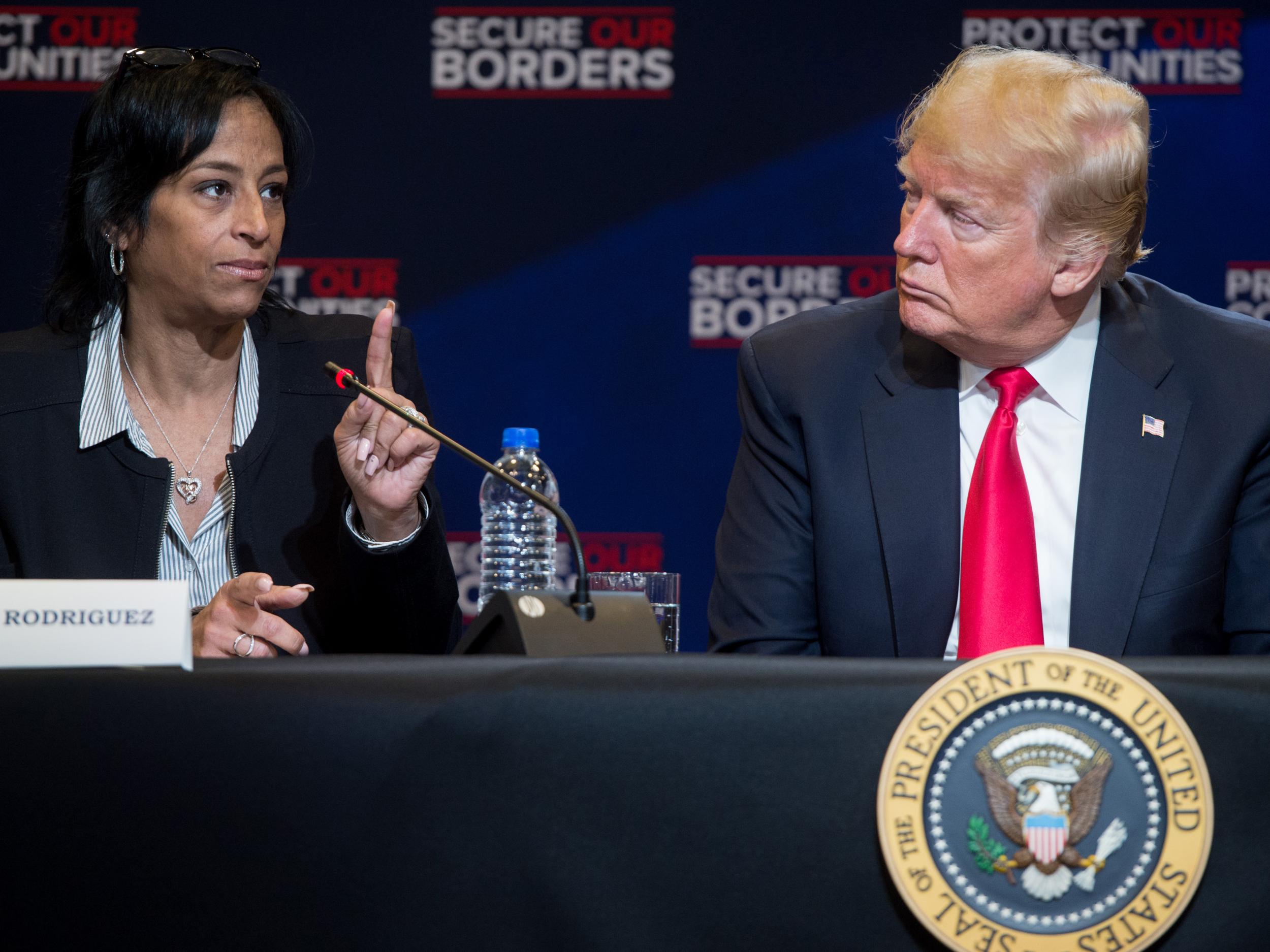 A mother recognised by Donald Trump in his campaign against MS-13 gang violence was run over by a car and killed at her murdered daughter's memorial site.
Members of the gang were charged with killing Evelyn Rodriguez's 16-year-old daughter Kayla Cuevas in 2016.
The Suffolk County Police Department in New York said that Ms Rodriguez had been involved in a dispute with a driver near the memorial site, and that the vehicle struck her as the driver tried to leave.
The memorial was set to be held in Brentwood, on Long Island, not far from where the bodies of Ms Rodriguez's daughter, Kayla Cuevas, and her friend Nisa Mickens were found two years ago in a suburban cul-de-sac.
Ms Rodriguez, 50, a vocal advocate for crime prevention who was invited to Mr Trump's State of the Union address in January, had been preparing for the memorial on Friday evening to mark the two-year anniversary of the day her daughter's body was found.
On Friday night, Mr Trump tweeted about her death: "My thoughts and prayers are with Evelyn Rodriguez this evening, along with her family and friends."
On the day before the memorial, Ms Rodriguez told Newsday that people attending were going to bring candles and balloons to remember Kayla and Nisa. "It's a fight that I have to continue to make sure all communities are safe," she said.
World news in pictures
Show all 50
In a statement on Friday night, the Suffolk police said that Ms Rodriguez got into an argument with the driver of a vehicle regarding the placement of the memorial.
During the dispute, the driver tried to leave the scene and the car struck Ms Rodriguez, the statement said. The driver remained on the scene and called 911.
Ms Rodriguez was transported to hospital in Bay Shore, New York, where she was pronounced dead.
Footage recorded on Friday by News 12, a local television outlet, appeared to show a verbal confrontation between a person driving a white SUV and Ms Rodriguez, who was standing near the front of the car.
News 12 reported that shortly after that confrontation, the vehicle accelerated towards Ms Rodriguez and ran her over.
Timothy Sini, the Suffolk County district attorney and a former police commissioner who investigated Kayla and Nisa's murders, said he could not comment on the details of the investigation.
"But I will state, because it's important to make this clear, this had nothing to do with MS-13, this was not an act by MS-13, or done in coordination with the gang in any way," he said.
MS-13, which is also known as La Mara Salvatrucha, has roots in Los Angeles and El Salvador and has existed for more than two decades on Long Island. Officials have said that thousands of school-age migrants came as unaccompanied minors to the Brentwood School District over the past several years.
When members of the gang were charged in the murders of Kayla and Nisa, the case became a flash point for the Trump administration's crackdown on unauthorised immigrants.
Last year, Ms Rodriguez met with Attorney General Jeff Sessions and told him that the problems in her neighbourhood began in underfunded schools that were ill-equipped to deal with the thousands of young immigrants in the area.
And in January, she was invited to the White House to meet Mr Trump and attend his State of the Union address.
"I'm not here for anybody's political gain," Ms Rodriguez told The New York Times shortly before that event. "I just want what's right to be done. Everybody should put their political agenda aside and think about what's going on in our country."
New York Times