Trump-Russia probe: Mueller 'requests emails' from Cambridge Analytica firm linked to 2016 campaign and Brexit
Cambridge Analytica also under investigation by UK Electoral Commission over services to Leave.EU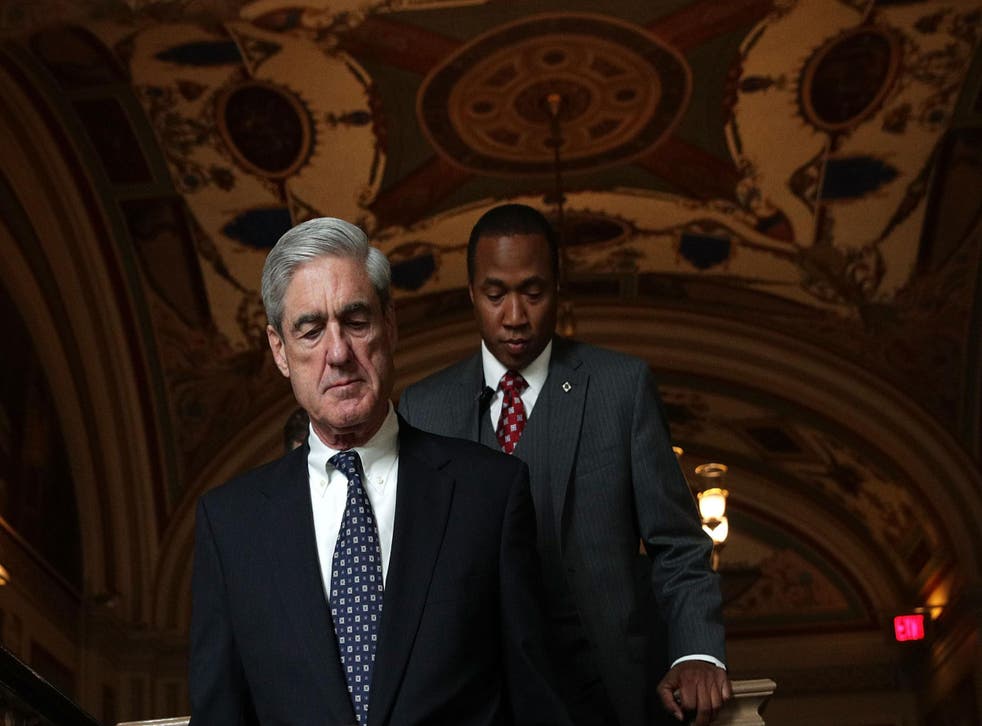 The investigation into links between Trump campaign officials and Russia has requested documents from a data firm which worked on both the 2016 presidential election and Brexit, said US media.
Robert Mueller, who is leading the federal probe, asked Cambridge Analytica to hand over the emails of any employee who worked to support Donald Trump's 2016 election win, the Wall Street Journal reports.
The special counsel's request, which the firm reportedly voluntarily complied with in the autumn, suggests the investigation is now probing the Trump campaign's data operations.
And it could also have repercussions in Britain, and particularly for Leave.EU, a campaign group during the EU referendum, which is under investigation by the Electoral Commission over alleged "impermissible" services from the data firm.
Robert Mercer, founder of Cambridge Analytica and co-owner of right-wing news organisation Breitbart, allegedly directed the data firm to provide expert advice to Leave.EU, which received prominent support from Nigel Farage.
Leave.EU's communications director, Andy Wigmore, told The Observer Mr Mercer had offered his company's services for free. "They were happy to help because Nigel is a good friend of the Mercers," Mr Wigmore said.
Trump-Russia investigation: who has been charged in the Mueller probe
In March, Mr Farage thanked Breitbart and Steve Bannon, Mr Trump's former chief strategist and a director at Cambridge Analytica, for "hugely" helping the vote for Brexit.
The firm reportedly harvested data from UK voters' Facebook profiles to help decide how to target them with tailored Brexit campaign messages. Similar methods were employed to help the Trump campaign.
However, Leave.EU failed to inform the electoral commission about the firm's work. All services worth more than £7,500 must be declared.
In April, the Electoral Commission said in a statement: "The Electoral Commission has begun an investigation into Leave.EU's EU Referendum spending return. This followed an assessment which concluded that there were reasonable grounds to suspect that potential offences under the law may have occurred.
"The investigation is focused on whether one or more donations – including of services – accepted by Leave.EU was impermissible; and whether Leave.EU's spending return was complete."
Alexander Nix, chief executive of Cambridge Analytica, said in a speech in November he had asked the office that arranges his engagements to contact Julian Assange, founder of whistle-blowing organisation WikiLeaks, in "early June 2016".
What experts have said about Brexit

Show all 11
After reading a newspaper report about WikiLeaks' plans to release emails from Hillary Clinton's presidential campaign, Mr Nix asked Mr Assange if he "might share that information with us". US intelligence agencies later concluded the emails had been stolen by Russian intelligence and handed to the website.
Mr Nix's request came at the same time Cambridge Analytica started working for the Trump campaign, the Wall Street Journal reported. Mr Assange said he denied the request.
Adam Schiff, the senior Democrat on the House Intelligence Committee, has said the connection between the data firm and WikiLeaks is of "deep interest" to the committee, which is also investigating Russian interference into the 2016 presidential election.
Cambridge Analytica has been contacted by The Independent for comment.
Join our new commenting forum
Join thought-provoking conversations, follow other Independent readers and see their replies