Muslim ban: Donald Trump's lawyer of choice to represent his Supreme Court appeal withdraws availability
Chuck Cooper informed the government he no longer wanted to be considered for the role
Rachael Revesz
New York
Friday 10 February 2017 16:34 Comments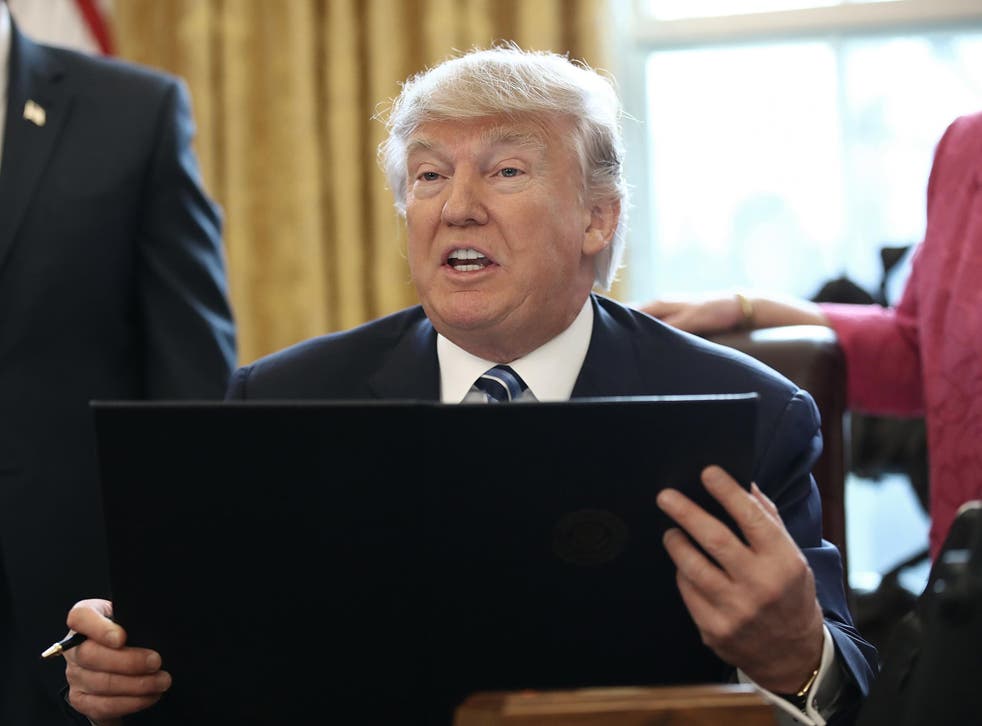 Donald Trump's lawyer of choice to represent him at the Supreme Court and push through his controversial Muslim ban executive order has said he no longer wants to be considered for the job.
Chuck Cooper, who was a top contender to argue for Mr Trump in the nation's highest court, withdrew from consideration on Thursday night.
The decision was made the same evening that the US Court of Appeals for the Ninth Circuit upheld federal Judge James Robart's decision to enforce a temporary stay on Mr Trump's order.
Mr Trump vowed to fight back and take the case all the way to the Supreme Court.
Mr Copper said in a statement to The Independent that he was "deeply honoured" for the consideration but had "great respect" for any public servant in the Trump administration.
"But after witnessing the treatment that my friend Jeff Sessions, a decent and honorable man who bears only good will and good cheer to everyone he meets, had to endure at the hands of a partisan opposition that will say anything and do anything to advance their political interests, I am unwilling to subject myself, my family, and my friends to such a process," he said.
Cory Booker testifies that Jeff Sessions is not qualified to protect the rights of U.S. citizens
Mr Sessions was sworn in as Attorney General this week after facing massive opposition from Democrats and civil rights activists who claimed that his career has been dogged by allegations of racism and sexism. Mr Sessions, who is against same-sex marriage and abortion, said the accusations of racism were "damnably false charges".
Mr Trump has yet to name his top pick to represent him now that Mr Cooper has withdrawn his nomination. Likely contenders are the new Attorney General and close friend, Jeff Sessions, or acting Solicitor General Noel Francisco.
The administration is reportedly still interviewing candidates for Solicitor General.
One potential candidate is George Conway, husband of the Counselor to the President, Kellyanne Conway.
Protestors rally at JFK Airport against Muslim immigration ban

Show all 20
The executive order, signed 27 January, banned nearly all travellers from seven Muslim-majority countries for 90 days and refugees for 120 days. It also indefinitely suspended Syrian refugees from entering the US.
It prompted massive protests at airports around the US and ensnared dual nationals as well as visa and green card holders.
In August of 2017, Donald Trump decried the courts' role in the travel ban
The ban was dealt a big setback after federal Judge Robart halted the ban temporarily and nationwide. Airports were immediately advised to let people into the US from those seven countries.
Mr Trump filed an emergency appeal via the Justice Department, which was denied.
Mr Trump was further irked after the Ninth Circuit upheld Mr Robart's decision, and accused the judges of being "political", putting the country in "turmoil" and "peril".
His Supreme Court Justice appointee, Neil Gorsuch, said those comments about the judiciary were "disheartening" and "demoralizing", according to Senator Richard Blumenthal, who related the conversation to reporters.
Mr Trump insisted that the Senator had misrepresented Mr Gorsuch's comments.
Comedian rips apart Donald Trump's 'Not-A-Muslim ban'
White House Press Secretary Sean Spicer said Mr Trump had "no regrets" about selecting Mr Gorsuch and that he would continue to "speak freely" about what he thought of the judiciary.
Register for free to continue reading
Registration is a free and easy way to support our truly independent journalism
By registering, you will also enjoy limited access to Premium articles, exclusive newsletters, commenting, and virtual events with our leading journalists
Already have an account? sign in
Join our new commenting forum
Join thought-provoking conversations, follow other Independent readers and see their replies