Donald Trump's 'Muslim ban' supported by almost half of US voters, poll suggests
Around half of voters surveyed were in support of forcing immigrants from Muslim countries to register with the federal government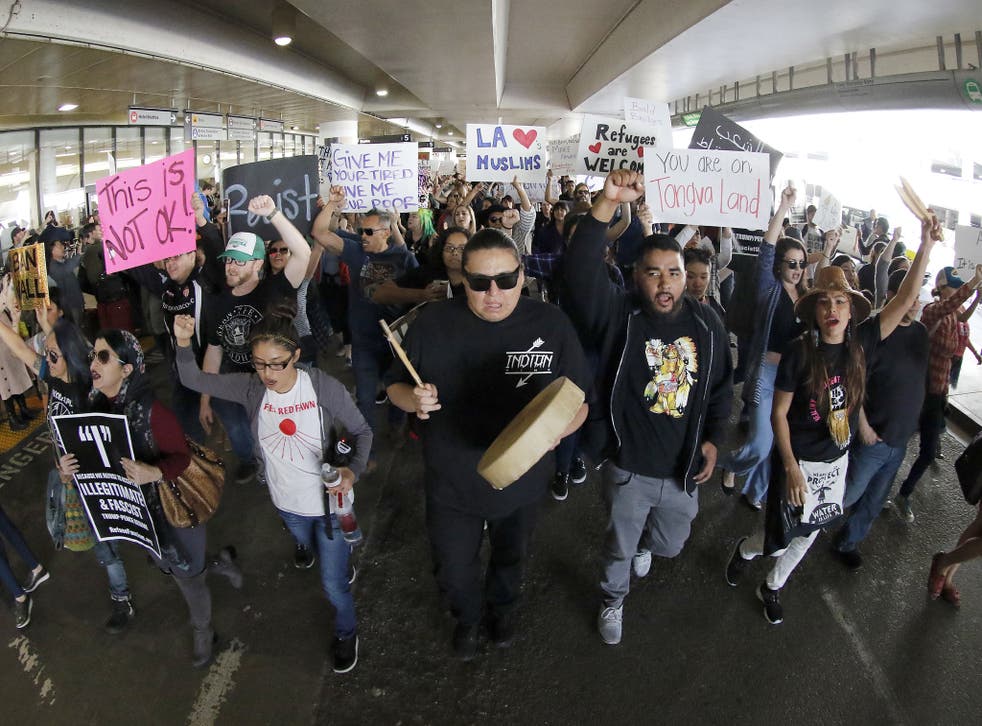 Almost half of US voters are in support of an immigration policy like the one President Donald Trump has implemented, reports have suggested.
A move by the new President to ban refugees from entering the US sparked global outrage on Friday and was condemned by judges as "unconstitutional and unlawful".
But in a poll surveying 899 voters nationwide, researchers from the University of Quinnipiac found 48 per cent were in support of "suspending immigration from terror prone regions, even if it means turning away refugees".
Mr Trump's new policy, referred to as a "Muslim ban", puts a 120-day hold on allowing refugees to enter the US, an indefinite ban on refugees from Syria and a 90-day ban on citizens from Iraq, Iran, Somalia, Sudan, Syria and Yemen.
According to the survey, 53 per cent of voters said they were in support of requiring immigrants from Muslim countries to register with the federal government.
The study also asked questions regarding the President's proposals on climate change, and repealing the Affordable Care Act (Obamacare), with a margin of error of +/- 3.3 percentage points.
The controversial orders Donald Trump has already issued

Show all 9
Given four possible options for legislation on abortion in the US, 28 per cent of voters agreed it should be legal in all cases, a third (34 per cent) said it should be legal in most cases, and 11 per cent said abortion should be completely illegal.
Tim Malloy, assistant director of the Quinnipiac University Poll said: "The Trump 'send them back to where they came from' rallying cry may have stirred the crowds and tipped the vote his way, but Americans are not inclined to simply show immigrants the door."
Responding to the ban, more than one million people in the UK have signed a petition calling on the British government to cancel Mr Trump's planned state visit .
Citing Mr Trump's "well documented misogyny and vulgarity", the petition calls for Mr Trump to be allowed into the country, but not invited to meet the Queen.
Downing Street has already stressed its position had not changed regarding the trip, however.
"An invitation has been extended and accepted," a Number 10 spokesman said.
Update: An earlier version of this article said that between 42-48 per cent of those surveyed were in support of "suspending immigration from terror prone regions, even if it means turning away refugees". The actual figure was 48 per cent. 2/5/17
Join our new commenting forum
Join thought-provoking conversations, follow other Independent readers and see their replies