More Americans support Donald Trump's travel ban than oppose it, poll shows
The poll finds 31 per cent of Americans feel 'more safe' because of the ban, compared with 26 per cent who say they feel 'less safe'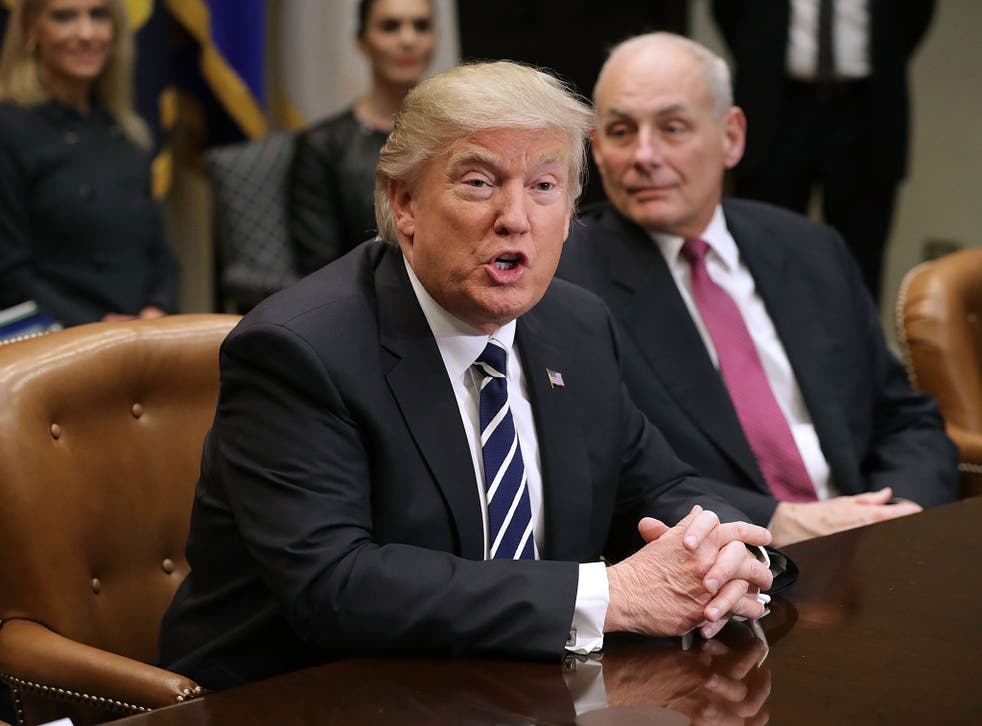 Americans are sharply divided over President Donald Trump's order to temporarily block US entry for all refugees and citizens of seven Muslim countries, with more approving the measure than disapproving, according new opinion poll.
The 30 to 31 January poll found that 49 per cent of American adults said they either "strongly" or "somewhat" agreed with Mr Trump's order, while 41 per cent "strongly" or "somewhat" disagreed and another 10 per cent said they don't know.
But the responses were split almost entirely along party lines. Some 53 percent of Democrats said they "strongly disagree" with Mr Trump's action while 51 per cent of Republicans said they "strongly agree."
Mr Trump's executive order banned refugees from entering the United States for 120 days, and it placed an indefinite hold on Syrian refugees. It also blocked citizens from Iran, Iraq, Libya, Somalia, Sudan, Syria and Yemen.
The president, who campaigned on a promise to bring what he called "extreme vetting" to the nation's immigration system, said the order he signed on Friday was meant to protect the country and its borders. "This is not a Muslim ban," he said.
But confusion over who was covered by Mr Trump's order left travellers, airlines and foreign governments scrambling to get clarity from US officials, many of whom were also bewildered.
The Reuters/Ipsos poll found 31 per cent of Americans feel "more safe" because of the ban, compared with 26 per cent who said they felt "less safe." Some 38 per cent said they felt the United States was setting "a good example" of how best to confront terrorism, while 41 per cent said the country was setting "a bad example."
The controversial orders Donald Trump has already issued

Show all 9
Democrats were more than three times as likely as Republicans to say that the "US should continue to take in immigrants and refugees," and Republicans were more than three times as likely as Democrats to agree that "banning people from Muslim countries is necessary to prevent terrorism."
Most Americans, however, don't think the country should show a preference for Christian refugees, as Mr Trump has suggested. Some 56 per cent, including 72 per cent of Democrats and 45 per cent of Republicans, disagreed that the country should "welcome Christian refugees, but not Muslim ones."
At the weekend, protesters swarmed major US airports where some immigrants had been temporarily detained because of the order. Legislators, including some from Mr Trump's Republican Party, denounced the decision as discriminatory and counterproductive for national security.
More than a dozen state attorneys general said they would work together to fight the order, and the top federal government lawyer, Sally Yates, was fired after she refused to defend it.
The Reuters/Ipsos poll was conducted online in English in all 50 states. It gathered poll responses from 1,201 people including 453 Democrats and 478 Republicans. It has a credibility interval, a measure of accuracy, of 3 percentage points for the entire sample and 5 percentage points for the Democrats and the Republicans.
Reuters
Join our new commenting forum
Join thought-provoking conversations, follow other Independent readers and see their replies