NYU Muslim student prayer room vandalised as pro-Trump Islamophobia is on the rise
Muslim organisations are calling on the President-elect to repudiate the violent bigorty his campaign inspired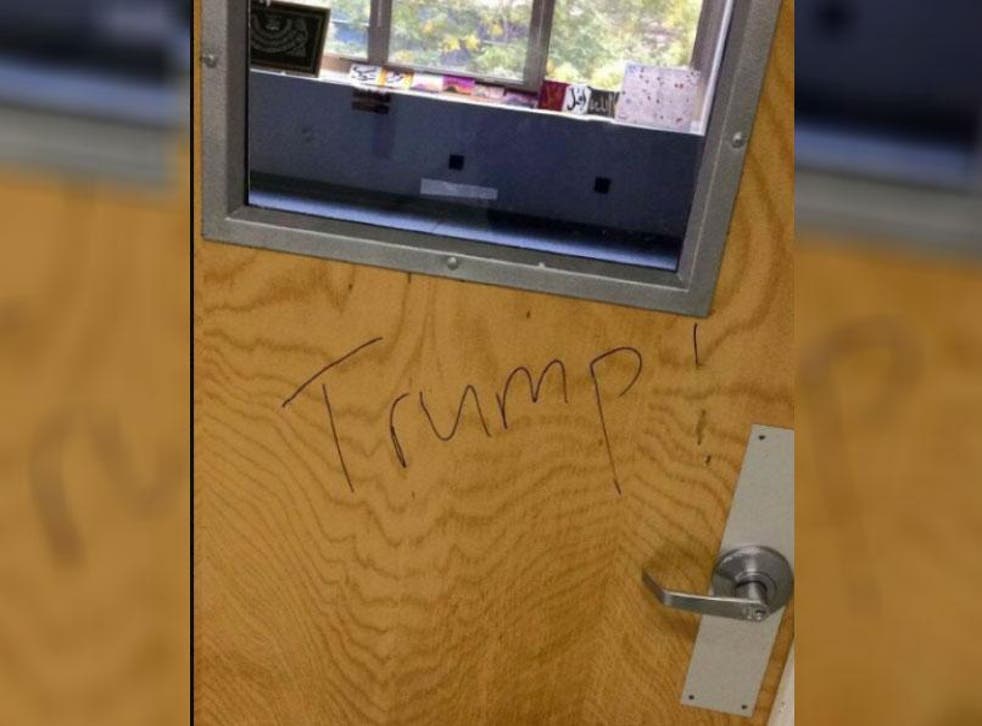 Muslim students at New York University were chilled to find pro-Trump graffiti scrawled across the door of their prayer room, adding yet another case to the sharp rise in reported hate crimes in the wake of the presidential election.
The apparent vandal defaced the door with a simple "Trump!" at an NYU Muslim Student Association facility at the Tandon School of Engineering in downtown Brooklyn on the morning after Donald Trump's shocking win over Hillary Clinton – whose campaign headquarters were nearby.
Mr Trump ran his campaign on a number of promises that, if implemented, would have a dire impact on marginalised people, such as undocumented immigrants. But Mr Trump took special aim at Muslims, whom he said he would ban from entering the country altogether, breaking with one of the founding principles of the US: freedom of religion.
Donald Trump's most controversial quotes

Show all 14
The President-elect's message has appeared to resonate with his supports amid the wave of hate crimes and threats that have surfaced in the past 48 hours.
"We awoke November 9th to a chilling wake-up call," the NYU Muslim Students Association wrote on its Facebook page, accompanied by a photo of the vandalism, Wednesday morning. "And as we open our eyes and start to move and organise in the face of these new realities, we ask for your support."
The group added that they were now aware that even a college campus in the middle of a progressive enclave like Brooklyn was "not immune to bigotry that grips America".
Donald Trump says protests against him are 'unfair'
One student told the New York Daily News that even though the vandalism did not include specific threats against Muslims, the message was clear.
"It was really rough because it's a place to pray, it's a centre of the Muslim community there. It's where all the Muslim kids go to be with other kids. They do their homework there," vice president of the Muslim Student Association, Sana Maya, 21, said. "They didn't have to say 'go home Muslims'. They just needed to write 'Trump' on [the door] and they knew exactly what they were doing."
President Trump protests

Show all 20
The election of Mr Trump has created an atmosphere in which Muslim students feel unsafe at high schools and universities nationwide
Campus police at San Diego State University said one student reported an incident of a strongarm robbery. Two men allegedly attacked the woman – who is a black Muslim dressed in full Islamic dress – stealing her purse, backpack, and car. It is being investigated as a hate crime.
Multiple Muslim women have also shared incidents on social media where assailants allegedly pulled off their hijabs. One woman said she was berated by a white woman at a Wal-Mart, who told her hijabs are "not allowed anymore" after ripping it off her head. She then allegedly told the woman to hang herself with it. Wal-Mart has not confirmed the authenticity of this report.
The Council for American-Islamic Relations has called on President-elect Trump to speak out against the stream of reported attacks, and the general vitriolic bigotry that emerged from his 18 months on the campaign trail.
"If President-elect Trump truly wishes to be the leader of all Americans, he must begin unifying the nation by repudiating the type of bigotry generated by his campaign for the White House," said Ibrahim Hooper, national communications director for CAIR.
"Unless Mr Trump speaks out forcefully against hate attacks by his supporters, they will take his silence as tacit endorsement of their actions."