Donald Trump calls for Middle East nations to battle between 'good and evil' of Islamic extremism
'If you choose the path of terror, your life will be empty, your life will be brief, and your soul will be condemned'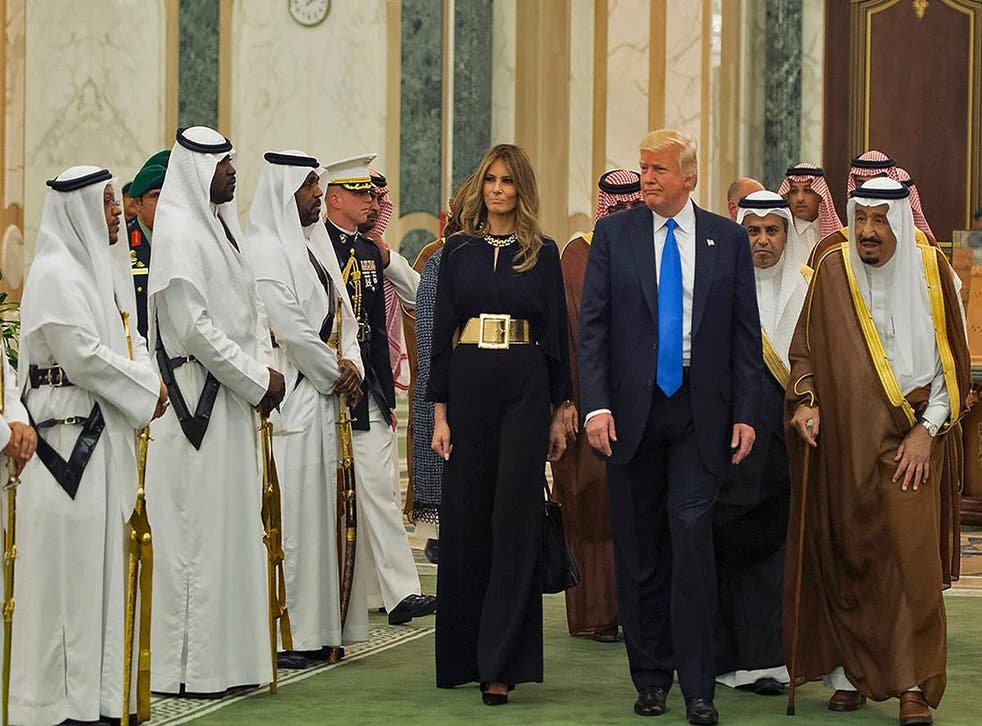 Donald Trump will call for nations in the Middle East to stand together against the "slaughter of Christians", the "oppression of women" and warning that Islamic extremists would have an "empty, brief" life.
"And it means standing together against the murder of innocent Muslims, the oppression of women, the persecution of Jews, and the slaughter of Christians," the President will say in Riyadh during his first trip abroad, according to speech excerpts released from the White House.
"Religious leaders must make this absolutely clear: Barbarism will deliver you no glory – piety to evil will bring you no dignity. If you choose the path of terror, your life will be empty, your life will be brief, and your soul will be condemned."
The President, speaking to leaders from 50 Muslim-majority countries about how to combat religious extremism, had just signed a resolution with GCC countries agreeing not to finance terrorism and to even prosecute individuals who do funnel funds to terrorist networks.
Mr Trump has also signed a $109.7 billion arms deal with Saudi Arabia, a country that human rights campaigners and the UN accuse of repeatedly breaching international law and committing war crimes.
In the excerpts he did not outline specific ways to combat extremism, but will say: "We will make decisions based on real-world outcomes, not inflexible ideology...We will seek gradual reforms, not sudden intervention."
"But the nations of the Middle East cannot wait for American power to crush this enemy for them," he will continue.
Saudi Foreign Minister borrows Trump's 'drain the swamp' phrase
His speech, declaring the combat as a "battle between good and evil", was reportedly written by his adviser Stephen Miller, the same man who played a key role in the failed executive order to temporarily ban all immigrants and even green card holders from seven Muslim-majority countries.
The ban followed the former Presidential candidate's pledge in December 2015 to ban all Muslims from entering the US. He has been criticised for choosing alleged anti-Muslim advisers and aides in his administration, including Mr Miller, Stephen Bannon and Kellyanne Conway, and failed to publicly condemn the fatal shooting inside a mosque in Canada this year, compared to his usual quick tweets about Isis-inspired attacks.
"We are not here to lecture – we are not here to tell other people how to live, what to do, who to be, or how to worship. Instead, we are here to offer partnership – based on shared interests and values – to pursue a better future for us all," the speech reads.
"But we can only overcome this evil if the forces of good are united and strong – and if everyone in this room does their fair share and fulfils their part of the burden."
Donald Trump's first 100 days: in cartoons

Show all 33
It promises the viewers in Saudi Arabia and around the world that "barbarism will deliver you no glory".
The speech does not mention "radical Islamic terrorism" – an omission which Mr Trump criticised his opponents for in recent years – in the excerpts and instead focuses on the term "Islamic extremism".
Mr Trump's joining with leaders of the Gulf Cooperation Council in an effort to counter the financing of terrorism was described by White House adviser Dina Powell as the "farthest reaching commitment" to cut off terrorist funding.
It was signed by the US, Bahrain, Kuwait, Oman, Qatar, Saudi Arabia and the United Arab Emirates.
The President's arms deal with the Saudis is expected to grow to an investment of more than $300 billion within a decade. He has also accepted a visit to Egypt's President Abdel Fattah al-Sisi in Cairo, has discussed "lots of beautiful military equipment" with the Emir of Qatar and has praised the Emir of Kuwait for the nation's frequent purchases of US military equipment.
He will also visit Israeli leaders and the Pope before returning to the US.
Join our new commenting forum
Join thought-provoking conversations, follow other Independent readers and see their replies