Trump vows 'strong support' for Nato ahead of showdown in Brussels
US President is scheduled to meet other alliance leaders in May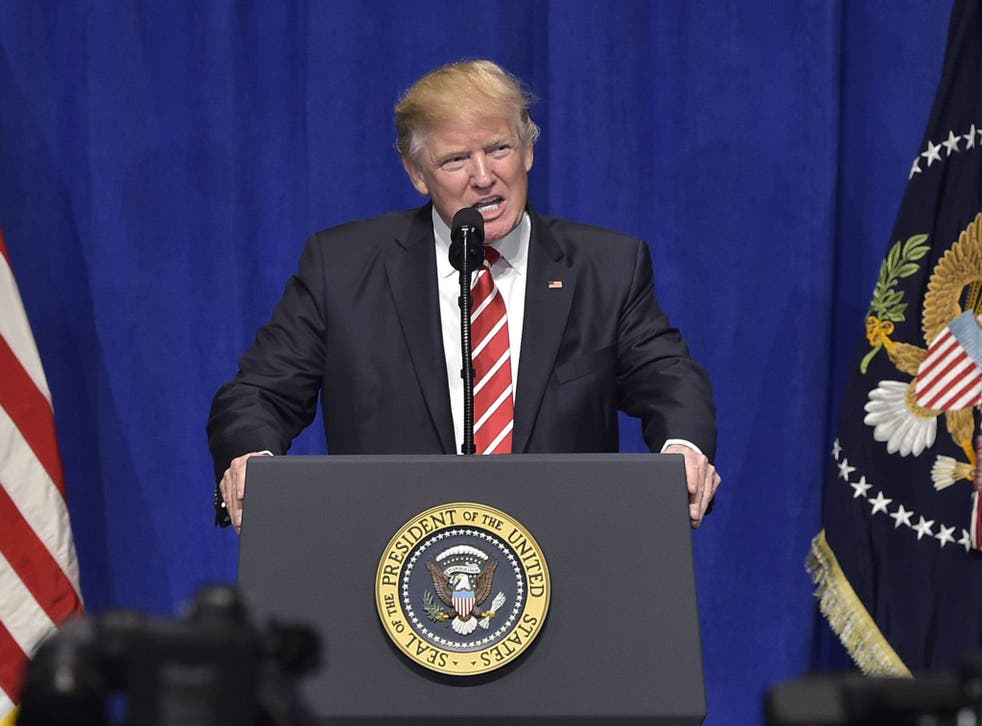 Donald Trump has declared his "strong" support for Nato in his most forceful backing yet for an organisation he once branded "obsolete".
It comes as the US President is set for a showdown in Brussels in the spring when he meets other Nato leaders, many of whom he has lambasted for not spending enough on defence.
Speaking during his first visit to the headquarters of US Central Command in Tampa, Florida, Mr Trump said he now "strongly supported" the bloc.
The US President, who once dismissed the trans-Atlantic alliance as irrelevant and out of date, said he would decide whether to protect Nato countries against Russian aggression based on whether those countries "have fulfilled their obligations to us".
The controversial orders Donald Trump has already issued

Show all 9
But in an apparent U-turn, Mr Trump gave his full backing for the bloc. It followed a claim by Theresa May during her visit to Washington in January that Mr Trump had pledged his "100 per cent" backing for the alliance.
Earlier, it emerged that the former reality TV host would be attending a Nato summit in Brussels in May.
Nato Secretary General Jens Stoltenberg spoke with Mr Trump by phone to confirm the visit – the second conversation between the two men since the 20 January inauguration.

A statement said: "Nato Secretary General Jens Stoltenberg had a phone conversation with US President Donald J Trump on Sunday evening, where they reconfirmed the importance of the alliance in troubled times.
"They reviewed progress on the fight against terrorism and on Nato defence spending, and stressed the need for continued efforts to ensure fair burden-sharing among all Nato Allies.
"They also discussed the uptick in violence in eastern Ukraine, and prospects for a peaceful settlement. The Secretary General recalled Nato's consistent policy of strong defence and dialogue with Russia."
The issue of defence spending among Nato allies has taken on a renewed importance since the election of Mr Trump.
He has railed against Nato allies who fail to spend two per cent of their GDP on defence.
Theresa May used a recent EU summit to press Nato members to meet the target, presumably in a bid to maintain US support for the alliance.
Five countries spend at least two per cent: the US, the UK, Greece, Poland and Estonia.
James Mattis says Putin's threat to Nato is biggest threat since WWII
Mr Trump said as recently as January that Nato was obsolete.
"I said a long time ago that NATO had problems," he said. "Number one, it was obsolete, because it was designed many, many years ago.
"Number two, the countries weren't paying what they're supposed to be paying."
That approach put him on a collision course with his defence secretary pick, James Mattis, who is a vocal supporter of Nato.
Register for free to continue reading
Registration is a free and easy way to support our truly independent journalism
By registering, you will also enjoy limited access to Premium articles, exclusive newsletters, commenting, and virtual events with our leading journalists
Already have an account? sign in
Register for free to continue reading
Registration is a free and easy way to support our truly independent journalism
By registering, you will also enjoy limited access to Premium articles, exclusive newsletters, commenting, and virtual events with our leading journalists
Already have an account? sign in
Join our new commenting forum
Join thought-provoking conversations, follow other Independent readers and see their replies