US journalists pen Donald Trump letter after CNN spat at press conference
'[…] when you shout down or ignore a reporter at a press conference who has said something you don't like, you're going to face a unified front'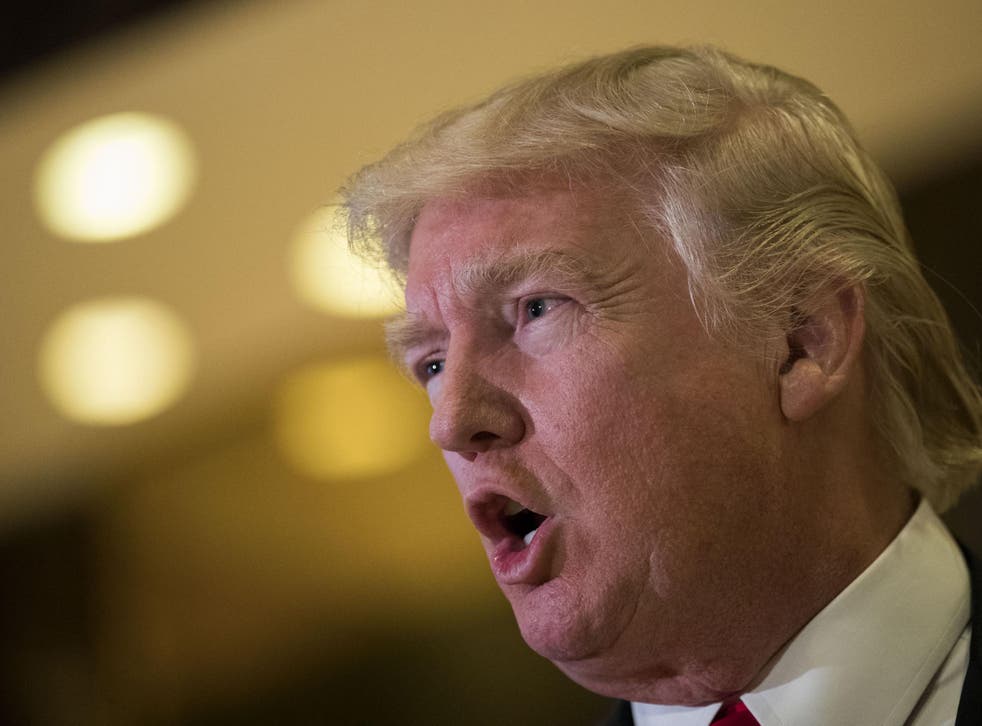 Journalists have penned an open letter to President-elect Donald Trump, warning him they will no longer stand by and watch as their colleagues are insulted or ignored at press conferences.
"We now recognize that the challenge of covering you requires that we cooperate and help one another whenever possible. So, when you shout down or ignore a reporter at a press conference who has said something you don't like, you're going to face a unified front," wrote Kyle Pope, editor and publisher of the Columbia Journalism Review.
"We'll work together on stories when it makes sense, and make sure the world hears when our colleagues write stories of importance."
The letter follows Mr Trump's first press conference of six months, where he refused to take a question from CNN reporter Jim Acosta, calling him "rude" and wrongly blaming CNN for reporting a negative and unverified story about him.
Mr Acosta was told by Mr Trump's press secretary, Sean Spicer, that he would be removed from future events if he behaved the same way.
In the open letter, Mr Pope called for unity of the press, and asked Mr Trump to clarify "the relationship between [his] administration and the American press."
Donald Trump in angry exchange with CNN reporter after President-elect refuses question
Mr Trump has defied conventions by abandoning the press pool at Trump Tower to go on family dinners, not holding press conferences and accusing individual reporters of being "biased" and "sleaze bags". He has also called out and accused individual journalists at rallies, such as Katy Tur of NBC, prompting rally attendees to levy abuse at her.
His latest tweets as of Wednesday morning targeted "biased" NBC for reporting that he had little to do with big companies' pledges to invest more in US jobs instead of moving abroad.
He also recently called BuzzFeed a "failing pile of garbage" for reporting on unverified claims about him, contained in a dossier compiled by a former British MI6 agent.
One press conference in May was hosted to attack the press, listing off charities he had donated to and slandering individual reporters.
The President-elect threatened to sue news outlets several times, including when they reported the sexual assault allegations against him.
Mr Pope added that Mr Trump's threat to ban future contact with journalists would only spur them on.
We are very good at finding alternative ways to get information," he said. "Telling reporters that they won't get access to something isn't what we'd prefer, but it's a challenge we relish."
It outlines eight points that journalists should fight for, including objective truth, media control over air time and higher standards of journalistic ethics.
Mr Pope ended on an optimistic note, saying that the free press has "been around since the founding of the Republic" and its "role in this great democracy has been ratified and reinforced again and again".
Register for free to continue reading
Registration is a free and easy way to support our truly independent journalism
By registering, you will also enjoy limited access to Premium articles, exclusive newsletters, commenting, and virtual events with our leading journalists
Already have an account? sign in
Register for free to continue reading
Registration is a free and easy way to support our truly independent journalism
By registering, you will also enjoy limited access to Premium articles, exclusive newsletters, commenting, and virtual events with our leading journalists
Already have an account? sign in
Join our new commenting forum
Join thought-provoking conversations, follow other Independent readers and see their replies