Donald Trump presses a red button on his desk and a butler brings him a Coke
'A White House butler soon arrived with a Coke for the president,' says interviewer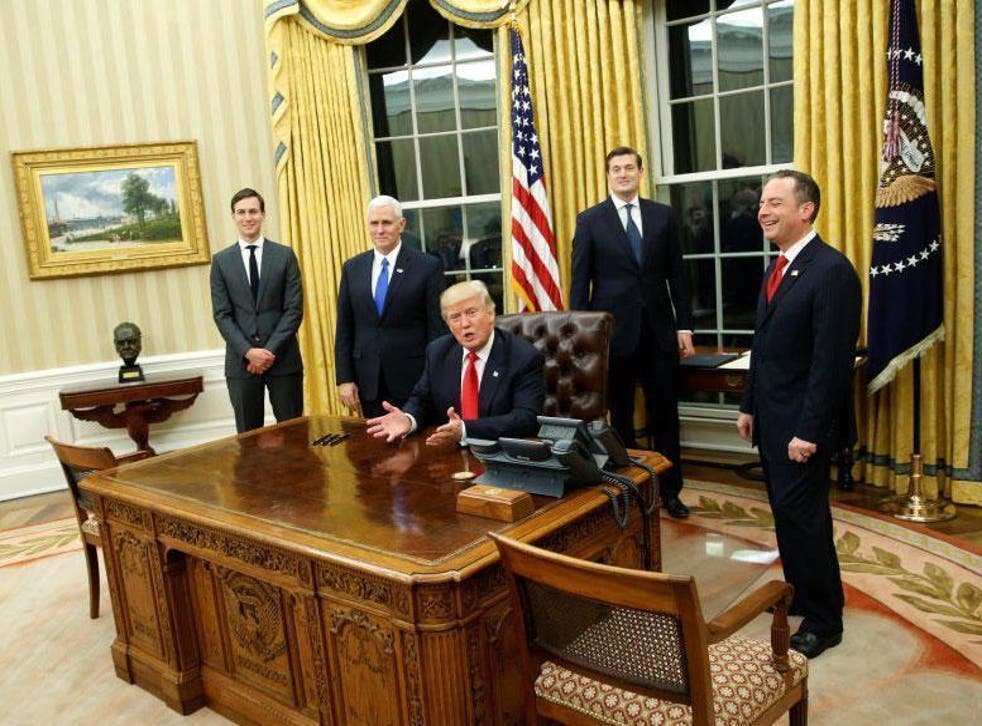 While there has been a great deal of speculation and consternation about the prospect of Donald Trump pressing the nuclear button, it turns out there is another button the President is privy to.
Mr Trump has a special wooden box on his desk in the Oval Office of the White House containing a single button which he has been using to order glasses of Coca-Cola.
The rectangular box is located on the Resolute Desk which Presidents have used for decades.
President Trump's penchant for the soda was revealed in his Associated Press interview inside the Oval Office ahead of his 100th day as President.
"A man accustomed to wealth and its trappings, Trump has embraced life in the Executive Mansion, often regaling guests with trivia about the historic décor," wrote the journalist Julian Pace.
"With the push of a red button placed on the Resolute Desk that presidents have used for decades, a White House butler soon arrived with a Coke for the president."
The controversial orders Donald Trump has already issued

Show all 9
This is not the first time Mr Trump has been glimpsed with a trusty glass of Coke on the Oval Office desk. In January, a CNN reporter shared of photo of the billionaire with the phone glued to his ear and the carbonated soft drink close to hand.
But his button pressing appears to be an upgrade from the days of reportedly "bellowing" for someone to "bring a Coke and a water, please!'" during an interview.
Mr Trump's penchant for junk food has been widely documented. The former reality star has revealed his culinary tastes on various social media platforms - eating a bucket of Kentucky Fried Chicken while reading The Wall Street Journal and indulging in a McDonald's burger and fries to celebrate winning the Republican presidential nomination.
Mr Trump also keenly praised McDonald's at a CNN town-hall-style meeting in February of last year, saying: "The Big Macs are great. The Quarter Pounder. It's great stuff."
Join our new commenting forum
Join thought-provoking conversations, follow other Independent readers and see their replies