Donald Trump criticised by Oxfam for 'slow and inadequate' Puerto Rico response
Anti-poverty charity attacks US President for sluggish nature of humanitarian relief effort in wake of damage wrought by Hurricane Maria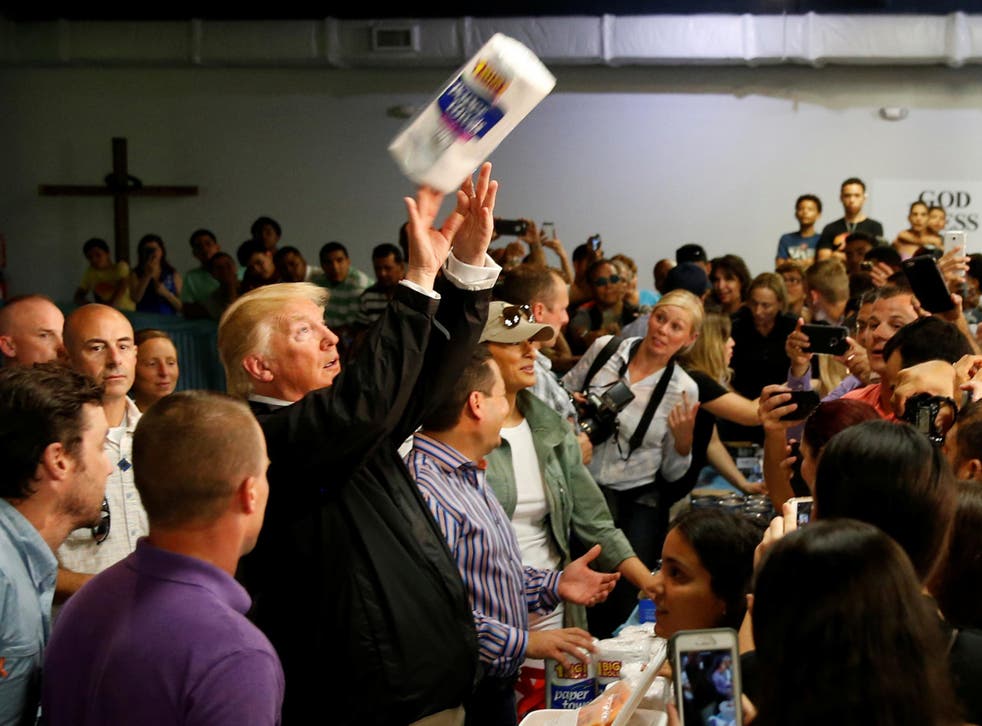 Oxfam America took the unusual step Tuesday of criticising the US government for its "slow and inadequate" response to hurricane-ravaged Puerto Rico, saying that the Trump administration's faltering relief efforts has forced it to intervene.
The announcement by the US branch of the global anti-poverty nonprofit organisation comes as President Donald Trump visited the US territory for the first time since Hurricane Maria slammed into the island of 3.4 million people almost two weeks ago, setting off a humanitarian crisis.
"Oxfam has monitored the response in Puerto Rico closely, and we are outraged at the slow and inadequate response the US Government has mounted in Puerto Rico," Abby Maxman, president of Oxfam America, said in a statement.
"We're hearing excuses and criticism from the administration instead of a cohesive and compassionate response," she added.
Oxfam America said it will pursue its own two-pronged approach in the post-hurricane response: pushing for an improved response to the crisis, and supporting local partners that are providing relief on the ground.
In Puerto Rico, many families are running out of food and water, roads remain destroyed, and less than 7 percent of electricity customers currently have power as of 3 October, according to a government website.
The Federal Emergency Management Agency reports that it has been conducting 24-hour operations to deliver food, water and medicine, and to restore power and infrastructure across the island.
Trump has described the recovery process in Puerto Rico as "incredible." But he has also criticised Puerto Ricans for not doing enough to help themselves, and chided the island territory for throwing the nation's budget "out of whack."
The White House could not immediately be reached for comment regarding Oxfam's criticism.
Scott Paul, senior humanitarian policy adviser for Oxfam America, explained that the lack of political leadership from the Trump administration prompted the group to issue its direct criticism.
"It's an unusual decision for us," Paul told The Washington Post. "Generally speaking, in wealthy and even in middle-income countries, Oxfam doesn't ordinarily respond to natural hazards because it assumes that the most effective response is led by the national government in partnership with local organisations and civil society.
"In this response so far, we know that there is money available if we ask for it because this country is blessed with an enormous wealth... What we haven't seen is the political leadership to leverage that," he added.
Paul faulted the administration for waiting six days before it held high-level meetings on the crisis, and for its hesitation on lifting the Jones Act, a 1920 shipping law that requires that ships travelling between two US ports be US-flagged vessels.
"Even to this day, we haven't seen the president use the full range of his capacities" in facilitating the necessary hurricane relief work in Puerto Rico, said Paul.
On Tuesday, during his first visit to Puerto Rico since the storm hit the island, President Trump congratulated his administration's "great job" and "A-plus" response to the hurricane in Texas and Florida, telling Puerto Rican officials that they should feel "very proud" they haven't lost hundreds of lives like in "a real catastrophe like Katrina." Thirty-four people have died since the storm struck, Puerto Rico's governor announced Tuesday evening.
In the run-up to his visit, Trump has repeatedly attacked San Juan Mayor Carmen Yulín Cruz on Twitter for her "poor leadership" and for conspiring with Democrats to "be nasty" to his administration. Trump took direct aim at Cruz after she criticised the federal response to the hurricane as having "collapsed," saying that "we are dying and you are killing us with the inefficiency and the bureaucracy."
In another tweet, Trump accused "politically motivated ingrates" of failing to praise the administration's response, and cast as fake news stories that criticised his government's work.
This is not the first time Oxfam has explicitly criticised Trump.
Hurricane Irma – devastation caused in pictures

Show all 45
Earlier last month, Oxfam protested the Trump administration's proposed reduction of the refugee quota by renting out and hosting refugees at the Queens, New York, house where Trump grew up.
And for Mother's Day in May, Oxfam America's climate change and energy director wrote an open letter to Ivanka Trump, asking her to "be the voice of reason and urge your father to keep the US in the Paris agreement."
The Washington Post
Join our new commenting forum
Join thought-provoking conversations, follow other Independent readers and see their replies