Donald Trump pardons ex-Navy sailor who cited Hillary Clinton emails in classified photos case
'He has been recognised by his fellow service members for his dedication, skill and patriotic spirit', says White House spokesperson Sarah Huckabee Sanders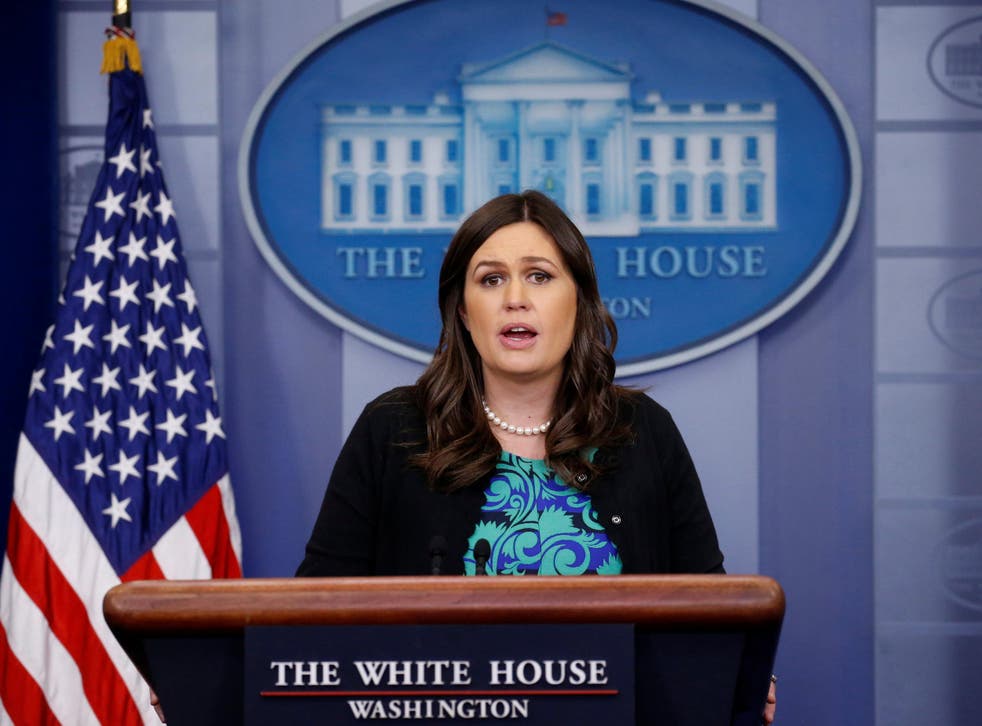 Donald Trump has pardoned a US Navy sailor who took pictures aboard a classified nuclear submarine and tried to defend his actions in court, by citing Hillary Clinton's use of a private email server.
Petty officer Kristian Saucier, 29, was found guilty of espionage charges after taking six images of the propulsion system in the engine room of USS Alexandria on his phone, while he was working there as a mechanic.
At trial his lawyer had argued that the photos did not compare to the some 30,000 work emails Ms Clinton sent on a private server when Secretary of State.
She was cleared of any wrongdoing in two FBI investigations, but a court nevertheless jailed Saucier for a year in August, 2016.
On his presidential campaign trail, Mr Trump had said Saucier had been "ruined" for doing "nothing" compared to his then Democratic rival.
As president, he had now pardoned Saucier - but only after he had completed his full 12 month sentence in July of last year.
White House spokeswoman Sarah Huckabee Sanders saying Mr Trump was "appreciative" of his service to the nation.
"He has been recognised by his fellow service members for his dedication skill and patriotic spirit," Sanders said.
Mr Trump later tweeted: "Congratulations to Kristian Saucier, a man who has served proudly in the Navy, on your newly found Freedom. Now you can go out and have the life you deserve!"
Saucier's attorney, Ronald Daigle Jr, said his client was "ecstatic. He's so grateful that the president saw there was an injustice in this matter and he took action on it."
Saucier had admitted in his trial that he was aware that he did not have the authority to take the photos but took them anyway so he could "one day show his family and his future children what he did while he was in the Navy", his defence said, according to court papers reported by CNN.
A pardon does not wipe out a criminal record but it allows those convicted of a crime to get around the usual penalties imposed for federal crimes. It means they can continue to be eligible to work for the federal government, for example, and it "should lessen the stigma arising from the conviction", according to the Justice Department, NBC News reported.
World news in pictures

Show all 50
Mr Trump pardoned Saucier in his second such act as president. He pardoned Joe Arpaio, a former six-term sheriff of metro Phoenix, in August. He had ignored a judge's order not to take suspected undocumented migrants into custody and was later convicted of criminal contempt.
Additional reporting by Associated Press
Register for free to continue reading
Registration is a free and easy way to support our truly independent journalism
By registering, you will also enjoy limited access to Premium articles, exclusive newsletters, commenting, and virtual events with our leading journalists
Already have an account? sign in
Register for free to continue reading
Registration is a free and easy way to support our truly independent journalism
By registering, you will also enjoy limited access to Premium articles, exclusive newsletters, commenting, and virtual events with our leading journalists
Already have an account? sign in
Join our new commenting forum
Join thought-provoking conversations, follow other Independent readers and see their replies