Donald Trump's pick to head up US army withdraws over potential conflicts of interest
Surprise announcement by the billionaire Wall Street trader leaves a hole in the Trump administration, but distancing himself from his business ties proved difficult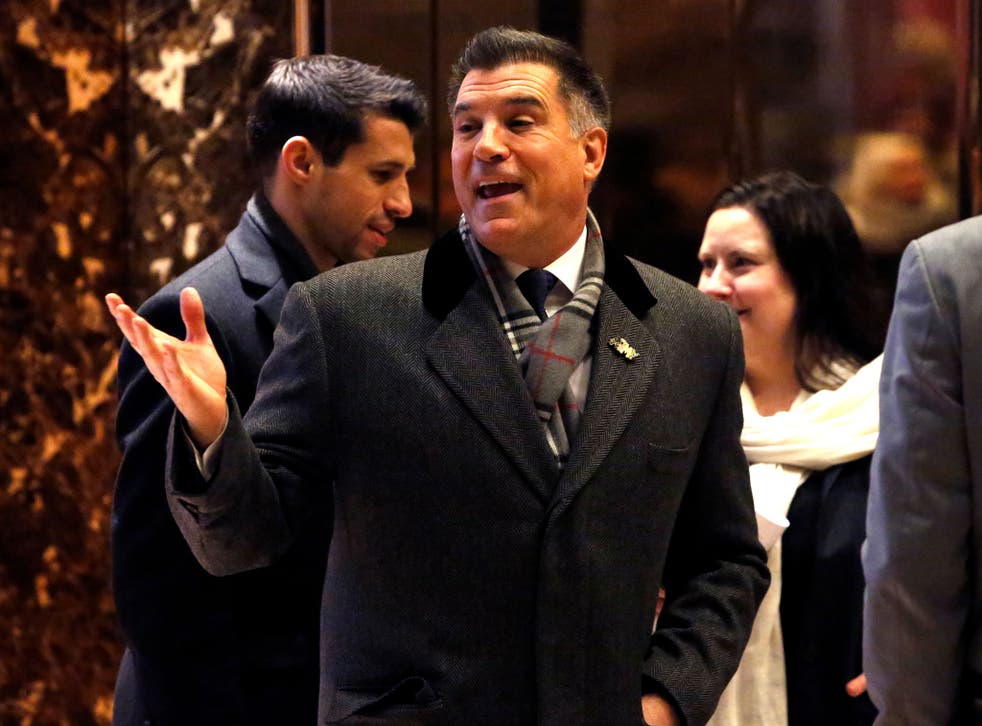 Donald Trump's pick to head up the US army has abruptly withdrawn himself from consideration following reports that his business dealings could cause potential conflicts of interest.
Vincent Viola, a billionaire US veteran and Wall Street trader, accepted Mr Trump's offer to run his former armed service in December, but changed his mind following a report on his dealings.
According to reports, Mr Viola is preparing to sell his majority stake in Eastern Air Lines for a share in Swift Air, a smaller charter airline that has millions in US Government sub-contracts, which could prove difficult to track.
"I appreciate the confidence President Trump showed in me," Mr Viola said in a statement to the US Military Times. "I offer my continued support for President Trump and his administration, and look forward to redoubling my efforts to support the Army and its veterans as private citizens."
Mr Viola made his vast fortune founding Virtu Financial, a high frequency trading firm, before going on to purchase the Florida Panthers ice hockey team.
He told the New York Times he had shared all his business dealings with the Trump transition team and was "actively pursuing full compliance with all requirements necessary for his confirmation" before deciding to withdraw.
Sources reportedly claimed Mr Viola had been seeking ways to divest from his myriad of businesses in order to take the top civilian Army post.
The businessman is a 1977 graduate of West Point, the US military academy, and helped found the Combating Terrorism Centre, a privately funded research wing of the school focused on "counterterrorism policy and strategy" and "ways to confront the dynamic threat environment" facing America today.
Defence Secretary Jim Mattis is disappointed, but "understands and respects Mr Viola's decision," according to Pentagon spokesman Jeff Davis.
The surprise announcement leaves another hole in the Trump Pentagon team, with dozens of other key military posts remaining vacant or manned by temporary appointees.
Mr Trump has nominated Heather Wilson to take over as Air Force Secretary and Philip Bilden to become Navy Secretary, but confirmation hearings have not been announced for either role.
Robert Speer is serving as acting Army Secretary, a step up from his previous post as assistant secretary for financial management at the service.
Mr Viola's decision to withdraw comes the same week another of Mr. Trump's appointees, Anthony Scaramucci, was told he could not get a top White House job amid concerns about the recent sale of his company to a large Chinese conglomerate.
Mr Trump has drawn criticism for not handing over his own vast business empire to a blind trust, instead allowing his sons to take over its running.
The tycoon has invited an unusual number of wealthy businessmen to join his administration despite the multiple conflicts of interest such appointments could potentially create.
Register for free to continue reading
Registration is a free and easy way to support our truly independent journalism
By registering, you will also enjoy limited access to Premium articles, exclusive newsletters, commenting, and virtual events with our leading journalists
Already have an account? sign in
Register for free to continue reading
Registration is a free and easy way to support our truly independent journalism
By registering, you will also enjoy limited access to Premium articles, exclusive newsletters, commenting, and virtual events with our leading journalists
Already have an account? sign in
Join our new commenting forum
Join thought-provoking conversations, follow other Independent readers and see their replies