What Donald Trump has planned on his first full day as President
Throughout the campaign, the tycoon made various promises. But now he is President, what will he do on his first day?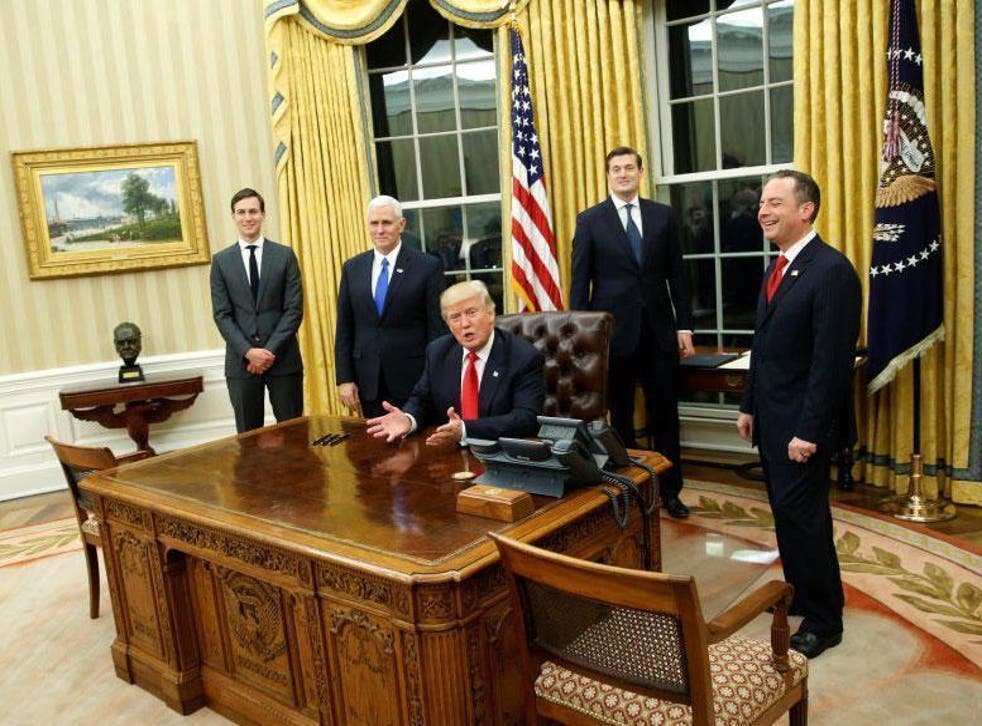 Donald Trump has promised to act quickly on his first full day as President of the United States.
Following the pomp and ceremony of the inauguration, Mr Trump, a light sleeper who says he often manages on just four hours a night, woke early and was scheduled to attend a national church service at Washington Cathedral with wife Melania.
A visit to CIA headquarters in Langley, Virginia, was thought to be on his schedule, although this could be postponed as the agency is technically without a leader as Mr Trump's nomination, Mike Pompeo, has yet to be confirmed by the Senate.
If it goes ahead, the visit will receive close scrutiny because of Mr Trump's disparaging comments about the reliability of intelligence following the publication of the so-called "dirty dossier" about him.
Donald Trump's five key pledges
During the bitterly fought election campaign against Hillary Clinton, Mr Trump made several promises as to what he would do on his first day in the Oval Office – including the deportation of illegal immigrants who have criminal records.
"We will begin moving them out, day one. My first hour in office, those people are gone," he told a cheering campaign rally in Phoenix, although he later said that he meant his first Monday in charge.
Although commentators have cautioned against taking Mr Trump too literally, he also vowed to suspend immigration from "terror-prone countries" and to impose "extreme vetting" on others.
He further pledged to "immediately end" Mr Obama's policy of protecting undocumented immigrants who were brought to the US as young children.
And he said he would announce his intention to withdraw or renegotiate from the North America Free Trade Agreement and to abandon the pursuit of the Trans-Pacific Partnership.
During his inauguration ceremony, Mr Trump again reiterated that he would "put America first" – indicating that he will indeed pursue protectionist trade policies.
"From this moment on, it's going to be America First. We will follow two simple rules: Buy American and hire American," he said.
Mr Trump has said that on his first day in charge, he will repeal Obama-era rules restricting where oil drilling and other energy production are allowed – although he may find this requires a long legislative process.
He further promised that on day one, he would indicate his support for the construction of the Keystone XL pipeline, which would bring petrol from Canada's oil sands to Gulf coast refineries, a project Mr Obama decided against.
In pictures: Protests, pomp and Donald Trump

Show all 30
A call to the United Nations may form part of his plans, as he said he will inform officials of his desire to cancel US financial commitments to the UN climate change programme, again on day one.
In a nod to the powerful US gun-lobby, the President promised to act to get rid of gun-free zones around schools and other community facilities.
"My first day, it gets signed, OK?" he said at a January rally in Burlington, Virginia.
"My first day. There's no more gun-free zones."
Many of these "first-day" pledges require Congress legislation, and so cannot possibly be accomplished on a single day.
Mr Trump has also said he will meet with senior Pentagon officials on his first day to discuss the threat posed by Isis and other terrorist groups.
"I am also going to convene my top generals and give them a simple instruction: They will have 30 days to submit to the Oval Office a plan for defeating Isis", Mr. Trump said in Greenville, North Carolina, during the campaign.
The White House website has been overhauled to replace Mr Obama's policies with Mr Trump's agenda.
The new administration lists just six issues on the website - energy, foreign policy, jobs and growth, military, law enforcement and trade deals, with no mention of civil rights, LGBT rights, healthcare or climate change.
Join our new commenting forum
Join thought-provoking conversations, follow other Independent readers and see their replies