Donald Trump filmed 'playing golf' after saying he will be working
'This is not a vacation', he tweeted
Rachael Revesz
Monday 07 August 2017 09:12 Comments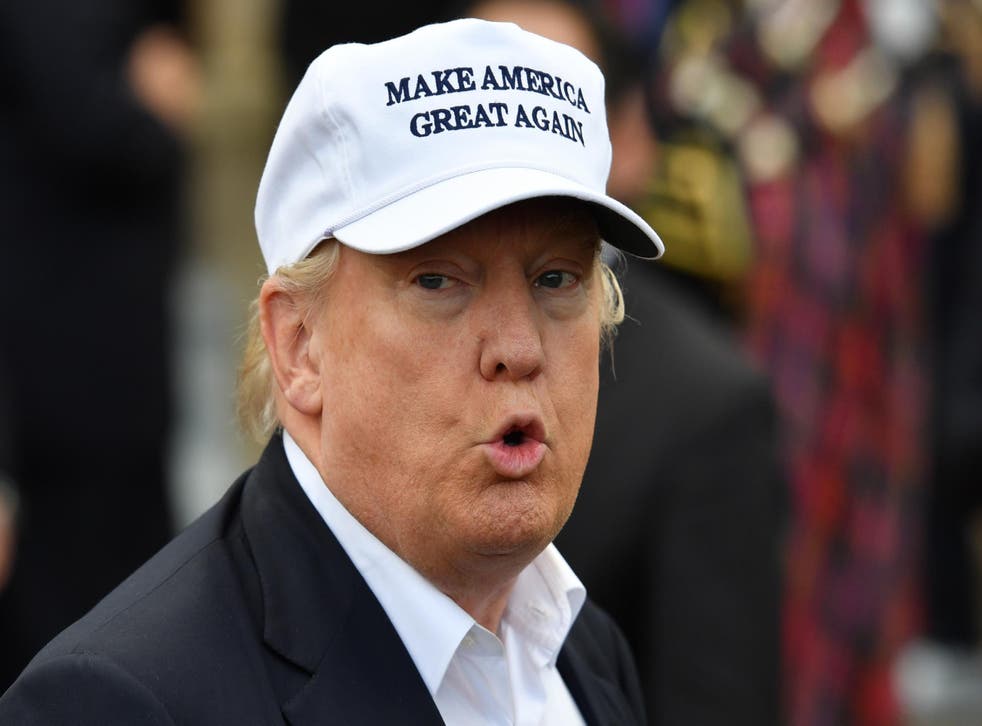 Donald Trump has been filmed in golfing attire at his New Jersey resort after promising Americans he was not taking a holiday.
The President jetted to his Bedminster golf club on Friday for 17 days while the White House is undergoing heating maintenance works, but he tweeted that he would be taking meetings and calls during his absence.
"Working in Bedminster, N.J., as long planned construction is being done at the White House. This is not a vacation - meetings and calls!" he wrote.
The same day he sent the tweet, Sports Illlustrated posted a short clip of the President in golfing clothes, exiting a golf buggy to greet a group of wedding guests at the Trump National Golf Club.
"Everyone having a good time?" he asked in the video, flashing the thumbs up.
The person who filmed the video and posted it on Instagram has subsequently taken it down.
Mr Trump also crashed a wedding at the club in June, and during a video of the meeting, attendees cheered and chanted "USA!"
The President spent years attacking former President Barack Obama's "work ethic" and promised that he, if he ran for office, "would not be a President who took vacations".
Mr Trump's 17-day sojourn comes shortly after the news that Special Counsel Robert Mueller is convening a grand jury regarding the investigation into potential collusion between the Trump campaign and the Russians before the election, which Mr Trump has denied, and sparking reports that Mr Mueller may be looking at a wide-ranging criminal investigation.
Mr Trump has now enjoyed more than three times as many holiday days as his predecessor had enjoyed at the same stage of their first terms in the Oval Office.
By the end of August, the Republican will have taken 53 days off since his inauguration in January, while Mr Obama had taken 15 days by this point, according to The Washington Post.
Donald Trump's international Presidential trips

Show all 22
Most of Mr Trump's time off has been spent at his own resorts, in Palm Beach, Florida, or in New Jersey. Brian Klass, a fellow at the London School of Economics Department of Government, calculated that the President had already spent 22 per cent of his time in power at the golf resorts before he took the current holiday.
In his 2004 book Think Like a Billionaire, Mr Trump wrote: "Don't take vacations. What's the point? If you're not enjoying your work, you're doing the wrong job."
His trips have already cost taxpayer funds of around $30 million, including private travel and security guards, according to liberal think tank Center for American Progress.
Mr Obama's travel costs came to around $100 million during his eight years in power.
Register for free to continue reading
Registration is a free and easy way to support our truly independent journalism
By registering, you will also enjoy limited access to Premium articles, exclusive newsletters, commenting, and virtual events with our leading journalists
Already have an account? sign in
Join our new commenting forum
Join thought-provoking conversations, follow other Independent readers and see their replies