Donald Trump more popular than ever, according to latest poll
Now only 59 per cent of Americans think former reality star is unfit for office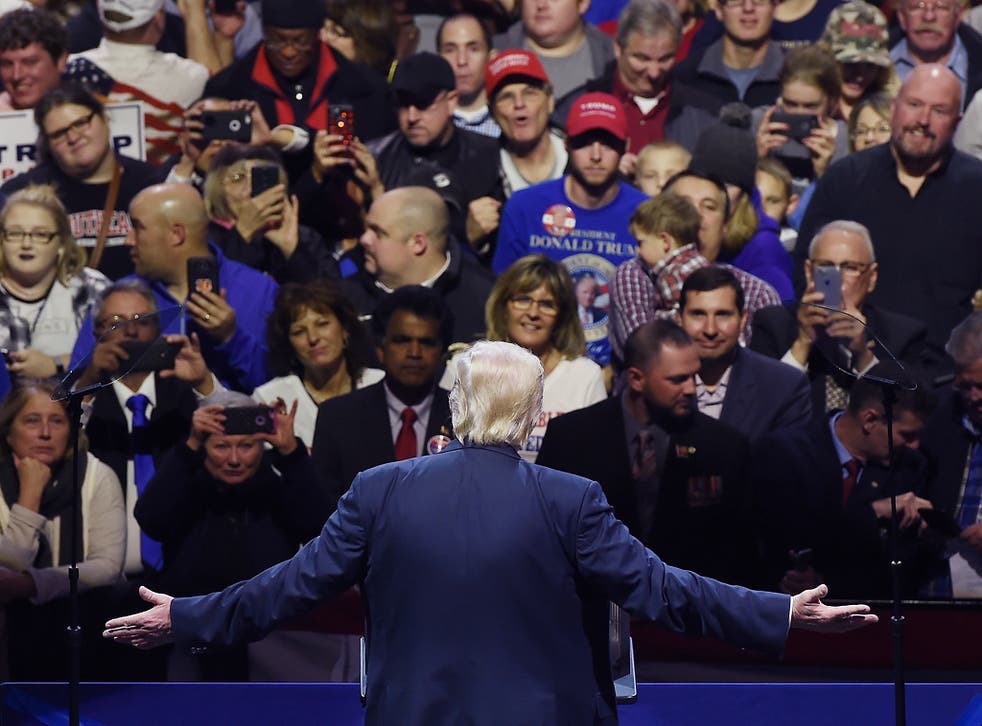 Donald Trump's popularity rating has reached an all-time high just weeks before he officially enters the Oval Office – as only 59 per cent of Americans now think he is unfit for to be president.
Despite being regarded as the most unpopular presidential candidate in US history, the former reality star won the Electoral College following the election on 8 November.
In a recent YouGov/Economist poll, more Americans had an unfavourable view of Mr Trump than a favourable one – 50 per cent to 44 per cent – especially black Americans and the under-30s.
Before the election, Mr Trump's unfavourables "frequently exceeded 60 per cent".
Even among conservative voters, where the Republican vote is typically strongest, one in five still dislike the billionaire with many feeling he is not "one of them".
Nearly the same number of conservative voters describe Mr Trump as a liberal as liberal voters who describe him as a conservative.
Some of Mr Trump's supporters have attacked what is seen as him rolling back on his more controversial campaign pledges – such as promise to build a wall on the US-Mexico border and to arrest his rival Hillary Clinton.
Commenting on the poll, polling consultant Kathy Frankovic said: "The country is still unclear about what happens now.
"Just over four in 10 are optimistic about the next four years with Trump as President; just under four in ten are pessimistic.
Donald Trump's most controversial quotes

Show all 14
Speaking on ABC's "The Week", Senator Ted Cruz – who lost to Mr Trump in the primaries – warned there would be "pitchforks and torches" in the streets if he did not follow through on his campaign promises.
He said: "If we're given the White House and both houses of Congress and we don't deliver, I think there will be pitchforks and torches in the streets.
"And I think quite rightly. I think people are so fed up with Washington, this election was a mandate with change and the most catastrophic thing Republicans could do is go back to business as usual."
Following his defeat in the primaries, Mr Cruz refused to endorse his former opponent for president, calling him a "pathological liar" and "utterly amoral".
Join our new commenting forum
Join thought-provoking conversations, follow other Independent readers and see their replies