President Trump proclaims April 'National Sexual Assault Awareness Month'
Mr Trump has been accused of assaulting more than 15 women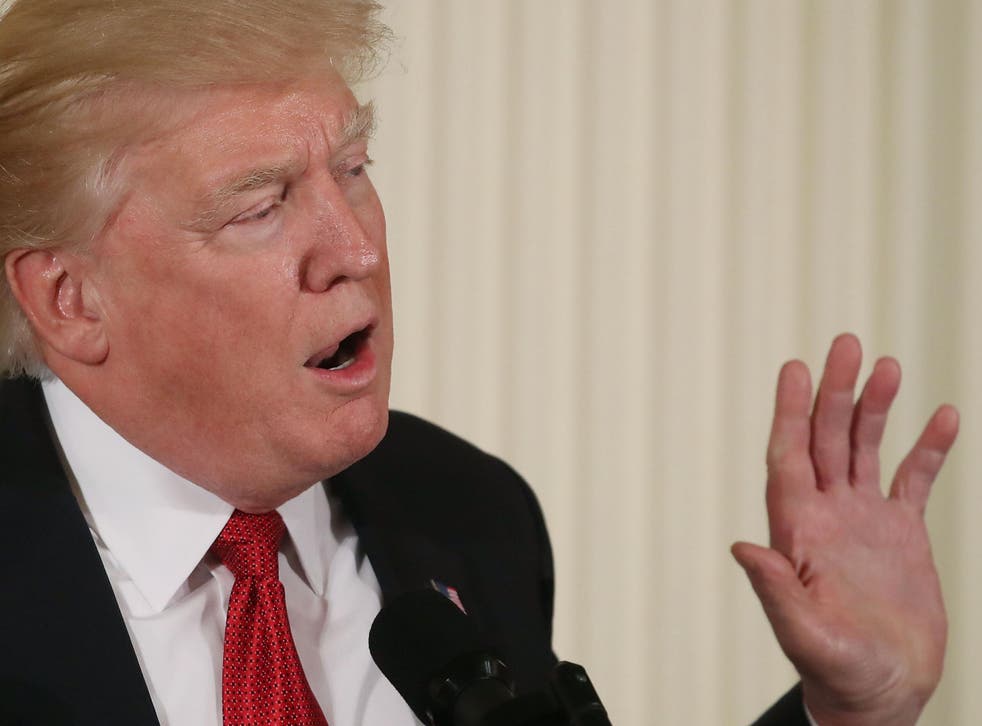 Donald Trump has announced that April will be "National Sexual Assault Awareness and Prevention Month" as the President fights multiple accusations of sexual assault himself.
The President has been accused of sexually assaulting more than 15 women, in a series of allegations that unravelled in the run-up to the election. Mr Trump has denied all the allegations, declaring at a campaign rally that the accusers were "sick" and hungry for fame.
The White House proclamation on Friday, signed by the President, took a different tone, adding that a person's "inherent dignity should never be violated".
"As we recognize National Sexual Assault Awareness and Prevention Month, we are reminded that we all share the responsibility to reduce and ultimately end sexual violence," it read. "As a Nation, we must develop meaningful strategies to eliminate these crimes, including increasing awareness of the problem in our communities, creating systems that protect vulnerable groups, and sharing successful prevention strategies."
The notice pointed to an executive order which instructs Attorney General Jeff Sessions to come up with a strategy to reducing crime, and which has placed much higher emphasis on illegal immigration and drugs than on preventing sexual assault. The proclamation does not signal there would be any dedicated funding or legislation to combat sexual assault.
After a 2005 video was leaked in October which showed the now-President bragging about his right as a "star" to grab women's genitals, more than a dozen women came forwards, accusing him of assault over a span of at least 30 years.
In pictures: Women of the world march against Trump

Show all 32
Allegations included that of People Magazine journalist Natasha Stoynoff, who claimed he had assaulted her at Mar-a-Lago whilst Melania Trump, pregnant at the time, was in the next room.
Mr Trump responded by asking supporters at a rally to "look at her", implying she was not attractive enough to be assaulted.
"I don't think so," he told the crowd.
Trump in response to sexual assault claims - 'Look at her... you tell me'
The accusations include one lawsuit, filed by former Apprentice contestant Summer Zervos, suing Mr Trump, the host of the reality show, for defamation after he failed to admit he had allegedly assaulted her.
He dismissed his words in the video as "locker room talk".
Donald Trump caught on tape talking about sexually assaulting women: "Grab 'em by the pussy"
In the proclamation, it says: "Recent research has demonstrated the effectiveness of changing social norms that accept or allow indifference to sexual violence. This can be done by engaging young people to step in and provide peer leadership against condoning violence, and by mobilizing men and boys as allies in preventing sexual and relationship violence."
After the video was released and caused an uproar, even amongst Republicans, Mr Trump hurriedly recorded an apology around midnight on a Friday evening at Trump Tower, in which he promised to be a "better man tomorrow", but added that the video was "nothing more than a distraction from the important issues" and attacked Bill Clinton.
Donald Trump apologises for 'grab them by the p****' remarks, says Bill Clinton has done 'far worse'
Also in 2005, when he was 59 years old, Mr Trump told the Howard Stern radio that he could "get away" with walking in on beauty pageant contestants because he owned the company.
Mr Trump told the Howard Stern radio show in 2005 that he could "get away" with walking in on beauty pageant contestants as they were getting dressed as he owned the pageant.
"I don't even wait," he said, "When you're a star, they let you do it."
The man he had been bragging to in the leaked video, Billy Bush, the former host of Access Hollywood, was fired. Mr Trump, however, became the 45th President just one month later.
April is not just dedicated to the epidemic of sexual assault. It has also been proclaimed "National Financial Capability Month", "National Donate Life Month", "National Child Abuse Prevention Month" and "Cancer Control Month".
Join our new commenting forum
Join thought-provoking conversations, follow other Independent readers and see their replies