Donald Trump tosses rolls of paper towel to Puerto Rican residents like they are basketballs
Reporters noted that there were damaged highway dividers and downed trees visible during Mr Trump's visit
Clark Mindock
New York
Tuesday 03 October 2017 22:25 Comments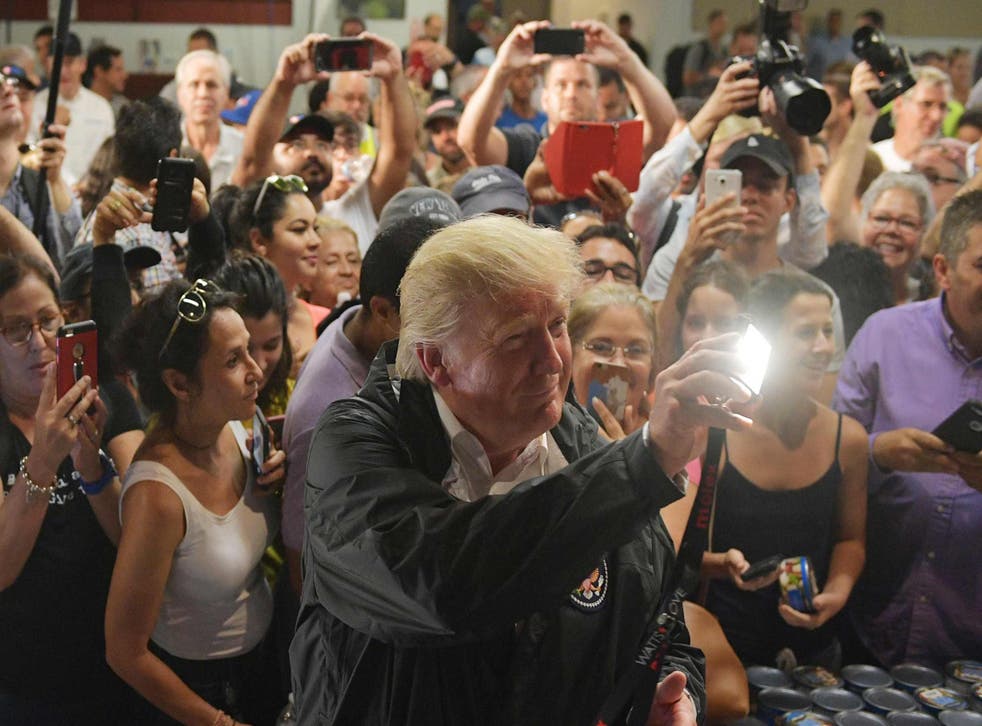 Donald Trump's predecessor is better known for enjoying a good game of basketball, but the President showed off his free-throw form while handing out aide in Puerto Rico.
Mr Trump was visiting a crowded Calvary Chapel when he started handing out the aide. First, he gave away some packages of "Arroz Rico". Then he tossed paper towel rolls to some of the fans in the back, just like he was shooting hoops.
The President was visiting Puerto Rico to view the devastation Hurricane Maria brought to the island. Before the event at the chapel, Mr Trump held a meeting with local and national officials in which he repeatedly praised the response to the crisis there. In the room was San Juan Mayor Carmen Yulín Cruz, who literally begged for more help on television recently.
Behind the praise and the well staged photo op at the Calvary Chapel, reporters travelling with the President noted that people had lined up along the motorcade route holding signs of protest. Trees could be seen covering roads, and highway dividers were broken on the route.
Reports indicate that 95 per cent of Puerto Rico's energy grid is down, and it appears likely that much of the island will remain without power for months to come. Emergency responders have been able to restore access to clean drinking water to just 45 per cent of the island, which has 3.4 million people.
Donald Trump's international Presidential trips

Show all 22
The official death toll related to the hurricane sits at 16, and has for several days. It's unclear if that number is accurate, however, as several logistical issues could be leading to underreporting of deaths on the island.
Register for free to continue reading
Registration is a free and easy way to support our truly independent journalism
By registering, you will also enjoy limited access to Premium articles, exclusive newsletters, commenting, and virtual events with our leading journalists
Already have an account? sign in
Join our new commenting forum
Join thought-provoking conversations, follow other Independent readers and see their replies