Donald Trump criticises Mayor of Puerto Rican capital for 'poor leadership'
Tweeting from a golf course in New Jersey, the President claimed San Juan Mayor Yulin Cruz had been told by the Democrats to be 'nasty' to him
May Bulman
Saturday 30 September 2017 13:33 Comments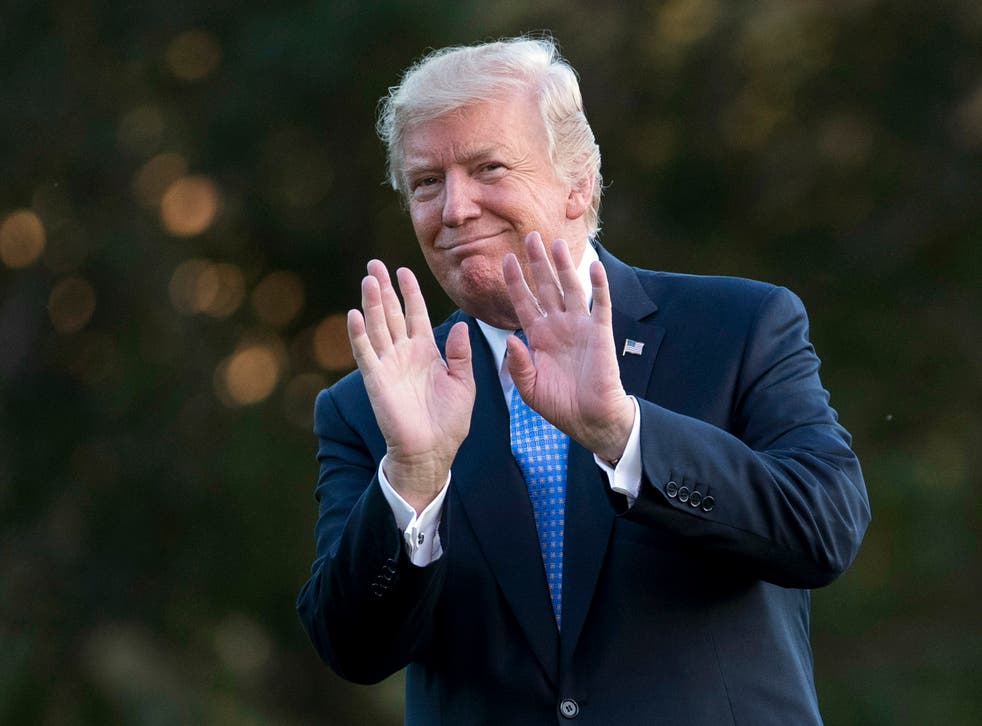 Donald Trump has launched an attack on the Mayor of the Puerto Ricon capital, accusing her of "poor leadership" a week after the country was hit by a category 4 storm.
Tweeting from a golf resort in New Jersey, the President claimed San Juan mayor Yulin Cruz had been told by the Democrats to be "nasty" to him, before accusing her of "poor leadership ability".
"The Mayor of San Juan, who was very complimentary only a few days ago, has now been told by the Democrats that you must be nasty to Trump," he wrote.
Trump claims Puerto Rico suffered because it was 'surrounded by big water'
"Such poor leadership ability by the Mayor of San Juan, and others in Puerto Rico, who are not able to get their workers to help. They want everything to be done for them when it should be a community effort. 10,000 Federal workers now on Island doing a fantastic job."
The tweets came after Ms Cruz accused the Trump administration of "killing us with the inefficiency" after Hurricane Maria, which killed at least 16 people and knocked out 80 per cent of the island's electricity when it hit last week.
The mayor implored the president, who is set to visit the US territory on Tuesday, to "make sure somebody is in charge that is up to the task of saving lives."
Speaking at a news conference, she said: "We are dying, and you are killing us with the inefficiency. I am begging, begging anyone that can hear us, to save us from dying."
Puerto Rico mayor weeps on TV: "The worst fear is that we cannot get to everyone in time"
Mr Trump has defended his administration's response to the recent hurricane in Puerto Rico by explaining that the island is "surrounded by water", saying local governments had been "totally and unfortunately unable to handle this catastrophic crisis on their own – just totally unable to."
He drew attention to the island's debt burden and infrastructure issues, leaving doubt about how far Washington would go to make the US territory whole.
"Ultimately the government of Puerto Rico will have to work with us to determine how this massive rebuilding effort — it will end up being one of the biggest ever — will be funded and organised, and what we will do with the tremendous amount of existing debt already on the island," he said.
World news in pictures

Show all 50
Thousands of Puerto Ricans have received water and rationed food as an aid bottleneck has begun to ease, while telecommunications are back for about 30 percent of the island and nearly half of the supermarkets have reopened at least for reduced hours.
But many remain desperate for necessities, most urgently water, and almost all of the island's 3.4 million residents remain without power, and even hospitals are relying on generators to keep the lights on.
Already stricken with logistics, communications and supply issues, the country is expected to see heavy rain this weekend that could further impede recovery efforts for its 3.4 million residents.
Register for free to continue reading
Registration is a free and easy way to support our truly independent journalism
By registering, you will also enjoy limited access to Premium articles, exclusive newsletters, commenting, and virtual events with our leading journalists
Already have an account? sign in
Join our new commenting forum
Join thought-provoking conversations, follow other Independent readers and see their replies