Donald Trump's 'religious liberty' executive order rejected by 1,000 faith leaders
Critics say religious freedom is already protected by the constitution and instead of enhancing faith rights the new order would privilege one religious perspective above all others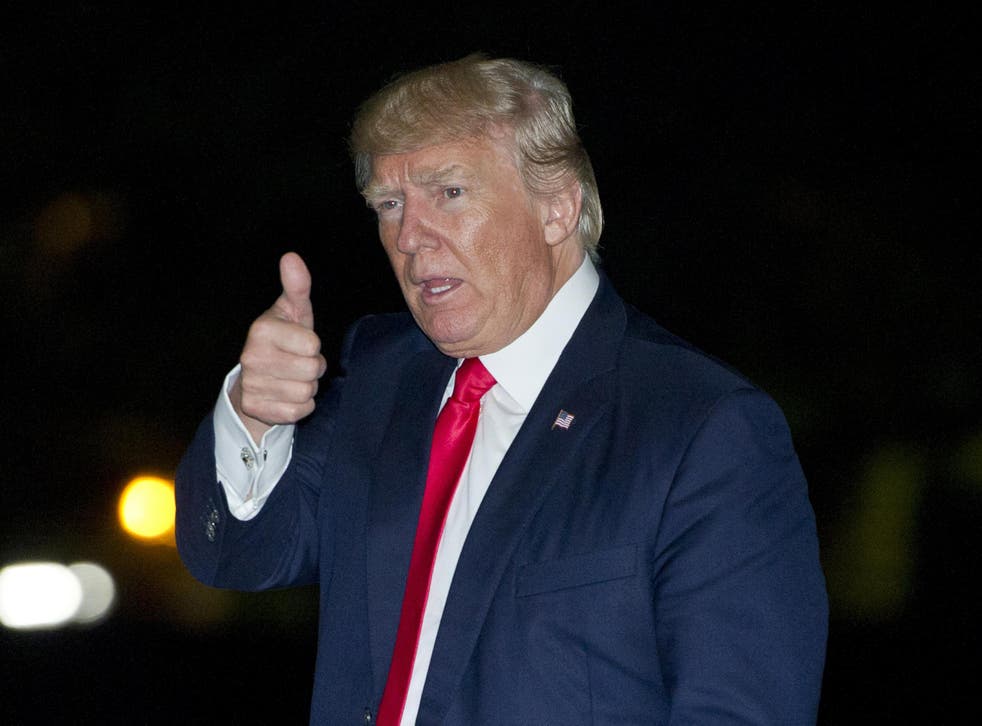 More than 1,000 faith leaders have signed a letter condemning Donald Trump's anticipated executive order on "religious liberty".
The President is expected to enact a new law this week which would protect individuals and organisations that discriminate against LGBTQ people on religious grounds.
In an open letter published independently online, 1,300 religious leaders called on Mr Trump to abandon the bill, saying it would turn freedom "into a weapon to discriminate against broad swath[e]s of the nation".
Although a final version of the order has not yet been published, a draft leaked to the Nation in February suggested conservative Christians could legally deny LGBTQ people goods and services under the new law. White House officials confirmed some of the contents of the draft to Politico this week.
Faith leaders pointed out that religious freedom is already protected by the constitution and existing law; rather than enhancing this, the draft executive order privileges one religious perspective above all others.
"Although it purports to strengthen religious freedom, what this order would actually do is misuse this freedom, turning it into a weapon to discriminate against broad swath[e]s of our nation, including LGBTQ people, women, and children in foster care," the letter says.
"We urge you to turn away from all proposals that would abuse religious freedom, including any executive orders on this issue that are currently under consideration."
White House officials have suggested that Mr Trump might sign the new order into law on Thursday to coincide with the National Day of Prayer.
World news in pictures

Show all 50
February's draft order offered protections to employers who deny employee health coverage for contraception and abortion, and to federally funded adoption and family services organisations who discriminate against same-sex couples.
It also promised to protect the tax-exempt status of any religious organisation or privately held company that "believes, speaks, or acts (or declines to act) in accordance with the belief that marriage is or should be recognised as the union of one man and one woman, sexual relations are properly reserved for such a marriage, male and female and their equivalents refer to an individual's immutable biological sex as objectively determined by anatomy, physiology, or genetics at or before birth, and that human life begins at conception and merits protection at all stages of life."
In their letter, faith leaders said: "The religious freedom upon which our nation was founded has allowed our country's diverse religious landscape to flourish. The draft executive order flies in the face of that rich diversity by enshrining one religious perspective―on marriage, gender identity, health care, and the role of houses of worship in partisan politics―into law, above all others. This is neither what religious freedom means in the eyes of the law, nor what religion itself means to millions of Americans of faith."
Among the signatories are the CEO of "strategy centre" Faith in Public Life, director of social justice organisation Bend the Arc, a theology professor, and Bishop Gene Robinson, the first openly gay bishop in the US Episcopal Church.
"For many of us," the leaders said, "supporting LGBTQ individuals and families is a principle of our faith, and that needs to be respected as well."
Join our new commenting forum
Join thought-provoking conversations, follow other Independent readers and see their replies