Donald Trump's energy secretary is paid board member of company building Dakota Access Pipeline
He cannot dance his way out of this one - Rick Perry is paid hundreds of thousands of dollars by Energy Transfer Partners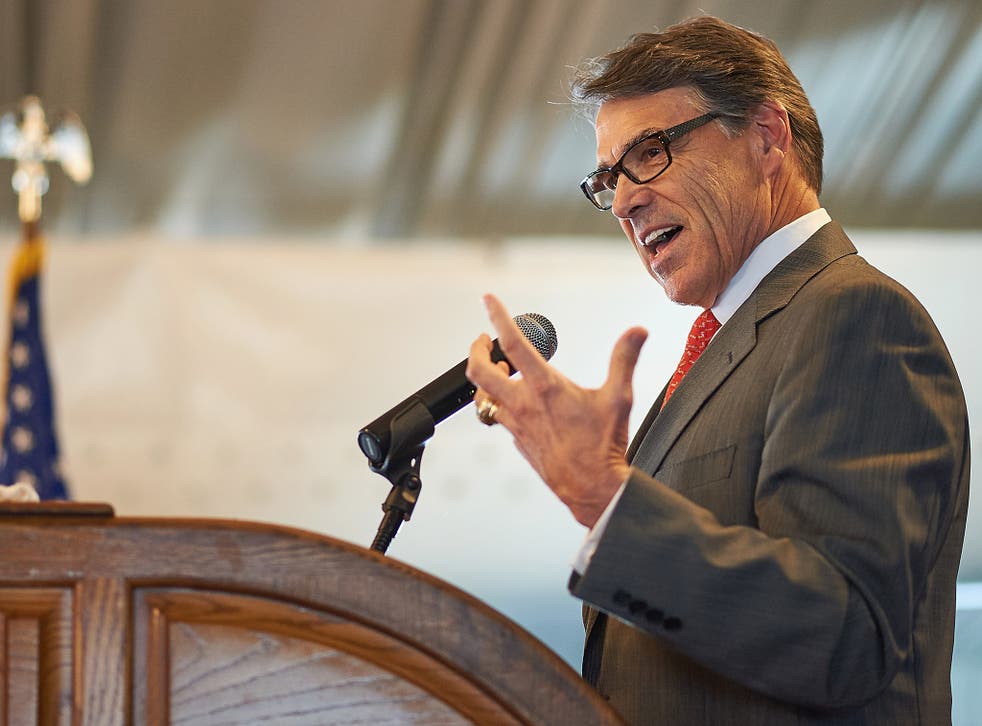 Donald Trump's pick for energy secretary is a paid board member of Energy Transfer Partners (ETP), the company building the disputed Dakota Access Pipeline.
Former Texas governor Rick Perry, who competed on reality television show Dancing with the Stars, has held a position with the Texas-based energy company for two years.
ETP is currently building a multi-billion dollar oil and gas pipeline across the US, cutting through several states and, until recently, threatened the water supply and burial grounds of a Native American reservation.
Mr Perry joined the board in February 2015, shortly after he stepped down as governor. In 2015, according to ETP filings, he was paid $236,820, as reported by Mother Jones.
After months of protests over the pipeline, with police using pepper spray and water cannons, protesters scored a victory when the US army corps of engineers refused to issue a permit required by ETP to build the pipeline under a reservoir near the Sioux tribe's reservation.
The victory, however, may be short lived. Not only is the incoming energy secretary an advocate of the pipeline, but so is the overall Trump administration. Mr Perry's department would not have a formal role in approving the pipeline, but he would have an important voice in the government.
Mr Trump's key "America First" policy promises to lift restrictions from the energy industry and to bring back manufacturing jobs to the country, which would indicate his intention to let the pipeline go ahead.
Mr Perry's apparent conflicts of interest with ETP - even as he launched his own presidential campaign - were overlooked amid a wider web of entanglements involving Mr Trump.
ETP could not be immediately contacted for comment.
CEO Kelcy Warren funneled $6 million into supporting Mr Perry via a Super PAC, and Mr Warren was official campaign finance chairman.
Mr Warren was partially refunded as Mr Perry did not spend all of the money before he left the presidential race last September.
Mr Perry, who was longstanding governor of the Lone Star State between 2000 and 2015, was the first Republican presidential candidate to quit the race.
It was his second run for president after he briefly led the polls in 2012.
His famous gaffe during a television debate in 2011 was when he failed to remember the name of the third government agency he pledged to abolish if he was president. It was the energy department.
Register for free to continue reading
Registration is a free and easy way to support our truly independent journalism
By registering, you will also enjoy limited access to Premium articles, exclusive newsletters, commenting, and virtual events with our leading journalists
Already have an account? sign in
Register for free to continue reading
Registration is a free and easy way to support our truly independent journalism
By registering, you will also enjoy limited access to Premium articles, exclusive newsletters, commenting, and virtual events with our leading journalists
Already have an account? sign in
Join our new commenting forum
Join thought-provoking conversations, follow other Independent readers and see their replies