Donald Trump tells Rodrigo Duterte US had nuclear submarines off Korean peninsula
Kim Jong-un is a 'madman with nuclear weapons' the US president reportedly said
Narjas Zatat
Wednesday 24 May 2017 17:23 Comments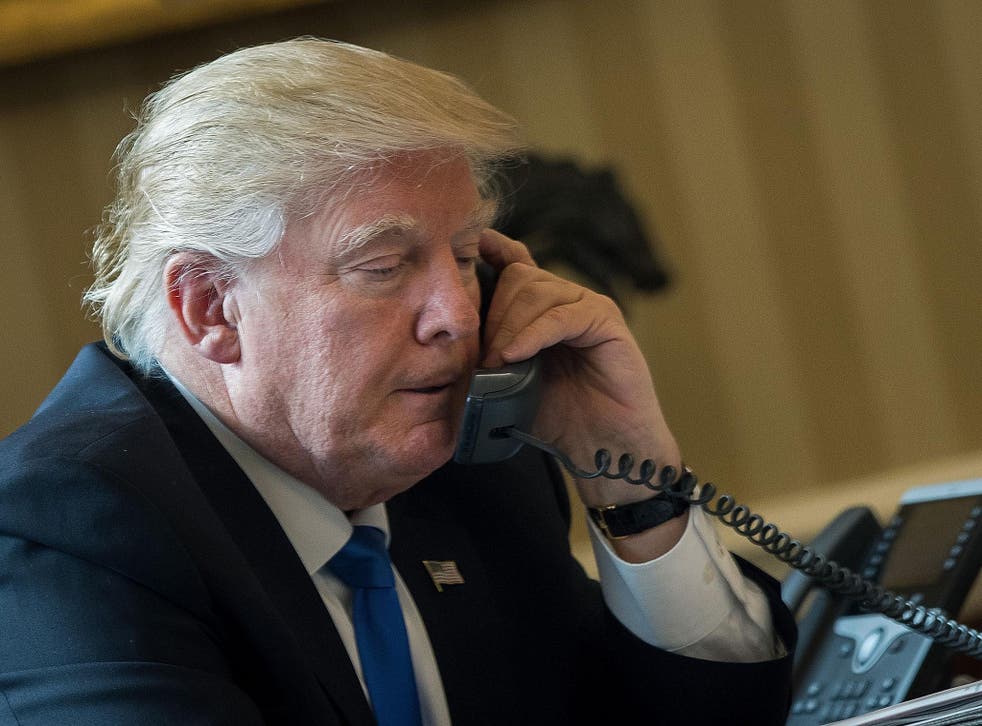 Donald Trump reportedly told the president of the Philippines the United States has "two nuclear submarines" off the coast of North Korea.
The US leader was quoted as telling Rodrigo Duterte: "We have two submarines — the best in the world. We have two nuclear submarines, not that we want to use them at all
Part of a leaked telephone transcript between the pair circulated online under a "confidential" cover sheet and comes amid rising tensions between the White House and Pyongyang.
A US official, speaking on the condition of anonymity, confirmed to the Washington Post that the document was an accurate representation of the interaction between the two leaders.
They also claimed the US President's private conversation with Mr Duterte indicated an attempt to collect as much regional support as possible in an effort to create a bulwark against the North Korean regime.
In the same phone call, the US President called Kim Jung-un a "madman with nuclear weapons", days before stating publicly that he would be "honoured" to meet the dictator.
North Korea fired a medium-range ballistic missile in its latest test, and has indicated it is ready to begin mass production of the weapon, which is capable of reaching Japan and US bases.
In a show of force, the United States has sent the nuclear-powered USS Carl Vinson aircraft carrier to waters off the Korean peninsula, where it joined the USS Michigan, a nuclear submarine that docked in South Korea in late April.
In pictures: North Korea military drill

Show all 8
Japanese Prime Minister Shinzo Abe said he wanted to raise the issue of North Korea's militarisation at the G7 summit in Italy.
The leaked transcript emphasises the importance of China as a potential power against Pyongyang, and the Philippines president said "at the end of the day, the last card, the ace, has to be with China."
North Korea continues to defy calls from the United Nations Security Council to halt its nuclear missile program, on the grounds that weapons are needed for defence against US aggression.
Mr Trump also praised Mr Duterte on an "unbelievable job on the drug problem". The president of the Philippines has been accused of committing "possible crimes against humanity" for his government's war on drugs, which Amnesty International claims targets poor individuals.
Register for free to continue reading
Registration is a free and easy way to support our truly independent journalism
By registering, you will also enjoy limited access to Premium articles, exclusive newsletters, commenting, and virtual events with our leading journalists
Already have an account? sign in
Join our new commenting forum
Join thought-provoking conversations, follow other Independent readers and see their replies