Donald Trump's defence of Roy Moore over child sex allegations deepens Republican divisions
President at odds with Senate Majority Leader Mitch McConnell and even daughter Ivanka over 'special place in Hell' comments alluding to Alabama Senator
Jonathan Martin
,
Maggie Haberman
,
Alexander Burns
Monday 27 November 2017 09:58 Comments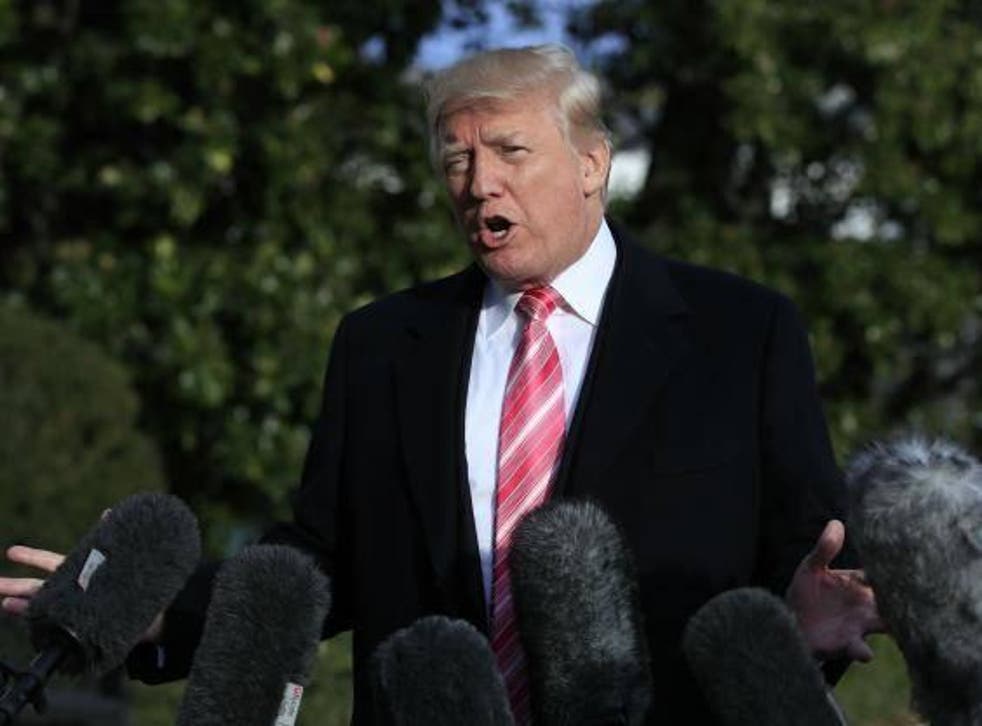 By the time Senator Mitch McConnell, the majority leader, made the last of his repeated pleas to President Donald Trump to keep his distance from the Senate candidacy of Roy Moore, it was too late.
To McConnell, only the President could extinguish a fire that he sees as endangering Republicans' Senate majority. But Trump, speaking by phone on Tuesday with McConnell, responded with the same argument he had been making for days inside the White House.
The women who have called Moore a sexual predator, the President believes, may not be telling the truth.
"Forty years is a long time. He's run eight races, and this has never come up," Trump said to the television cameras on the South Lawn hours after his conversation with McConnell, effectively endorsing Moore before boarding Marine One. "He says it didn't happen," the President added. "You have to listen to him, also."
Trump's decision to reject every long-shot plan to save the Senate seat reflects the imperative an unpopular President faces to retain his political base, a determination that he should follow his own instincts after having felt steered into a disastrous earlier endorsement in the Alabama race, and even his insistence that he himself has been the victim of false accusations of sexual misconduct.
But in tying himself to Moore even as congressional leaders have abandoned the candidate en masse, the President has reignited hostilities with his own party just as Senate Republicans are rushing to pass a politically crucial tax overhaul. McConnell and his allies have been particularly infuriated as Trump has reacted with indifference to a series of ideas they have floated to try to block Moore.
The accusations against Moore have lifted Democrats' hopes of notching a rare victory in the Deep South in next month's special election, which would narrow the Republican Senate majority to a single seat. Just as significantly, the President has handed the Democrats a political weapon with which to batter Republicans going into the midterm elections: that they tolerate child predation.
"I was surprised, and I think it's a high-risk move," said Senator Lindsey Graham, Republican-South Carolina, who has established a rapport with Trump.
As Moore has rejected calls to drop out even as more women have accused him of preying on them when they were teenagers, Republicans have given up any hope he will fold his campaign. Trump has repeatedly told his aides he does not believe Moore would ever quit.
What the President did not foresee was that the friction would reach inside his immediate family. He vented his annoyance when his daughter Ivanka castigated Moore by saying there was "a special place in Hell for people who prey on children," according to three staff members who heard his comments.
"Do you believe this?" Trump asked several aides in the Oval Office. Moore's Democratic opponent in the Alabama race, Doug Jones, quickly turned her comments into a campaign ad.
But something deeper has been consuming Trump. He sees the calls for Moore to step aside as a version of the response to the now-famous Access Hollywood tape in which he boasted about grabbing women's genitalia and the flood of groping accusations against him that followed soon after. He suggested to a senator this year that it was not authentic and repeated that claim to an adviser more recently. (In the hours after it was revealed in October 2016, Trump acknowledged that the voice was his, and he apologised.)
So Trump has been particularly open to the idea, pushed by Moore's defenders, that the candidate is being wrongly accused, even as McConnell and a parade of other Republicans have said they believe the accusers. When a group of senators gathered with the President in the White House last week to discuss the tax overhaul, it took little to get Trump onto the topic of Moore - and he immediately offered the same it-was-40-years-ago defence, according to officials at the meeting.
Trump's responses to the Moore revelations have been pronounced but not consistent. He accepted the candidate's initial denials, and then was shocked at how tepid Moore appeared when asked during an interview with Sean Hannity whether he still maintained his innocence, according to one person close to the President.
Privately, Trump has acknowledged that he is making a cold political calculus in the hope that the Republicans will hold on to the seat. A White House official Saturday reiterated the President's view that he believes Moore should quit the race if the allegations are proved true, but the official stressed that the candidate has denied them.
Absent action from Trump, party leaders have explored - and abandoned - a number of ways to derail Moore. They considered recruiting another Republican to run a write-in campaign against Moore and Jones, but two private polls showed that such a candidacy would have no chance of success.
Both polls, commissioned by Republican groups in mid-November, found Jones leading Moore in a head-to-head election and winning handily in a three-way race, according to people who reviewed the results. Public polls have indicated a very close race.
McConnell and his allies have believed for weeks that disaster awaits, win or lose, if Moore remains in the race: Either the Democrats will claim the seat on 12 December, or Moore will win and thrust the party into an agonising months-long debate over whether to expel him.
The Senate leader has told fellow Republicans in private that Moore's nomination has endangered the party's hold on the Senate, according to people who have spoken with him - his starkest acknowledgment so far that the political environment has turned sharply against his party since Trump's election. McConnell has also reiterated his intention to move against Moore if he is elected, though McConnell has made clear that he thinks that the candidate is unlikely to win.
Otherwise loyal Senate Republicans have started putting some distance between themselves and the President, a breach that could grow wider in the event of expulsion proceedings.
"As much as people would like to assume that, as Louis XIV said, 'I am the state,' there is more than one person who represents the Republican Party, and the preponderance of the party has dissociated itself from Moore," said Senator Bill Cassidy, Republican-Louisiana.
The President blindsided congressional Republicans with his defence of Moore, who was a polarising figure - he has said that homosexual conduct should be illegal - well before being accused of making sexual advances on minors when he was a district attorney in his 30s.
McConnell even enlisted Washington campaign lawyers with experience in Alabama elections to devise a four-page memo outlining a legal avenue to block Moore's path, but the White House counsel's office ignored the document.
"All you can do is identify a way out of the mess, and if people don't want to follow it, that's on them," said Josh Holmes, one of McConnell's closest political advisers.
Should Jones win, Democrats would need to take only two more seats in 2018 to regain a majority in the Senate - still a difficult task, but one nearly unimaginable just a month ago. A victory for Moore could be just as punishing for Republicans because it could taint their candidates across the country by association with a man accused of child molestation.
Scott Jennings, a Republican strategist close to McConnell, said the race had developed into a no-win situation.
Donald Trump's least presidential moments so far...

Show all 30
"Either we're saddled with a Democrat in a seat that ought to be Republican," Jennings said, "or we're saddled with a brand anvil that's going to drag down the President, drag down the Senate, drag down the party and plunge the Senate into immediate turmoil when he gets there."
For its part, Moore's campaign is thrilled to have the President's tacit support and is promising to highlight it.
"We're going to make it clear to the voters of Alabama that Roy Moore is the candidate to help President Trump get a conservative Supreme Court and cut taxes," said Brett Doster, a top Moore adviser. "That will be included in our ads, definitely."
The New York Times
Register for free to continue reading
Registration is a free and easy way to support our truly independent journalism
By registering, you will also enjoy limited access to Premium articles, exclusive newsletters, commenting, and virtual events with our leading journalists
Already have an account? sign in
Join our new commenting forum
Join thought-provoking conversations, follow other Independent readers and see their replies