Defiant Donald Trump uses Bill Clinton rape allegation to deflect criticism
Trump says: 'So many self-righteous hypocrites. Watch their poll numbers - and elections - go down!'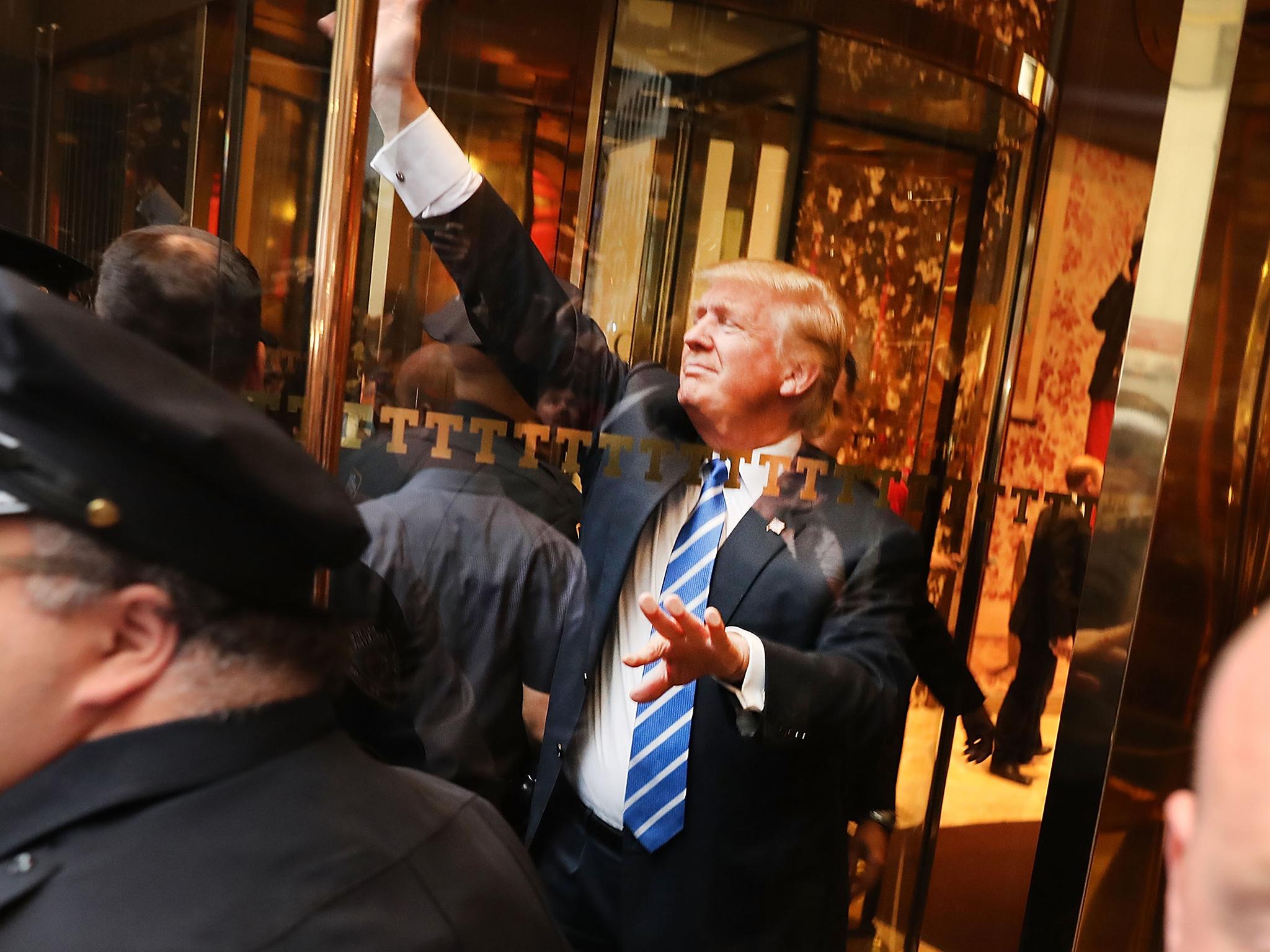 Donald Trump has come out fighting ahead of the second TV presidential debate as the backlash over his obscene comments about women intensified.
As a slew of senior Republicans withdrew their support and Hillary Clinton's running mate said his remarks revealed a "pattern of sexual assault", Mr Trump struck a defiant tone and issued a series of tweets attacking his critics.
'Tremendous support (except for some Republican leadership"). Thank you," Trump wrote on Twitter.
"So many self-righteous hypocrites. Watch their poll numbers - and elections - go down!" Trump also tweeted, apparently referring to those Republicans who have withdrawn support for his candidacy over a 2005 video that emerged on Friday.
And, most controversially, Mr Trump also seized on never-proved sexual allegations against Hillary Clinton's husband, Bill.
Donald Trump apologises for 'grab them by the p****' remarks, says Bill Clinton has done 'far worse'
The Republican presidential nominee tweeted a link to an interview with Juanita Broaddrick, which is called 'Bill Clinton Accuser Juanita Broaddrick Relives Brutal Rapes'.
Broaddrick's lawsuit against Clinton accusing him of rape was dismissed in 2001 and criminal charges were never filed.
The interview has been conducted with BReitbart, a right=wing news organisation that has been a stauch supporter of the billionaire businessman.
Mr Clinton has strenuously denied the allegations
Of those criticising Mr Trump, perhaps the most vocal came from Tim Kaine, Ms Clinton's running mate, who has said the recording reveals "a pattern of sexual assault" by the Republican presidential nominee.
Mr Kaine said "it is much more than words", adding: "There's kind of a piece of the jigsaw puzzle missing in Donald Trump where he does not look at women and consider them as equal to himself."
Meanwhile, a succession of senior Republicans – in fact, more than three dozen in total – have withdrawn their support from Mr Trump.
Senator John McCain – the 2008 Republican nominee – released a lengthy statement explaining why he reached his decision.
"I have wanted to support the candidate our party nominated. He was not my choice, but as a past nominee, I thought it was important I respect the fact that Donald Trump won a majority of the delegates by the rules our party set," Mr McCain said.
"But Donald Trump's behaviour this week, concluding with the disclosure of his demeaning comments about women and his boasts about sexual assaults, make it impossible to continue to offer even conditional support for his candidacy."
Mike Pence, Mr Trump's running mate, has also distanced himself from the billionaire, declining to appear on his behalff at a party gathering in Wisconsin and saying in a statement: he was "offended" by the comments.
"I do not condone his remarks and cannot defend them," Mr. Pence said, adding, "We pray for his family and look forward to the opportunity he has to show what is in his heart when he goes before the nation tomorrow night."
Republican leaders backing away from Donald Trump after lewd remarks
Show all 12
Former California Gov Arnold Schwarzenegger – and new Apprentice host – issued a statement saying that he would not vote for Mr Trump.
But, on a day of very few voices of support, the former New York mayor Rudy Giuliani did stick his head above the parapet to partially defend Mr Trump, saying "men at times talk like that".
However, Mr Giuliani also said Mr Trump was "wrong for doing it" and stressed he was "not justifying it, I believe it's wrong, I know he believes it's wrong".
Speaking during an interview on CNN, Mr Giuliani said said Mr Trump made "horrible remarks" and said they were "remarks you certainly don't want to hear from anyone, much less a presidential candidate".
"I think he made a full and complete apology for it. He probably is going to do it again tonight," he added.
However, after being pressed on the claim Mr Trump made saying he could do anything with women, including groping them, Mr Giuliani said: "First of all, I don't know that he did it to anyone. This is talk, and gosh almighty, he who hasn't sinned, throw the first stone here."
He later added: "But the fact is that men at times talk like that. Not all men, but men do.
"He was wrong for doing it. I am not justifying it. I believe it's wrong. I know he believes it's wrong. I believe this is not the man we're talking about today."
In an interview with ABC News, Mr Giuliani said: "So he said some very bad things 10 or 12 years ago.
"He's apologised for it. And it seems to me we should move on."
Mr Trump has apologised for his comments after some Republicans said they were indefensible.
"I've never said I'm a perfect person, nor pretended to be someone that I'm not. I've said and done things I regret, and the words released today on this more-than-a-decade-old video are one of them," he said.
"Anyone who knows me knows these words don't reflect who I am. I said it, I was wrong, and I apologise."
He also accused former president Bill Clinton of doing "far worse".
Join our commenting forum
Join thought-provoking conversations, follow other Independent readers and see their replies