Donald Trump appoints Rudy Giuliani as private sector cyber security adviser
The controversial former mayor of New York has consistently stumped for the President-elect throughout his campaign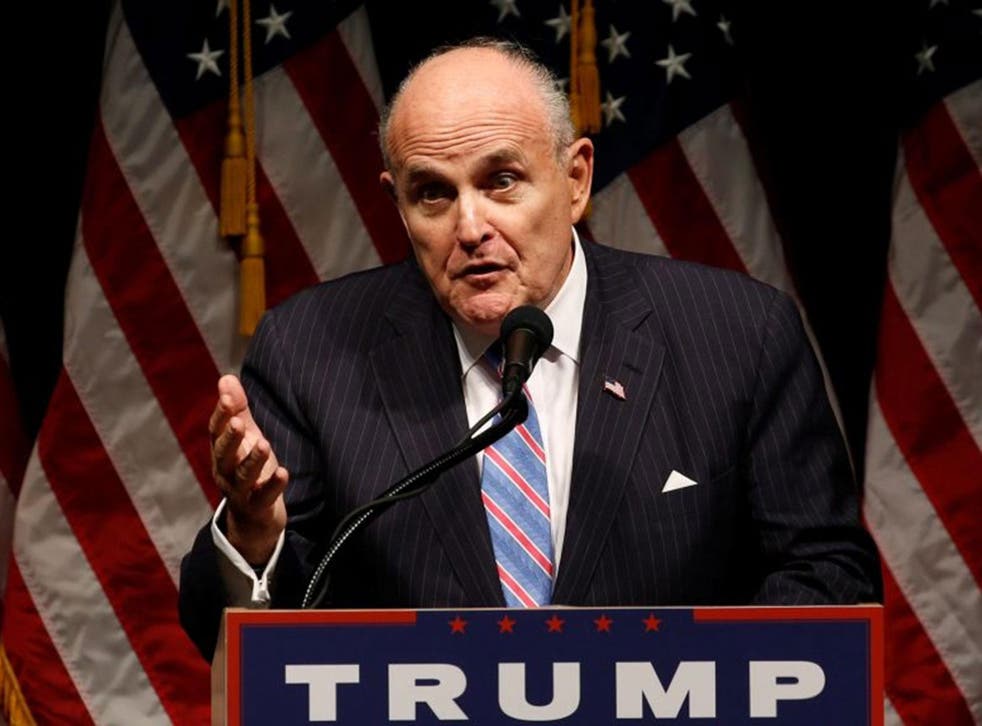 Donald Trump has finally found a more permanent spot for his friend and controversial former New York City mayor Rudy Giuliani.
Mr Giuliani, Vice President of the Trump transition team, will share his views with the President-elect concerning cyber threats in the private sector, as Mr Trump plans to meet with corporations, and discuss security breaches and how to solve them.
"Mr Giuliani was asked to initiate this process because of his long and very successful government career in law enforcement and his now sixteen years of work providing security solutions in the private sector," a statement from the Trump team read.
The former mayor, who was known for stamping down on violent crime and drug users and was criticised for his "broken windows" policing, is the chairman of global security firm Greenberg Traurig and also of Giuliani Partners, an international security consulting firm.
Last month Mr Giuliani, the man who claimed he had saved more black lives than Beyonce, removed his name for consideration in Mr Trump's cabinet. He was originally considered as a top pick for secretary of state, but Rex Tillerson, the oil tycoon at ExxonMobil, was given the job.
"This is not about me; it is about what is best for the country and the new administration," Mr Giuliani said in December.
"Before I joined the campaign I was very involved and fulfilled by my work with my law firm and consulting firm, and I will continue that work with even more enthusiasm."
Rudy Giuliani wears 'Make Mexico Great Again Also' hat
Mr Giuliani has seemingly been rewarded for his loyalty as well as his expertise by Mr Trump. Their relationship as two prominent New Yorkers goes back decades, and includes a dubious comedy sketch where Mr Giuliani dressed as a woman and was fondled by the now President-elect.
Throughout the campaign, he often stumped for Mr Trump, making faux pas such as claiming that there were not so many radical Islamic terrorist attacks in the US under George W Bush, that he liked to imagine Hillary Clinton in a "striped jumpsuit", and that Mr Trump was a "genius" for avoiding income tax.
The appointment was confirmed as Mr Trump prepared to meet with executives from large companies to try to tackle fast growing cyber crime in the US.
No mention was made of hacking in the public sector, or the cyber hacking by Russian operatives throughout the election season, exerting what intelligence agencies described as an "influence campaign" on US democracy: peddling fake news and hiring online "trolls" to boost the image of Mr Trump compared with his rival Ms Clinton.
Mr Trump dismissed the claims and although he admitted that Russia might have hacked US government systems, it failed to have an outcome on the election.
Rudy Giuliani comments on Beyonce's VMA performance
The hacking targeted the Democratic National Committee computer servers, but according to FBI director James Comey, did not manage to obtain the same access to those of the Republican National Committee.
Join our new commenting forum
Join thought-provoking conversations, follow other Independent readers and see their replies