Sally Yates and James Clapper to testify in probe over Donald Trump links to Russia
Pair will give evidence on 8 May before the subcommittee on crime and terrorism
Susan Heavey
Washington
,
Doina Chiacu
Tuesday 25 April 2017 15:52 Comments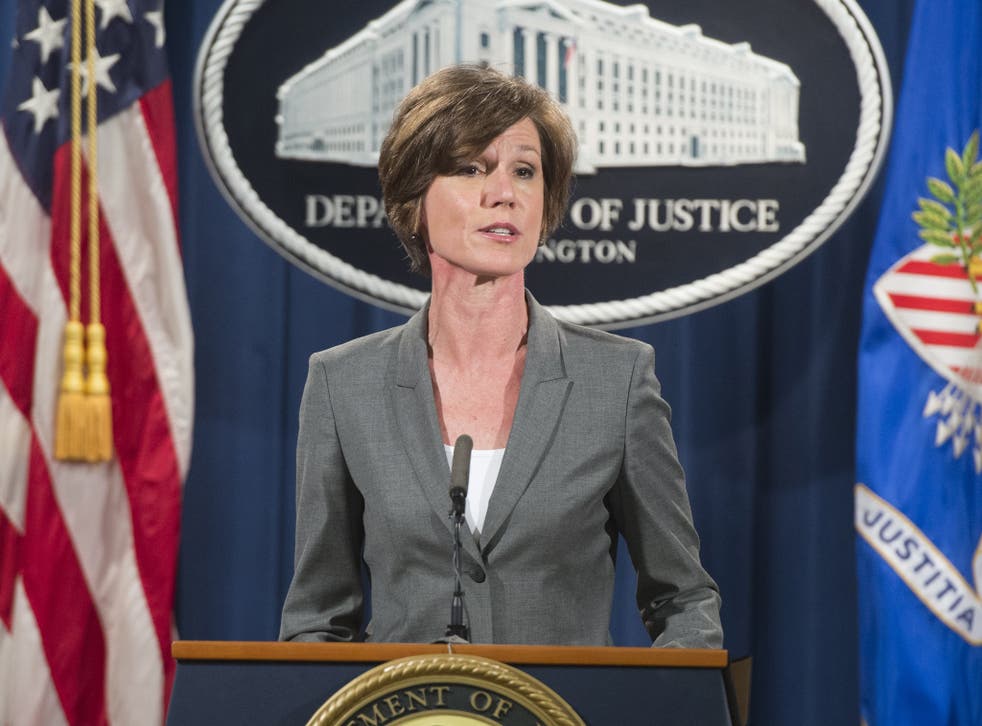 Two former US officials, intelligence director James Clapper and deputy Attorney General Sally Yates, will testify next month in a Senate investigation into alleged Russian meddling in the 2016 presidential election, the Senate Judiciary Committee said on Tuesday.
Four congressional committees are investigating the issue after US intelligence agencies concluded in January that Russian President Vladimir Putin had ordered hacking of the Democratic political groups to try to sway the election toward Republican Donald Trump. Moscow has denied any such meddling.
Clapper, the former director of national intelligence, and Yates, the former deputy attorney general, will testify on 8 May before the subcommittee on crime and terrorism, Judiciary Chairman Charles Grassley said in a statement.
More witnesses may be added, the statement said.
The two officials from the administration of former President Barack Obama, along with former CIA Director James Brennan, had been scheduled to testify before the House of Representatives' intelligence committee in March, but that public hearing was cancelled by the panel's chairman, Republican Devin Nunes.
Nunes, a Trump ally and transition adviser, recused himself from the Russia investigation on 6 April after receiving information at the White House about intelligence agency surveillance of foreign nationals that swept up some information about members of Trump's transition team.
His decision to hold a news conference about the information and discuss it with Trump before disclosing it to Democrats raised questions about whether he could lead a credible investigation.
The House committee on Friday invited Yates, Clapper and Brennan to appear at a public hearing to be scheduled after 2 May, when it said FBI Director James Comey and Admiral Mike Rogers, director of the National Security Agency, would appear behind closed doors.
Democrats have called for an independent commission to investigate the alleged election-related activities as well as any Russia ties to the Trump campaign.
The Judiciary subcommittee's chairman, Republican Lindsay Graham, said he wanted to ask Clapper and Yates whether they knew about a court order allowing the FBI to surveil the communications of Trump campaign adviser Carter Page in 2016.
The Washington Post reported this month that such a warrant had been issued. Clapper said in a March television interview he was not aware of any wiretapping of Trump or advisers.
"I want to get to the botom of this," Graham said on Fox News.
Reuters
Register for free to continue reading
Registration is a free and easy way to support our truly independent journalism
By registering, you will also enjoy limited access to Premium articles, exclusive newsletters, commenting, and virtual events with our leading journalists
Already have an account? sign in
Register for free to continue reading
Registration is a free and easy way to support our truly independent journalism
By registering, you will also enjoy limited access to Premium articles, exclusive newsletters, commenting, and virtual events with our leading journalists
Already have an account? sign in
Join our new commenting forum
Join thought-provoking conversations, follow other Independent readers and see their replies