Donald Trump-Russia dossier: US media reports corroborate some of Christopher Steele allegations
A senior Russian official was under scrutiny by US security agencies before his departure to Moscow
Lucy Pasha-Robinson
Wednesday 08 March 2017 15:38 Comments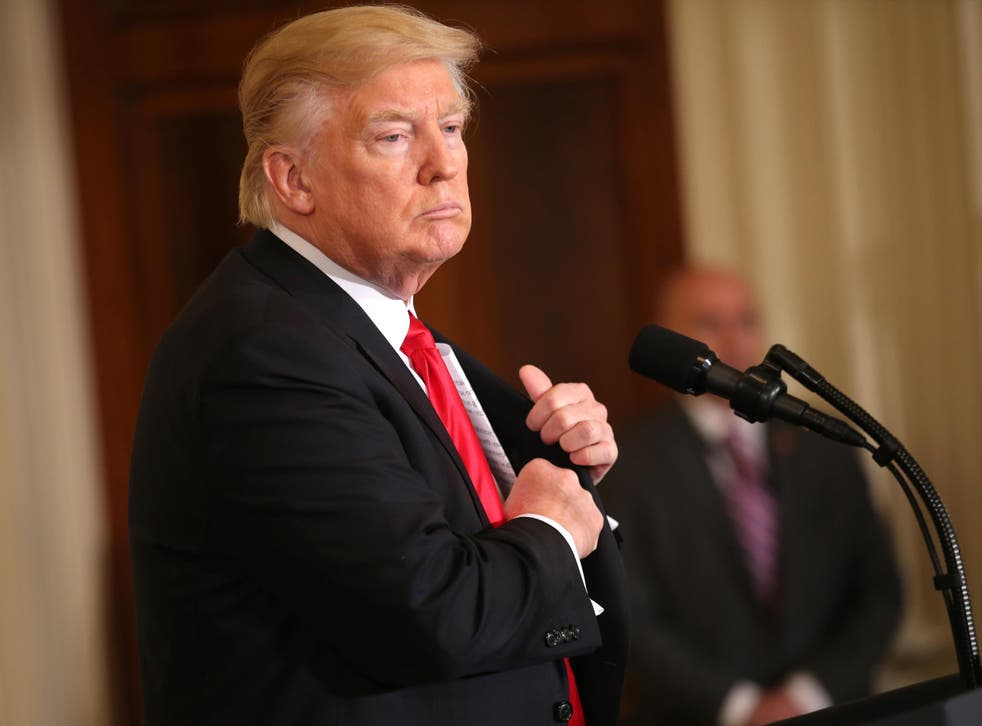 Some of the claims in a controversial dossier linking Donald Trump to the Russian government appear to have been verified by US media outlets.
Compiled by former British spy Christopher Steele, the document set out months of leads and unverified intelligence reports linking the US President and his associates to the Kremlin.
Mr Steele returned to work at the London-based Orbis Business Intelligence, where he is a director, earlier this week.
He did not comment on the dossier which was compiled as oppositional research, first on behalf of Mr Trump's rivals for the Republican presidential candidacy and later for the Democrats.
Mr Trump has called the report, "fake news".
One of the allegations set out in the document claimed a senior Russian diplomat, Mikhail Kalugin, was withdrawn from Washington to avoid exposing his involvement in US presidential election operations.
"Moscow feared his heavy involvement in the US presidential election operation, including the so-called veteran's pensions ruse, would be exposed in the media there," it stated.
It was referring to allegations that Russia's Federal Security Service funnelled payments disguised as pension benefits into the US. This money was then allegedly used to fund a hacking operation.
Mr Kalugin was withdrawn from his role in the economic section of Russia's Washington embassy in August 2016, and subsequently returned to Moscow.
Russian officials have nonetheless derided the dossier's assertions.
Speaking shortly after it was published, foreign ministry spokeswoman Maria Zakharova said Mr Kalugin had left Washington as part of a planned rotation. She called the report "mind-numbing gibberish" and "inhumane nonsense".
However, the McClatchy publishing company has reported two sources with knowledge of "multi-agency investigations" into Kremlin influence on the US elections, have confirmed that Mr Kalugin was under scrutiny when he departed.
The revelation came as it emerged that Mr Trump met with Russia's US ambassador last April at the height of the presidential election, despite his repeated and strenuous denials of any meeting with Kremlin officials before his inauguration in January.
News reports from the time which have now resurfaced, also suggest that Mr Trump met briefly with Vladimir Putin's representative in Washington around six months before polling day.
Photos from that day also appear to prove that Sergey Kislyak, the Kremlin's man in Washington, was at a speech given by the US leader.
During a press conference at the White House last month, Mr Trump addressed allegations of his links to Moscow.
"Russia is a ruse. I have nothing to do with Russia," he said. "Haven't made a phone call to Russia in years. Don't speak to people from Russia. Not that I wouldn't. I just have nobody to speak to.
"I have nothing to do with Russia. To the best of my knowledge no person that I deal with does."
Mr Trump's new Attorney General, Jeff Sessions, agreed to step aside from all investigations of Russia's interference after it emerged he met twice with Mr Kislyak during the election campaign.
The US President's former national security adviser Michael Flynn was also forced to resign after it emerged that he had discussed lifting sanctions on Russia, with the country's ambassador Sergey Ivanovich Kislyak, before taking office.
It is illegal for a private citizen to conduct diplomacy on behalf of the US.
Register for free to continue reading
Registration is a free and easy way to support our truly independent journalism
By registering, you will also enjoy limited access to Premium articles, exclusive newsletters, commenting, and virtual events with our leading journalists
Already have an account? sign in
Join our new commenting forum
Join thought-provoking conversations, follow other Independent readers and see their replies