Donald Trump-Russia investigators ask White House for documents about Michael Flynn
Former national security adviser Michael Flynn's consulting firm was paid $530,000 to discredit an opponent of the Turkish government during the US presidential campaign
Greg Wilford
Saturday 05 August 2017 11:23 Comments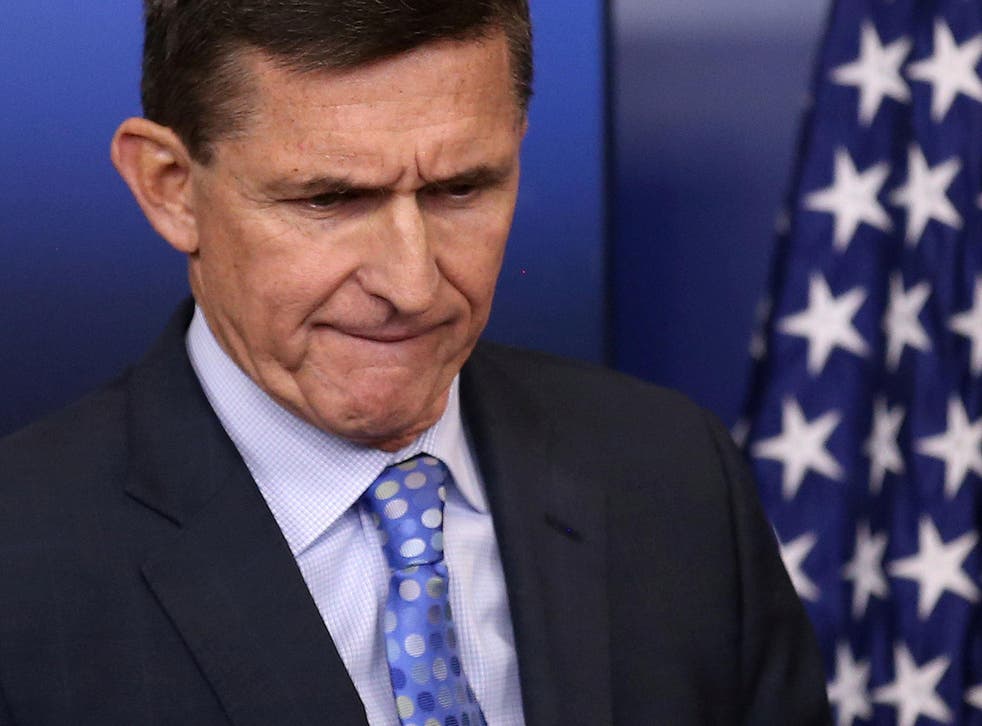 Investigators probing Donald Trump's alleged links to Russia have asked the White House to hand over documents relating to his former national security adviser Michael Flynn, according to sources close to the inquiry.
Prosecutors suspect that Mr Flynn may have received secret payments from the Turkish government during the presidential campaign, it is claimed.
They are said to have questioned witnesses about his dealings with Turkish-American lobbyist Ekim Alptekin, who paid his consulting firm Flynn Intel Group $530,000 during the US election last year.
Mr Alptekin has publicly denied that there was anything untoward about the payments, which funded a campaign to discredit Fetullah Gulen, a Muslim cleric said to be behind a failed coup in Turkey in July 2016.
But the investigation team led by special counsel Robert Mueller want to know if the Turkish government was behind the payments or if Mr Alptekin was bribed to conceal the source of the money, according to the New York Times.
Although receiving money from foreign governments is legal, failing to register as a foreign agent if you have done so is a crime.
Mr Flynn, a former lieutenant general in the US army, failed to register as a foreign agent when Flynn Intel Group signed a $600,000 contract with Mr Alptekin's Dutch company Inovo BV in August 2016.
He told the Justice Department about the deal and retroactively registered as a foreign agent in March this year, one month after he was forced out of the White House for lying about his contact with Russian ambassador Sergey Kislyak before President Trump's inauguration.
A transcript of intercepted calls between Mr Flynn and Mr Kislyak revealed they had discussed US sanctions imposed when former President Barack Obama concluded that Moscow had interfered in the US election campaign.
The Pentagon launched an investigation that will scrutinise Mr Flynn's financial arrangements to determine whether he has failed to disclose payments from Russian and Turkish lobbyists.
Michael Flynn once said anyone seeking immunity 'probably committed a crime'
His work includes lucrative speaking engagements with Russian businesses.
Mr Mueller's investigators have recently requested records relating to Mr Flynn from the White House, though it is not a formal subpoena.
Inovo BV signed the $600,000 contract with Flynn Intel Group to fund a propaganda campaign against Mr Gulen, but in the end only paid $530,000 when it failed to produce a negative video about the Turkish exile and carried out unsatisfactory research.
Witnesses interviewed by Mr Mueller's team claim two $40,000 payments from Flynn Intel Group to Inovo are being investigated as suspected bribes to Mr Alptekin.
The lobbyist's spokeswoman Molly Toomey insisted they were refunds for unfulfilled work, telling the New York Times: "They were legal, ethical and above board."
President Trump sacked FBI director James Comey in May after asking him to drop the investigation into Mr Flynn's links with Russia.
Mr Mueller was then appointed to look into whether the Kremlin had tried to meddle in the 2016 election and whether the Trump campaign colluded with them in doing so.
He will investigate whether the former Apprentice star tried to obstruct the course of justice by pushing for an end into the inquiry into his former national security adviser.
Register for free to continue reading
Registration is a free and easy way to support our truly independent journalism
By registering, you will also enjoy limited access to Premium articles, exclusive newsletters, commenting, and virtual events with our leading journalists
Already have an account? sign in
Join our new commenting forum
Join thought-provoking conversations, follow other Independent readers and see their replies